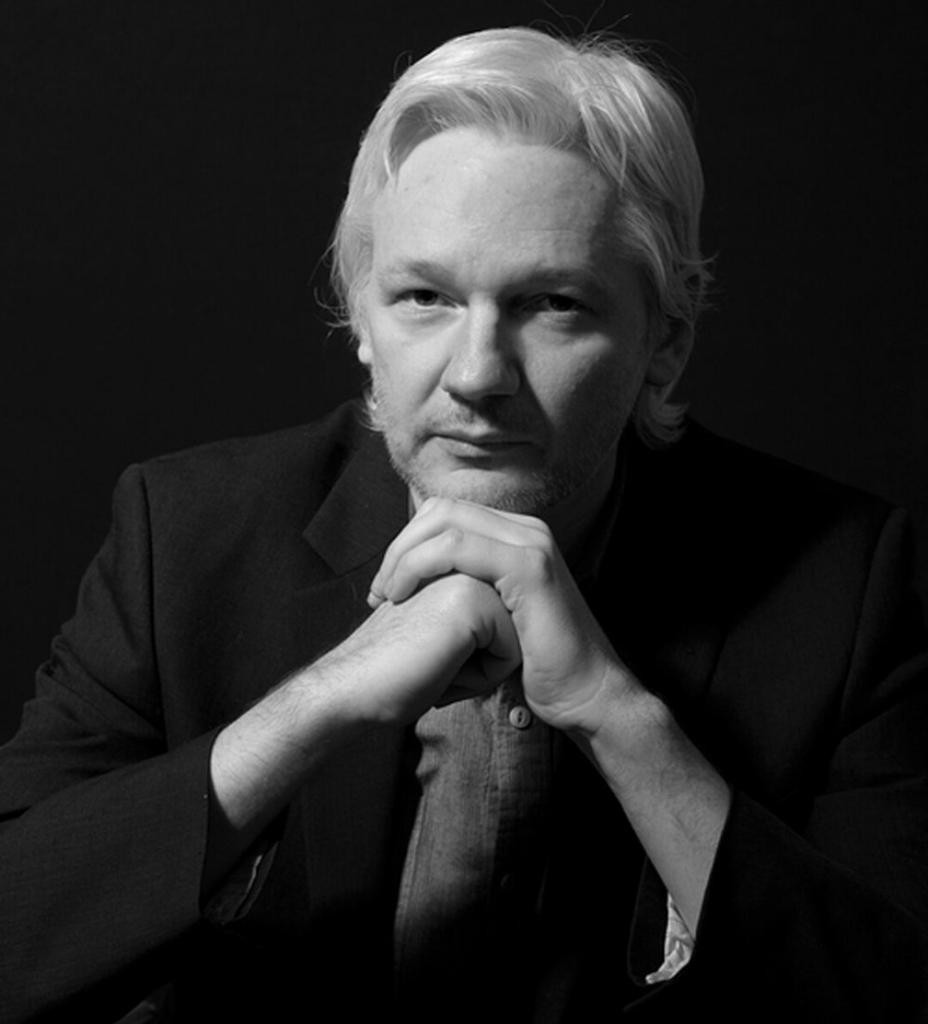 Monika Karbowska
Since June 1 the media hype around Julian Assange's upcoming wedding has begun. On June 1, the woman who sometimes calls herself Stella Morris and sometimes Sara Gonzalez Devant stayed in Paris at the invitation of a collaborator of the Macronist minister Dupont Moretti. She was photographed by many media photographers and appeared wearing a mask concealing her face with left-wing political leaders. However, she did not meet with activists who have been fighting for the release of Julian Assange and these activists were banned from the Assas University where she was holding her conference.
Now this woman is announcing her upcoming marriage to Julian Assange in Belmarsh prison. Since then, countless mainstream media outlets, all members of the Trusted News Initiative, a kind of Western propaganda cartel[1], have been reporting her words and her picture in front of the prison wall in Thamesmead with two small blond children.
Marriage is not, however, a media show where one puts oneself on stage to tell whatever one wants.
Marriage is a legal act that commits two people to society, that gives certain rights and a number of important duties. Marriage is a civil act which has precise legal consequences, depending on the culture of each society. In the European legal systems, which have their origins in Christianity and are secularized, marriage creates a system of obligations of mutual aid and support between the two persons, gives automatic filiation to the children born of this union, and can establish a community of property with the right to inherit. A spouse has priority to receive information about his or her partner's health and even to make decisions affecting him or her, when his or her partner is unable to do so due to illness or other incapacity.
To be clear, if Julian Assange is married to Stella Morris, and if he is committed to a psychiatric hospital, Stella Morris will be our sole contact about him and she will make decisions about him. She will remain his gatekeeper, a role she already plays publicly while he is in captivity.
It is blatant that Stella Morris continually speaks in the place of Assange, who has not spoken publicly since May 19, 2017, and that his last letter vaguely signed « JPA » reached Yellow Vest activists on November 2, 2019, almost two years ago.
Since then, no one has received any letter signed with the name « Julian Assange ». No one has heard him speak publicly, except us who were present at the trial of October 21, 2019 during which he was able to pronounce a single sentence about the « psychologists who entered his inner life » and about the theft of the « DNA children » (« children's DNA », « his children »?, real children or « computer » children, software he created? We don't know)[2].
We, Wikijustice activists, also have SEEN him speaking in the Woolwich Court on February 27, 2021, even shouting vehemently, we saw him greeting us, but we could not hear him because the organizers of the pseudo-legal show had cut off the microphones and the armored glass between the public gallery and the hall prevented us from hearing the sounds of the room.[3]
While Julian Assange still hasn't spoken out about this marriage and relationship, Stella Morris has been speaking for him for over a year.
Personally, until I see and hear Julian Assange speak freely about this relationship and this proposed marriage, this marriage will remain a fiction, a legally invalid act, an illegal act.
This marriage will be the media continuity, the staging of Julian Assange's illegal, secret captivity.
I have fought for years with my feminist friends against forced, arranged and secret marriages of women and girls, I will not accept what I consider to be a forced and secret marriage of a man held in captivity while according to the judgment at the end of the last hearing on January 4, 2021, he should be free.
Because marriage is a serious legal act, the ceremony that commits the two people to give free consent to this act must be public. It cannot be carried out in secret and reported only by the media with complicit arrangements, by words of third persons whose identity is not clearly established, by crude photomontages, more or less finaly faked.
In the latest documentary produced by ARTE, Stella Morris justifies Assange's silence by the fact that « he is struggling to survive at the moment ». So Assange would be dying and the urgency for her is to marry him, not to do everything to take him to the hospital, to treat him, to get him out of captivity? You don't marry a dying man because he is not in a state to give his consent. Marriage with a dying or seriously ill person is all the more a forced marriage, and therefore a null and void marriage.
If Assange dies, then the prison governor is legally responsible and will be sued for homicide, as will all those who manipulate Assange's name by playing up this illegal marriage: Stella Morris, John Shipton, Gabriel Shipton and all those who participate in the spreading of this storytelling.
Let us look at the conditions for a valid marriage in a western legal system and what are the conditions for Julian Assange's marriage to be a legal civil act and not a fake.
In England, the 1949 marriage Act, as amended, governs marriage. It is as precise about the publicity of marriage and consent as other European legal systems. The couple must file their notice of marriage to the civil Registrar and give the documents containing all the legal informations – names, address, occupations, nationality, certificate of non-bigamy, certificate of divorce or death certificate for widowers. A period of 28 days must elapse during which any person who has an objection to the marriage may come forward. The banns are published at the end of this period and are public. In the Anglican Church, the priest reads the banns at mass, which is important because only an Anglican ceremony has the same legal value as a civil marriage. Citizens of other faiths, however, must perform a civil ceremony in addition to their religious ceremony.
In British law, as elsewhere in Europe, forced marriage is a crime. Anyone who has knowledge of a forced marriage must report it to the police or prosecutor as an emergency.[4]
Let us look at Julian Assange's situation under the Marriage Act in England. Here are the most important points:
---
[1] Trusted News Initiative (TNI) to combat spread of harmful vaccine disinformation and announces major research project – Media Centre (bbc.com)
[2] How to break walls – From a « Dark place » to a fantastic meeting, Julian Assange's hearing on October 21st 2019 – Liberté pour Julian Assange – Monika Karbowska (monika-karbowska-liberte-pour-julian-assange.ovh)
[3] Trial of Wikileaks or trial of Julian Assange? Monday, February 24, 2020, the court of who is the strongest wins – Liberté pour Julian Assange – Monika Karbowska (monika-karbowska-liberte-pour-julian-assange.ovh)
Procès de Wikileaks ou procès de Julian Assange? Mardi 25 février 2020 – Violences en réunion – Liberté pour Julian Assange – Monika Karbowska (monika-karbowska-liberte-pour-julian-assange.ovh)
Révolte à la Woolwich Court le 26 et 27 février 2020 – Liberté pour Julian Assange – Monika Karbowska (monika-karbowska-liberte-pour-julian-assange.ovh)
[4] https://www.rocketlawyer.com/gb/en/quick-guides/getting-married
The identity of the spouses
No one can get married under a false name.
An original birth certificate must be produced in order to get married. The birth certificate must show the birth name, first name and surname as well as any changes in identity since then – change of name by adoption, marriage, court order or naturalization. Parents' names must be spelled out. These names must be public: public benches must be published, announcing the will to marry, with the real names of authentic births, corresponding to their ancestors, paternal and maternal, and having been the subject of an administrative declaration at the time of birth (Place, exact date, time) of the future spouses. Even in non-secular systems in which a concordat marriage has the value of a civil marriage, the names of the future spouses must be announced publicly, in written and spoken manner in the churches.
We know that Stella Morris is a pseudonym that this woman uses in place of her real name – she said this herself in the media. Some sources give her a third name, Smith Robertson[1]. We also know that she is not a lawyer and is not registered at the British Bar under any of her three names. She also does not have a law degree. I have analyzed her lie about her identity and profession in my two articles and Wikijustice in our international complaint.
Romantic end to the Julian Assange case? Objections, analyses and actions of Wikijustice – Part 1 – Liberté pour Julian Assange – Monika Karbowska (monika-karbowska-liberte-pour-julian-assange.ovh)
Romantic end to the Julian Assange case? Objections, analysis and actions of Wikijustice – Part 2 – Liberté pour Julian Assange – Monika Karbowska (monika-karbowska-liberte-pour-julian-assange.ovh)
The Assange case – Investigation Report and Complaint of Wikijustice Julian Assange – Liberté pour Julian Assange – Monika Karbowska (monika-karbowska-liberte-pour-julian-assange.ovh)
Page 96-106
We have also asked in our 10th release request to the judicial and political authorities of Great Britain to shed light on the real identity of Stella Morris and also that of the man known as Julian Assange.
(5) Release Request 10 of political prisoner Julian Paul Assange | LinkedIn
To prove that she really married Julian Assange, she will have to release the marriage certificate with her real name and proof that the name is hers – birth certificate or ID – so that the activists who have been so supportive of Julian Assange can trust her as a legitimate wife and partner with obligations to her spouse.
Concerning Julian Assange's identity, the question also arises. A victim of arbitrary imprisonment in secret captivity like a hostage in the days of the Ancien Régime, the man we saw in the rigged trial hearings at Westminster Court in London from September 2019 to October 2020 did « confirm » his identity at the beginning of each hearing, but he always did so in an unsure, hesitant voice. He was during the months of autumn-winter 2019-2020 visibly under the influence of drugs and medication, his gestures betrayed a suffering that was a sign of consequence of the torture suffered, as the doctor of Wikijustice demonstrated in several reports[2] .
What is the value of confirming identity under the influence of torture, in a court where the most basic human rights are violated?
Documents published on Spanish-speaking websites and probably leaked from the diplomatic mission of Ecuador have shown us how questionable the surname « Assange » is[3].
Documents Diplomatiques équatoriens sur l'identité de Julian Assange – Liberté pour Julian Assange – Monika Karbowska (monika-karbowska-liberte-pour-julian-assange.ovh)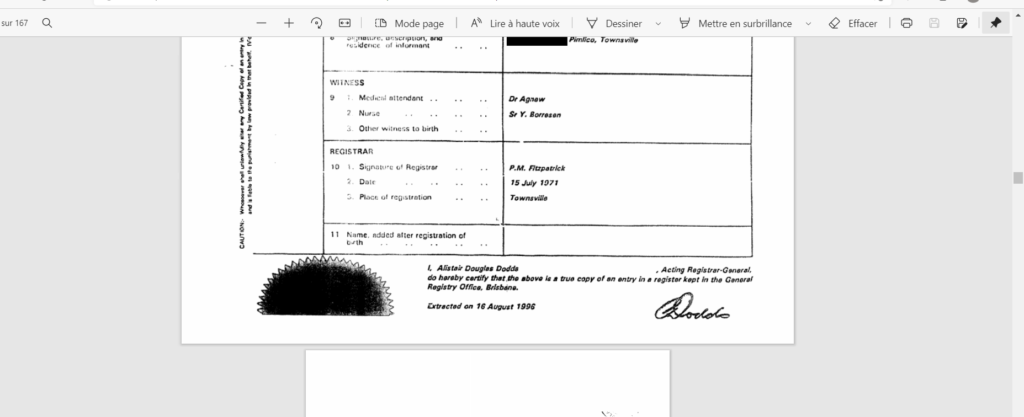 Among these documents signed by Ecuadorian diplomats and related to his application for Ecuadorian nationality by the man known as « Julian Assange », page 53, we find a copy of a birth register from Brisbane, signed by a certain Alistar Douglas Dodds on August 19, 1996 and legalized by the High Governorate of Australia in London in August 2017. The first incongruity is that for a request for nationality it is always necessary to present a birth certificate of less than 3 months, but here the applicant presents a document 19 years old and strangely certified today by a current authority.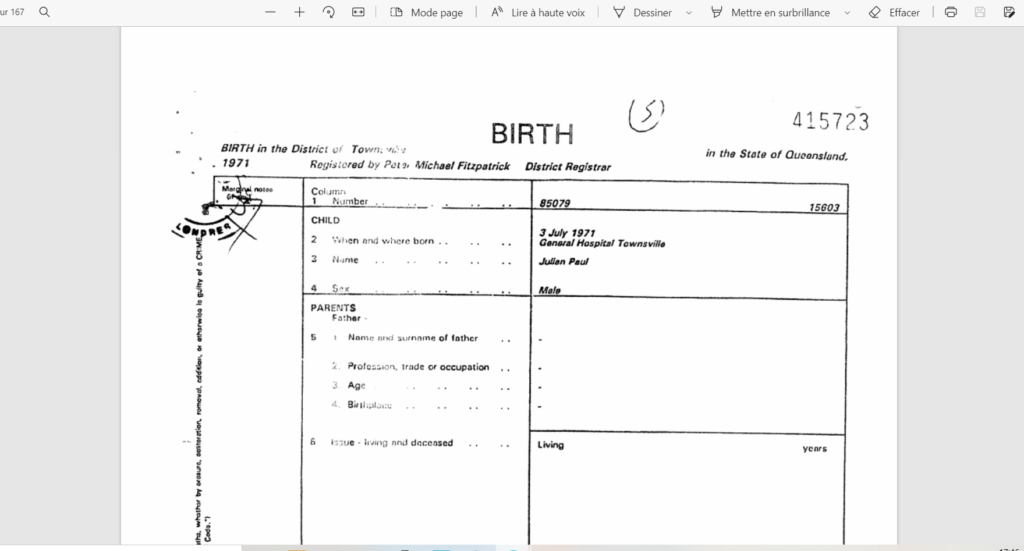 But above all we see that this birth certificate does not include the name of a father and that the name of the mother is Christine Ann Hawkins. Therefore, the child born on July 3, 1971 can only bear the name of the mother and therefore be called Hawkins. John Shipton does not appear on this document, nor does any other man. The box labeled « Parent: father's name » located first, before the mother's name as it should be in a patriarchal and patrilineal society that was Australia in 1971, is empty.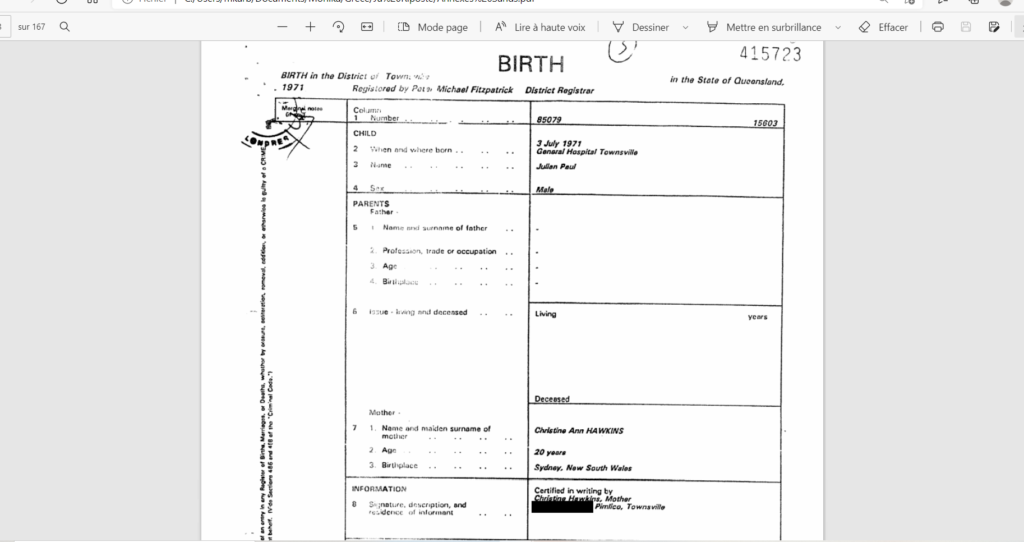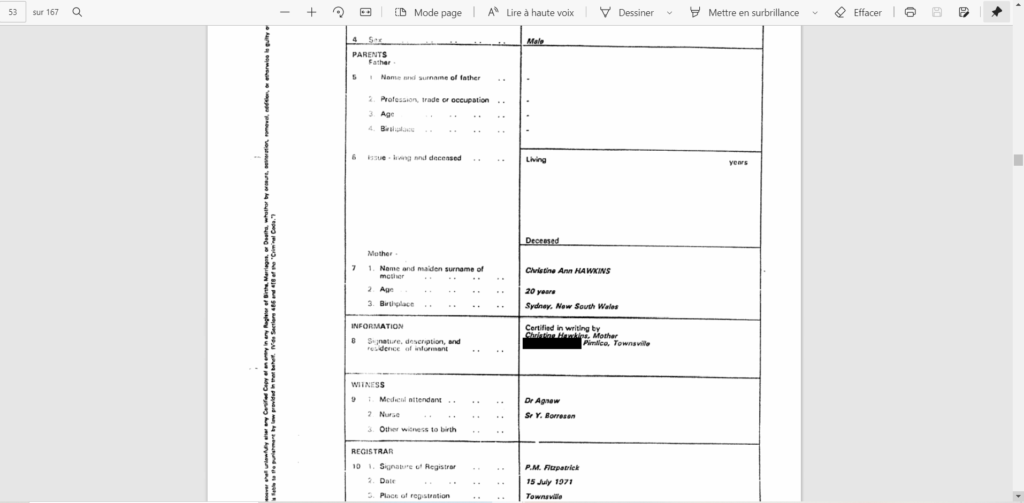 No man therefore recognized « Julian Paul » born Hawkins as his son. The legitimacy of a John Shipton to speak on behalf of Julian Paul Hawkins aka « Assange » does not exist, especially since the man I saw at Westminster Court, Woolwich Court and the Old Bailey who introduced himself as 'Julian Assange' never made any sign of collusion with John Shipton, nor did he greet him or seek to speak with him.
Even the Wikipedia storytelling eventually admits that Julian « Assange's » original last name is Julian Paul Hawkins.
Furthermore, none of the documents certified by the Ecuadorian consulate, including Julian Assange's affidavit and his application for Ecuadorian citizenship, mentions marriage, let alone children. Julian Assange presents himself on various documents several times as single and without children. This is in stark contradiction to Stella Morris' claim that the children she exposes in the media are Assange's children born in 2016 and 2019. The name of the child born in 2016 should have appeared in Assange's identity documents used by the diplomatic mission of Ecuador if that child had been his and recognized by him. But this is not the case, so I deduce even more that the children that Stella Morris shows us do not have Julian Assange as their father. That she is once again telling a lie, that just as she is lying about her identity and profession.
In his application for Ecuadorian nationality Julian Paul declares that he was born under the name Julian Paul Hawkins, (page 35) gives the number of his Australian passport (M5562431 – but the published passport has a blackened and illegible number on page 56) and explains in a sworn statement (page 46) why the name on his passport is not his birth name on his birth certificate.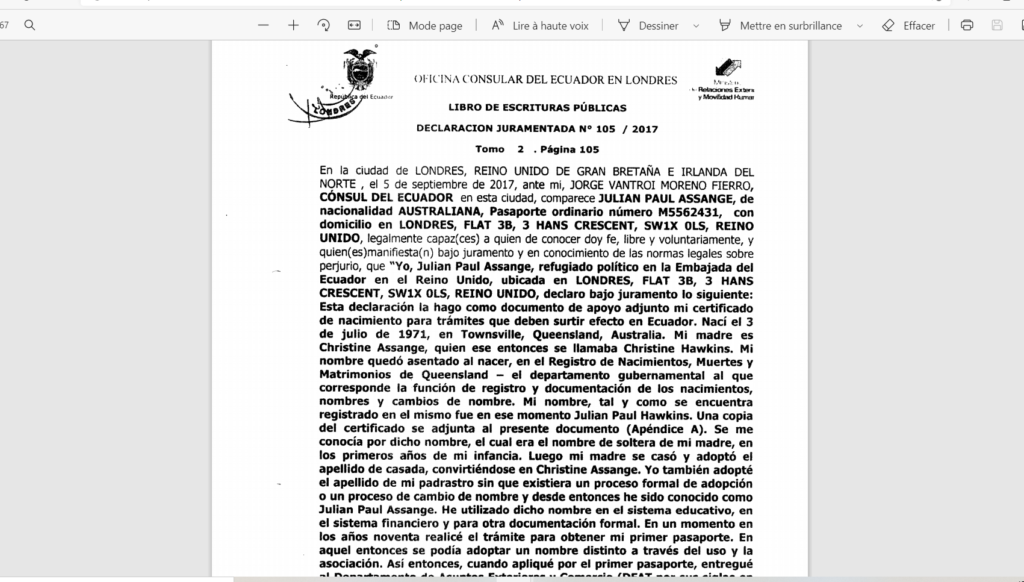 This affidavit is made on September 5, 2017 and validated as authentic by Jorge Vantroi Moreno Fierro, Consul of the Republic of Ecuador in London. In doing so, by certifying this document, the Consul of Ecuador gives it the FORCE of LAW and engages the responsibility of the State of Ecuador in establishing a civil status of the person. Julian Assange states that his mother at the time of his birth « is then called Christine Hawkins » and that the « name assigned to him in the Queensland Registry of Births, Marriages and Deaths » is Hawkins.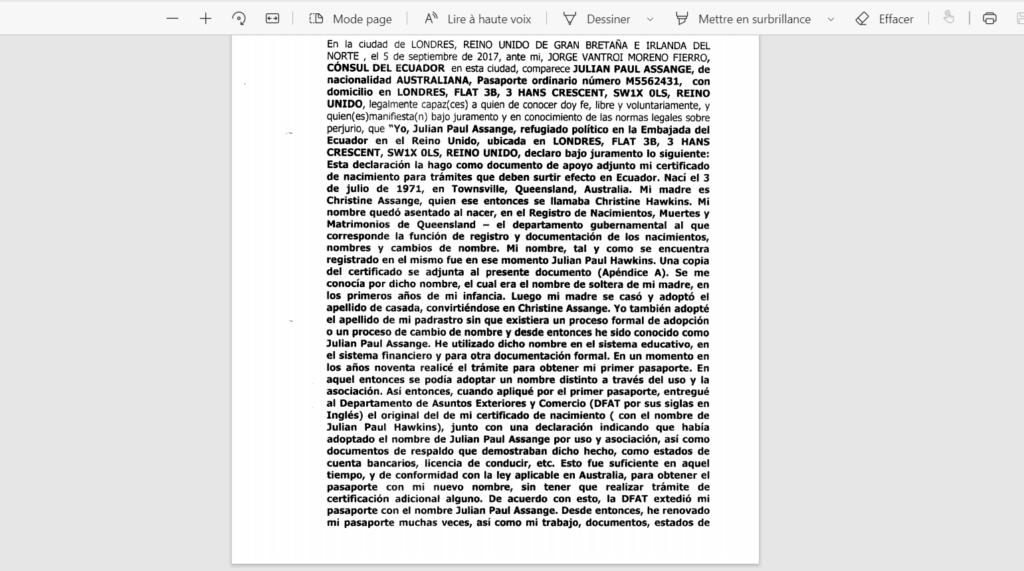 « My name, as it was recorded at that time was Julian Paul Hawkins » – says Julian Paul « Assange », in a convoluted formula that suggests that the name he bears was not given to him by his mother at a time when unwed mothers and natural children were discriminated against throughout the West. This sentence sounds as if Hawkins had adopted a child whose name is already Julian Paul Hawkins, not as if she was giving her surname to her child born out of wedlock to an unknown father.
« I was known by this name, which is my mother's maiden name in the early years of my childhood » signs « Julian Paul Assange » in her statement. What is strange is that no annotation of a change of his name appears on his certified birth certificate in 2017. There is every indication that he may still have THIS NAME of Hawkins today, if this published birth certificate is indeed authentic.
« Shortly thereafter my mother married and adopted her married name and was changed to Christine Assange » – the declarant, however, gives no date and the consulate asks for no evidence to verify his claim. However, this is an application for nationality and for this it is essential to establish a filiation with certainty in order not to attribute nationality to persons whose identity is uncertain. However, no document bears the name of Christine Assange, only Christine Hawkins, and the consul does not ask for proof of this identity and marriage, which is already in itself a kind of malpractice.
« I too adopted the name of my father-in-law without there being a formal process of adoption and or a process of change of name and since then I have been known as Julian Paul Assange. » says the applicant of Ecuadorian nationality in September 2017.
Of course, such a phenomenon is unlikely in the real life of the bureaucratized societies in which we live. Without a certificate of adoption or recognition of paternity, it is legally impossible to use the name of the husband of his mother in the civil status records. Some societies may accept that a « stepfather » has an informal role to play in the daily life of a child, such as picking him up from school, but for any legal act a written proof of the man's link with the child must be sanctioned by a legal authority. And this bond, this paternal authority, is not acquired by simple declaration.
So who named the Hawkins-boy Assange? The applicant's account is not clear on this point and no date is given. It is not possible for an adult to take his stepfather's name as anything other than a pseudonym, if no legal act of adoption or recognition is made.
The sentence therefore suggests that « Assange » is a pseudonym, especially since the Ecuadorian Consul has no proof of Mr. Assange's existence as a stepfather – no birth certificate, no marriage certificate, no copy of an identity document. Nor does he ask Mr. Hawkins, who has magically become Assange, and in this he validates the use of a pseudonym as a name in a civil status. In fact, let's not be afraid to say it, it legally validates the use of a false name.
« I have used this name in the educational system, in the financial system or other legal documents, bank documents and driver's license » says Julian Paul Hawkins, even though we have never been able to see a bank card in his name and everything in the story of his life shows that he does not have a school diploma or a driver's license. The Ecuadorian State does not ask him for this kind of proof, which is strange.
« In the early 90's I applied for my first passport. This one adopted another name through use and association ».
This notion of adopting a pseudonym through « use and association » is legally impossible in Western bureaucratic societies. If an authority issues a passport not on the basis of the legal birth name but on the basis of a pseudonym and banks and schools equally, it is establishing a false document.
However, Australian law clearly states that the name on the passport application must be exactly the same as on the full birth certificate. If you wish to change your name, in Australia as in Europe, you must have valid reasons for doing so and the change must be registered in the territorial register of births, deaths and marriages[4]. The birth certificate of Julian Paul Hawkins certified as authentic by Australia in 2017 shows that no official name change has taken place and that Hawkins is therefore not called Assange. Is his name Hawkins?
So what is this Australian passport that is published on the internet and is supposed to be the official ID of the man known as « Julian Assange »? Could it be a fake?
This hypothesis raises the question of the visibly anarchic functioning of Australia, a state of the British Commonwealth that is supposed to be a democratic state under the rule of law.
« Thus as applied in my first passport and delivered by the Australian Department of External Affairs DFAT, along with my original birth certificate in the name of Julian Paul Hawkins I enclose the attestation that I have adopted the name Julian Paul Assange by use and association » concludes the document of September 5, 2017 – It could not be clearer that the name « Assange » is a pseudonym adopted « by use. »
In fact, the birth certificate remains in the name of Julian Paul Hawkins, but the Australian State has no problem renewing Julian Assange's passport under his alias, in violation of its own laws. It thus allows the State of Ecuador to validate this name, despite its flagrant contradiction with the only civil status document presented, the birth certificate. Australia is playing a shady game in creating a false identity for its most illustrious and controversial national.
So what documents will Julian Paul Hawkins use to get married today? A birth certificate in that name or an Australian passport issued in 2017 in Assange's name? And which of the two documents will be true? Is even one of them real?
To prove that « Stella Morris aka Sara Smith Robertson aka Sara Gonzalez Devant » and « Julian Paul Hawkins aka Assange » got married, the civil servant conducting the ceremony would have to prove the real identity of both people and publish this evidence.
We need this evidence to be sure that this marriage is real and not faked, that this marriage is not a forced marriage, because as a human rights organization we have defended and are defending the rights of this tall, thin, white-haired, sad looking man that we have seen in the 3 London courts. We have the legal authority and duty to do so because he sent an SOS to one of our doctors. It is becoming extremely urgent to determine the official birth identity of the citizen known as Hawkins or Assange and to provide irrefutable proof of it because the organizers of the trial have forbidden us to speak to this man locked in the glass cage of the court despite our efforts and requests. So we were not able to ask him what his name really is.
It is important for HIS rights that we know that this marriage is not forced so that we can be sure that he will not be a prisoner of one person, his wife, who may have exclusive knowledge of his health and who may make decisions on his behalf, such as placing him in a psychiatric hospital. We MUST know his real name in order to defend him effectively!
---
[1] https://www.illustre.ch/magazine/stella-morris-et-julian-assange-on-adorerait-vivre-en-suisse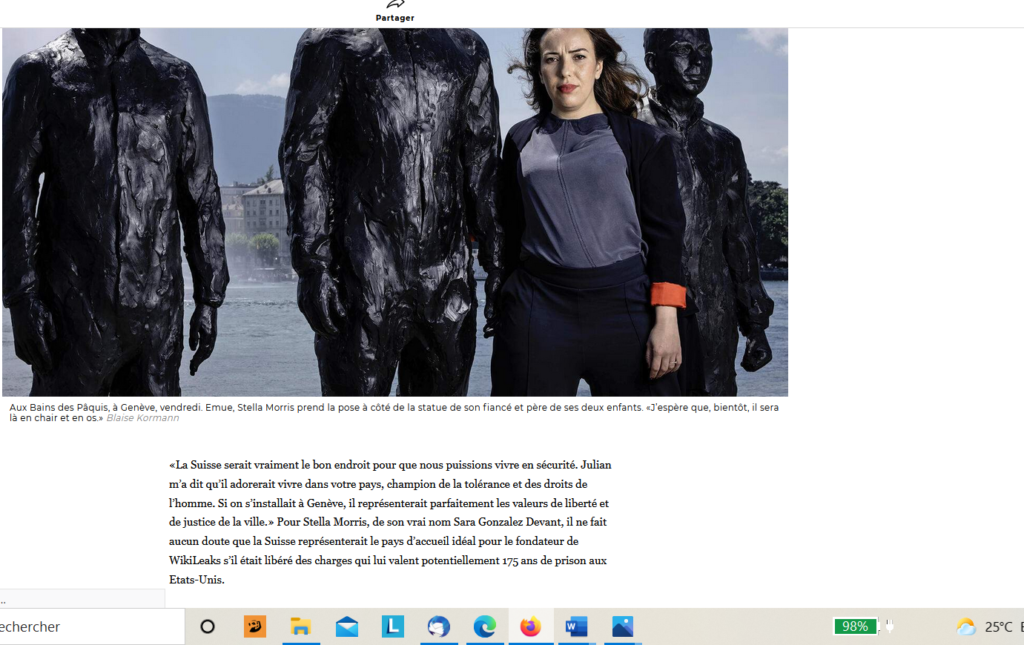 https://www.fr24news.com/fr/a/2020/09/la-mere-des-deux-enfants-de-julian-assange-met-en-garde-contre-le-sort-du-fondateur-de-wikileaks.html
[2] https://www.linkedin.com/pulse/wjja-third-medical-report-julian-assange-being-véronique/
https://www.linkedin.com/pulse/wjja-second-medical-report-political-prisoner-julian-paul-véronique/
https://www.linkedin.com/pulse/rapport-médical-du-prisonnier-politique-julian-paul-par-véronique/
[3] Documents Diplomatiques équatoriens sur l'identité de Julian Assange – Liberté pour Julian Assange – Monika Karbowska (monika-karbowska-liberte-pour-julian-assange.ovh)
[4] « The names appearing in an Australian travel document should be exactly as appears on the person's cardinal document. For the purposes of passport applications the applicant's cardinal document is the person's: Original full Australian birth certificate; or Original Australian Citizenship Certificate. The person's name appearing on these documents is also known as the person's base name. When a person wishes to include in their travel document a name other than a name on their cardinal document, then this must be supported by acceptable evidence of a change of name, see .
Evidence of name change.A person who was born in Australia or resides in Australia, should change one's name through an Australian State or Territory Registrar of Births, Deaths and Marriages (RBDM), and provide a name change document from RBDM confirming their change of name. »
Names and name change | Australian Passport Office (passports.gov.au)
Marriage in British legal documents
In hospitals
Marriage is a right guaranteed by the Universal Declaration of Human Rights, the European Convention on Fundamental Rights and the british Marriage Act 1949 amended in 1983.
The Marriage Act of 1983, which amended the 1949 Act, provides for the exercise of the right to marry by persons who are confined to a closed place: patients in hospitals, patients at home, prisoners under house arrest and prisoners in jail[1].
https://www.legislation.gov.uk/ukpga/1983/32
What is interesting is that it provides for the conditions of the publicity of the marriage and the exercise of the consent even in these conditions. One document is essential: a public medical certificate explaining why this person cannot exercise his or her right to marriage other than in this place of confinement which is also his or her home (« house-bounded »). This essential certificate must be provided to the registry office 14 days before the notification of the intention to marry given by the future spouses. This document is then part of the public banns along with the other identity documents provided for by the 1949 Act.
It is the registry office that is responsible for the publicity of the marriage, but the institution in which the « confined » person resides is responsible for the reality of his consent. This is the case of hospitals, psychiatric hospitals and also prisons.
If the person is too ill, his consent is not valid and the marriage is void. That is why relatives, human rights associations and citizens must be able to check whether the person locked up can really exercise his or her consent and that he or she has not been subjected to a forced marriage. Too many people have been locked up in psychiatric institutions by malicious relatives for political reasons or for inheritance.
The Winsdor-Mountbatten family did imprison one of their members, Alice von Battenberg, in psychiatric hospitals in Switzerland and Germany for several years after kidnapping her five daughters and son. However, the history of Alice von Battenberg shows that she was anything but mentally ill, since during the Second World War she participated in the Resistance in Greece, made several trips to occupied Europe and was distinguished as Righteous Among the Nations[2].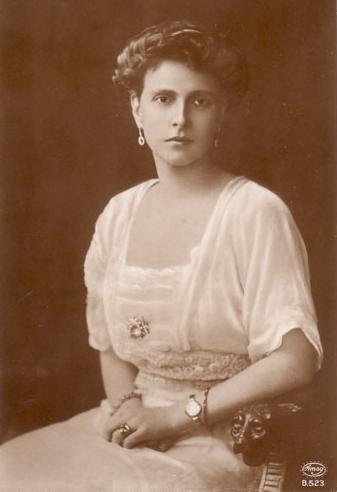 If Julian Assange is in a hospital or a psychiatric hospital, we need to know it, his address and also the medical reasons for his internment. We should be able to ask to visit him to see for ourselves if his rights are being respected.
Stella Morris presents him as sick, dying. Maybe he is already in a psychiatric hospital, maybe he is already dead. After all it's been almost a year since we last saw him alive – I last saw him alive at the Old Bailey on September 9, 2020. How can Stella Morris make us believe that Julian Assange is giving his consent to a marriage with her when he is so ill that he is dying? How could we believe her words without demanding to see for ourselves the mental and physical state of Julian Assange?
How could we NOT object to such a marriage: a secret ceremony with a dying, confined man? A human rights organization cannot accept such a scenario.
A man interned in a psychiatric hospital in secret is a victim of illegal imprisonment. A marriage under these conditions can only be a forced marriage, therefore a crime and a violation of the law.
We strongly oppose it.
In prison
The document PSI 14/2016 « Marriage of prisoners and civil partnership registration » of the National Offender Management Service (or Her Majesty Prison and Probation Service) organizes the modalities of exercising the right to marriage in prison[3].
https://www.justice.gov.uk/downloads/offenders/psipso/psi-2016/psi-2016-14-marriage-prisonsers.pdf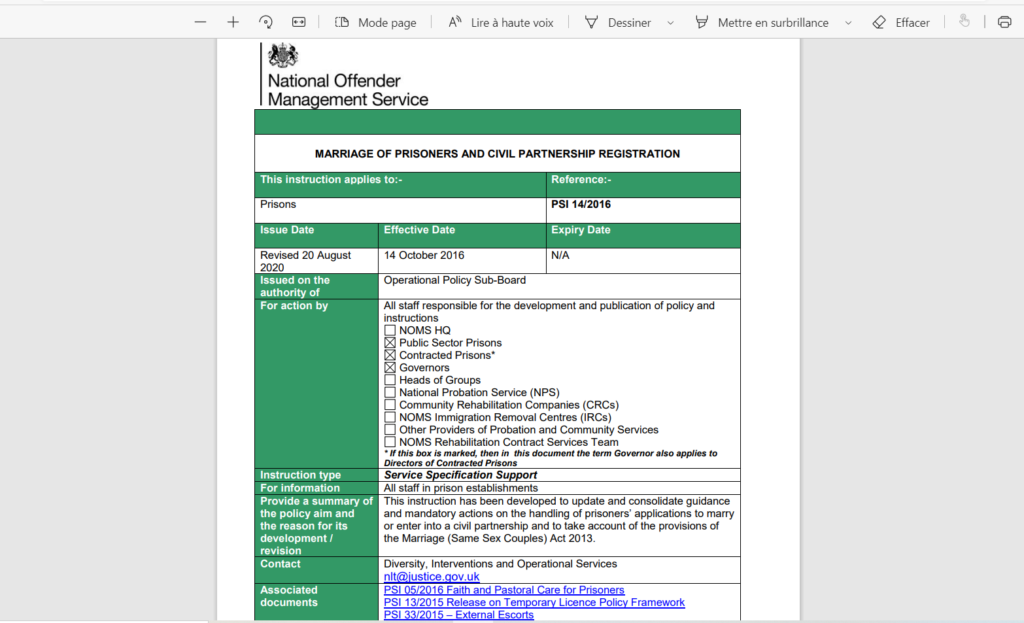 We learn that every prisoner can get married inside the prison and some can also get married outside the prison, provided that they meet the security conditions which vary according to their status and the length of their sentence. The procedure is very simple: the prisoner and his or her partner fill out a form notifying the prison management of their intention to marry. The prison management has 3 months to answer if and under what security conditions (police escort of the prisoner) they will allow the ceremony to take place outside the prison. If the exit is not authorized, the wedding must be held inside the prison. It is not possible for the prison management to object to a prisoner's marriage. The prison governor also has specific duties towards the prisoner to enable him to exercise his rights.
It must ensure that the prisoner can provide the necessary certificates for the completion of the legal act of marriage, i.e. his birth certificates, the certificate of non-bigamy that everyone must also provide for his marriage on the outside, an address on the outside on the marriage certificate if one wants to hide the fact that it took place in prison.
In addition, the prison management must ensure the presence of religious representatives for the religious ceremony and a registrar. Indeed, only the Anglican religious wedding has the quality of a civil wedding, all other religious ceremonies require the guarantee of a secular registrar in addition. It is important to point out that while Stella Morris claims that Julian Assange solicited a Catholic priest for their wedding, we now know that a Catholic marriage certificate issued in a British prison is not legally valid unless countersigned by a secular registrar. If Stella Morris is married in the presence of a Catholic priest, we are entitled to ask him to publish the marriage certificate signed by an English registrar. A Catholic certificate will never be proof of a valid marriage in Anglican England. The Catholic ceremony will remain a private matter. The marriage will not be official.
Finally, the prison management must ensure that the marriage certificate has been received by the couple. One of the features that undermines the rights of prisoners is the duty of the management to report the marriage of a prisoner « subject to immigration laws » to the immigration authority. In principle, management cannot refuse to marry an immigrant person, but it can track down a supposed « imposture ». I point this out here because we still do not know under which nationality Julian « Assange » is detained, nor of which nationality Stella Morris is or even where he is actually detained since the Belmarsh management refused to comment on this in a letter we obtained[4]. These doubts should be removed with the publication of their respective birth certificates authenticated by a legal, sworn authority of a sovereign state subject to international law after contradictory examination of the documents, containing their birth identities.
The prison governor has an obligation that is extremely important to us, should the ceremony take place in prison: to verify that the inmate is not married under duress.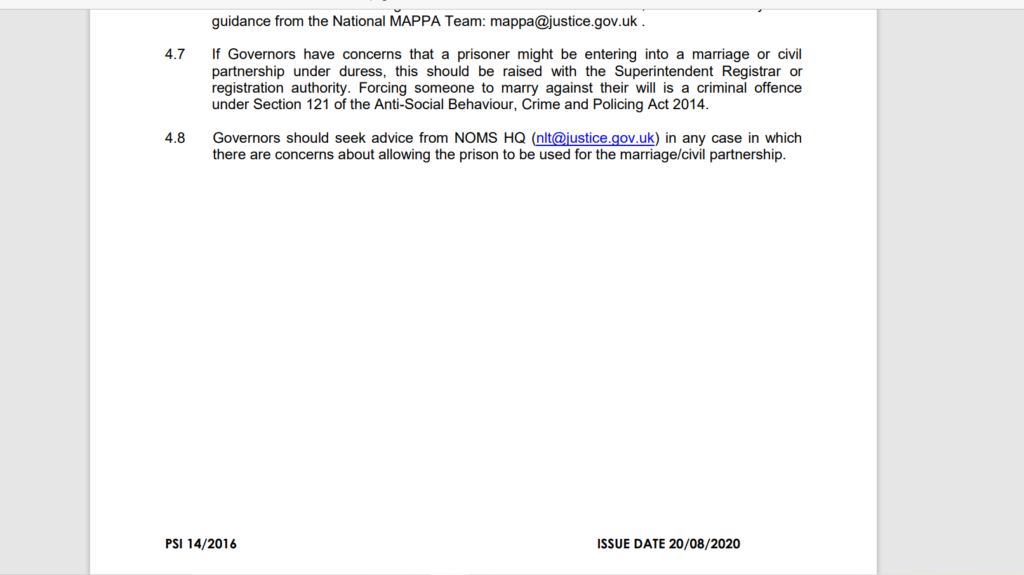 « If governors have concerns that a prisoner may be entering into a marriage or civil partnership under duress, this should be reported to the registrar or registration authority.
Forcing someone to marry against their will is a criminal offence under section 121 of the Anti-Social Behaviour, Crime and Policing Act 2014. »[5] (Section 4.7)
In effect, the prison warden is the guarantor of the exercise of the human rights of the person whose inalienable freedom has only been temporarily suspended for the duration of a sentence. He is therefore criminally responsible for ensuring that the detainee is not abused.
If Julian Assange is in Belmarsh, if his wedding ceremony is in Belmarsh, then the governor of the prison, to whom we have so many times sent our requests, must prove that this marriage was fully consented to and not sealed under any kind of duress.
We will hold him responsible.
How should a prison warden ensure that the marriage remains a public ceremony that any citizen can verify? On the one hand, by publishing his authorization, which thus acts as a « publication of marriage banns » containing the names of the future spouses and the place of the ceremony. On the other hand, he must allow « a reasonable number » of guests to participate in the ceremony in prison, including two witnesses, based on a list that the detained will have given him 3 months before. If the director refuses the entry of a guest, he must explain the reasons in writing.
And above all, the prison management must allow any person who might object to the marriage to express this opposition. Thus the « statement of marriage, » a form that serves as a « public bann » must be visible to « any public inspection » (section 7.8)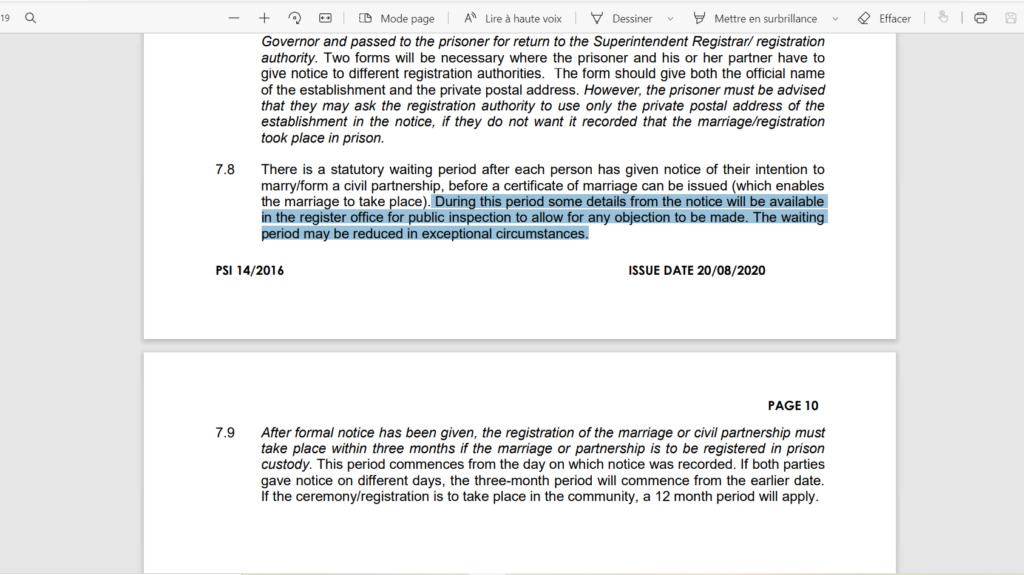 « During this period some details from the notice will be available in the register office for public inspection to allow for any objection to be made ».[6]
Also, any person who wishes to object to the celebration marriage must be received and heard by the registry office even on the day of the ceremony.
« In the rare case that a person would like to object to the celebration of a marriage or civil partnership in prison before the day of the ceremony, it must be addressed to the director of civil status or to the authority in charge of registration.
« In the rare event of someone wishing to enter an objection to a marriage/civil partnership taking place in prison before the day of the ceremony, he or she should be referred to the Superintendent Registrar/ registration authority. If the person arrives at the prison on the day of the ceremony/registration, he/she should be allowed to speak to the Superintendent Registrar, officiating Registrar/ faith Chaplain » .[7] (section 8.9)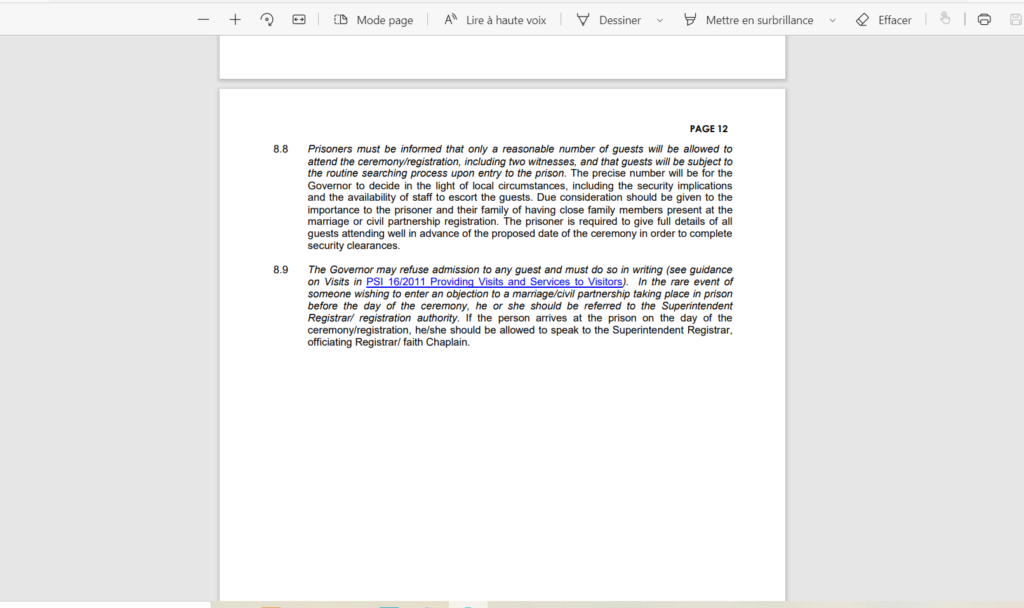 If we learn through the press that Stella Morris is announcing her marriage to Julian Assange without providing any proof of consent other than a photo of herself in front of Belmarsh, we will be sure to come and demand that the governor of Belmarsh hears our formal opposition to this marriage as a human rights organization. We will tell him that there is a serious suspicion that a forced marriage has taken place against the will of Mr. Hawkins/Assange.
And we will ask him to provide evidence of Mr. Assange's consent to this marriage only through a visit where we can hear him speak freely on the subject, free from any presence of an intimidating nature that might influence his words.
I recall that on February 13, 2020, when the citizen known as Julian Paul Assange returned to sit in the dock, he showed all the signs of a man who had just been abused and was afraid.
We will not be satisfied with a single video. Too many videos and photos of Julian Assange have been photoshopped, anti or post-dated for us to trust the professional image makers.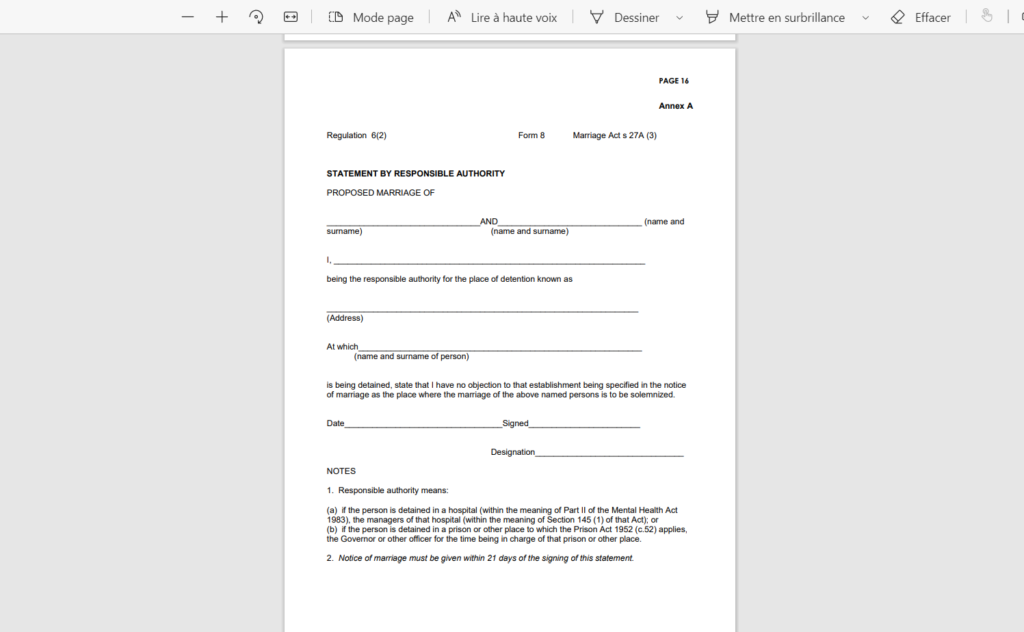 ---
[1] https://www.legislation.gov.uk/ukpga/1983/32
[2] Karin Feuerstein-Prasser, « Alice von Battenberg, die schwiegermutter der Qeen, ein unkonventionnelles Leben, 2020, Piper Taschenbuch
[3] https://www.justice.gov.uk/downloads/offenders/psipso/psi-2016/psi-2016-14-marriage-prisonsers.pdf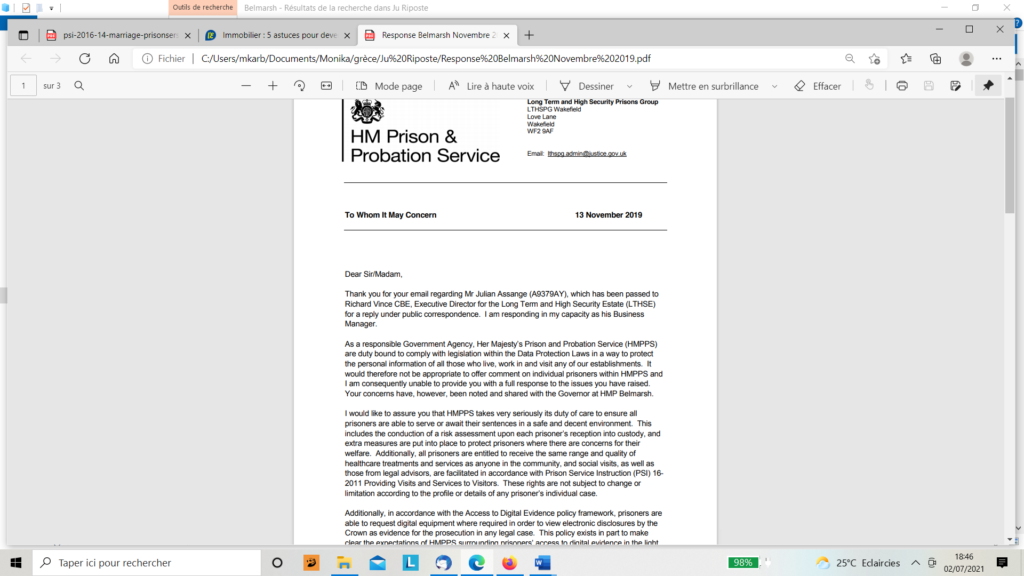 [5] « If Governors have concerns that a prisoner might be entering into a marriage or civil partnership under duress, this should be raised with the Superintendent Registrar or registration authority. Forcing someone to marry against their will is a criminal offence under Section 121 of the Anti-Social Behaviour, Crime and Policing Act 2014 »
[6] « During this period some details from the notice will be available in the register office for public inspection to allow for any objection to be made »
https://www.justice.gov.uk/downloads/offenders/psipso/psi-2016/psi-2016-14-marriage-prisonsers.pdf
[7] https://www.justice.gov.uk/downloads/offenders/psipso/psi-2016/psi-2016-14-marriage-prisonsers.pdf
Julian Assange is free!
All this legal device is really only for prisoners with sentences. Category A prisoners, convicted of blood crimes, can only get married in prison. Category B prisoners, sentenced to more than 5 years and likely to flee, can marry outside only after a thorough investigation of their intentions and the ability of the prison regime to accommodate the necessary security constraints. Category C and D prisoners may marry outside.
Not convicted persons are not barred from marriage, but they are encouraged from the outset to postpone their ceremony until after their remand, since their remand cannot exceed 3 months (Article 3.3).
Since the citizen known as Julian Paul Assange should, in view of the last hearing, be entirely free of his movements and choices, why doesn't he get married publicly as every citizen has the right and duty to do? Why doesn't Stella Morris demand that the man she claims to want to marry be released so that the wedding can be public, in the presence of all those who worked for his release, his friends, his family?
Since the cost of a ceremony in prison is borne by the prisoner, it is more interesting for the defendant to organize his wedding outside, which he will not fail to obtain, the practice of the English courts being to grant bail as often as possible to prisoners with a family and a stable address. I was able to verify this by attending many times the hearings of Poles awaiting extradition who systematically obtained a conditional release as long as a person undertook to provide them with an address and the bail.
And who would prefer to get married in prison? No one. Especially if young children are to be present. What parent can forbid children to attend their wedding ceremony in a friendly and joyful place or not wish their presence there?
Normally Julian Assange is not convicted. Normally Julian Assange is not even in remand detention: no one has ever been in England kept in pre-trial detention as long as he has: 25 months! More than two years! Never seen since the Ancien Régime, the Middle Ages to be exact! The regression of individual rights in the Assange case is as spectacular as the regression of our rights to decide about our bodies since the covid dictatorship was imposed on us!
Normally, Julian Assange is in fact completely free since he was released from all charges by Judge Baraitser at the end of the extradition trial on January 4. The judgment document states in full: « I order the discharge of Julian Paul Assange pursuant to section 91(3) of the EA 2003″[1]!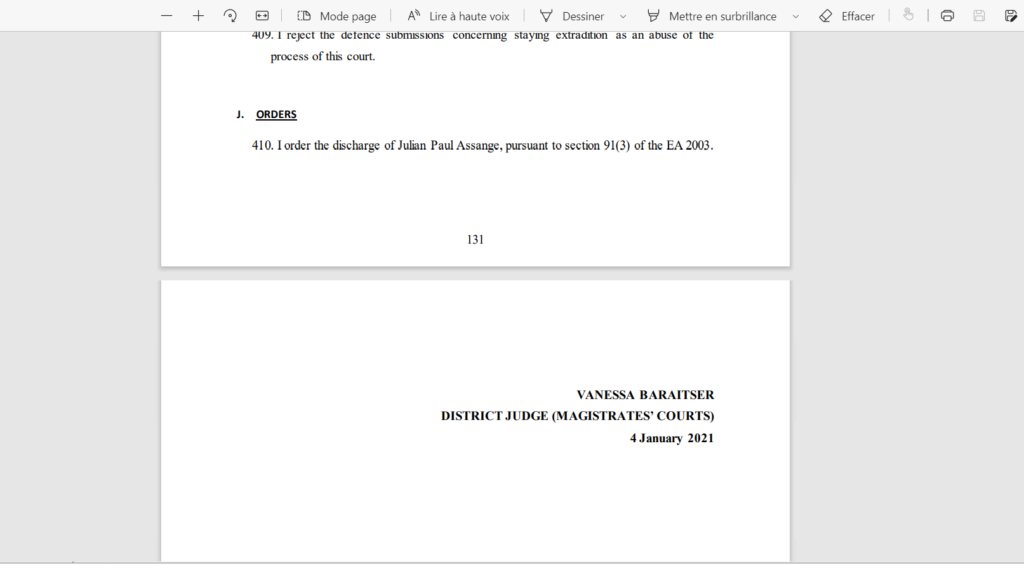 The possibility of appealing this decision does not exist in the 2003 extradition treaty signed by Great Britain and the United States. So why is Julian Assange not really free, effectively?
Why don't we see him in the flesh, hear his voice telling us himself what he thinks and what he wants?
Who holds him captive and for what reason? Why does Stella Morris never tell him that he is legally free and cannot be in a prison where only real offenders serve real sentences? Why doesn't she ever speak out against this illegal incarceration in secret? Why does she never demand the immediate release of the so-called father of her children? « 
Why have we never seen a credible photo of Stella Morris with Julian Assange and their children together? How can we believe that they are a couple when the media shows as proof of Morris's claims, excerpts from surveillance camera videos, stolen photos where we only see two not very identifiable silhouettes? Why doesn't Stella Morris object to the illegal publication of these stolen images showing the alleged intimacy of her couple?
How can we believe that she was daily with Julian Assange Hans Crescent Street for 7 years in a married life and that she has no single photo of them together to the point that the only photo of this « couple » is a faked photo allegedly from 2012 because it was taken in the street? The two photos of Julian Assange holding a baby in his arms are neither proof of his paternity nor proof of Stella Morris' maternity nor proof of their relationship: they are photos of a man with an unidentified baby in his arms, that's all.
How can we believe that Julian Assange does not want to speak to the public other than through the clumsy words of a woman who changes her name 3 times in the space of a year?
How can we believe that a photo of Stella Morris alone in front of Belmarsh can be proof of her marriage to Julian Assange?
Because a photo of a woman in front of Belmarsh prison is not proof of marriage to Mr. Julian Assange. Fact is that I too can say that I married Julian Assange because I too have photos of myself in front of Belmarsh prison!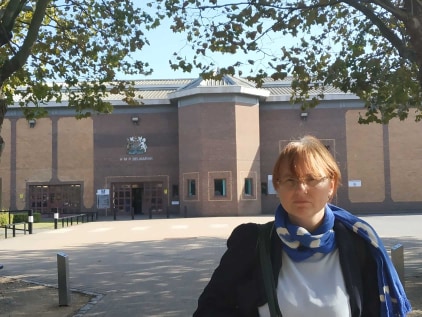 ---