Monika Karbowska
Translation with Deepl. translator
I travelled across the Channel to attend Julian Assange's Final administrative hearing at the Westminster Magistrate Court on Thursday 13 August, the day after the announcement of the launch of Sputnik 5, Russia's coronavirus vaccine, full of hope that this step could help people out of the terrible crisis we have been in for the past five months. My ticket had been ready for several weeks and I kept hope that we could win this struggle, the one for HIS freedom and for OUR freedom, since the crisis is a permanent war, a war of leaders against their people and a « west against east » war since the American military state and its Baltic and Polish henchmen openly attack Belarus by sending fascist militants to foment riots there. During the trip I remained mobilized, spreading on social networks the truth about the so-called « Polish journalists arrested by Lukashenko » supported by the European Federation of Journalists, when in reality they are two dangerous neo-Nazi activists.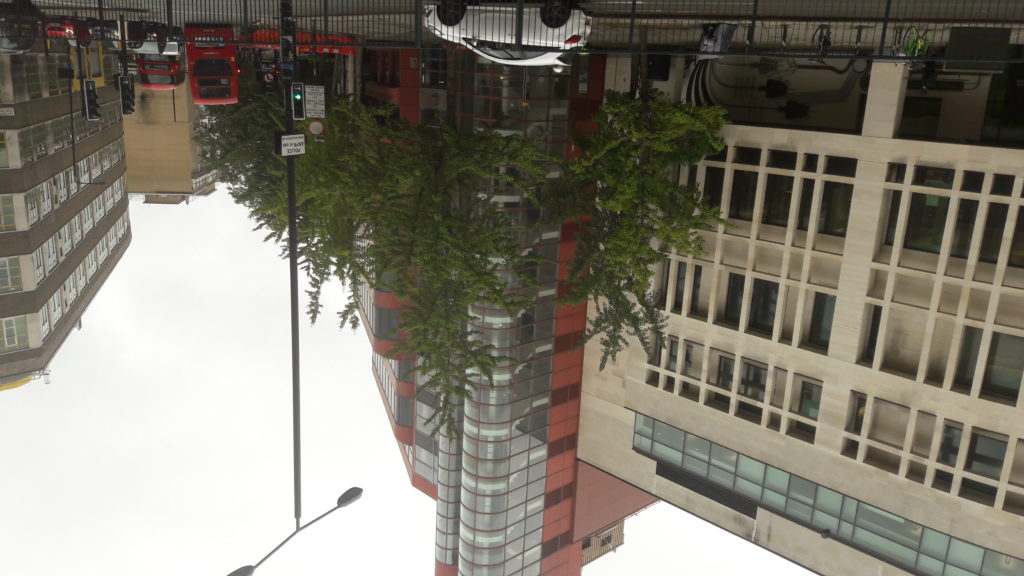 I did not learn the news of the quarantine imposed on the French by Great Britain until the evening of my arrival in London. This news surprised me: until now the government of Boris Johnson was involved in the global storytelling about the coronavirus, but in reality it does not terrorize the British as the macronist mafia does the French people. In fact, I had prepared in advance the certificate theoretically necessary for entry into the British territory, with address of residence and contact details of a third party in case I gave the coronavirus to someone and refused to answer my own phone… And here in Calais, the English border police does not ask for the certificate! The bus driver confirmed to me that for 10 days of daily travel this « covidian » attestation has never been required. He was very kind to us and went to great lengths to get us to open the toilets at the stops and hand out bottles of water on the Eurotunnel train. Indeed, the coronavirus was used as a good excuse to close the toilets and the air conditioning in the transport, which at 45 degrees outside generates stress and discomfort.
The weather in London is superb and cool. The Paddington district close to Westminster Court is slowly coming alive since the hotels have almost all reopened since August 1st and the tourists, first of all English-speaking, are coming back. Business obliges, the managers are all very friendly and the prices very affordable. The masks are almost non-existent and as I walk under the big trees in the neighborhood I feel liberated from the intense collective psychosis in which we are so immersed in France that we no longer realize it. It is only at the restaurant that the corona reminds me of it in the form of a large register kept by the waitress where her name and telephone number must be written down – but the British have more confidence in their government than we have in ours and they are not afraid of being found by the authorities, accused of having « infected » someone or exterminated in a hospital. Similarly, in another pub, a signposted route imposed on the consumer so that they do not mix with others also reminds me that absurdity also exists on this side of the Channel.
The announcement of the quarantine irritates me because it jeopardises our ability to come to Julian Assange's trial on 7 September. The measure is clearly a pressure on the French economy, with English tourists bringing in a significant amount of money to the economies of many regions. Like everything else in this crisis where decision-makers are so concerned about human health, all decisions taken in the name of health have real political reasons. In other words, since Putin called Macron immediately the very same day to offer him his vaccine and to incite him to put an end to the Covidian hysteria, are the British putting pressure on France in these negotiations from which the people are excluded, even though their place in the Western world has been at stake since they got rid of the European Commission's tutelage? I remain hopeful that these negotiations will lead to a compromise and that the border can be opened to us again by 7 September.
I arrive in front of the Westminster Court early in the morning so I'm the first one at the door. Shortly after arrives an Australian activist with a large banner of support for Julian Assange. We talk at length about the health terror that is being perpetuated in our countries by governments more concerned with privatizing health systems than with caring for the sick. She tells me about the latest liberticidal discoveries of a West in full fascist temptation: the New Zealand law allowing the confinement in special camps of those « infected » by the coronavirus, the Australian law allowing the police in Melbourne to enter homes without a court order for « sanitary » inspections and especially the English law that provides for the immediate removal from parents of children who, duly tested, would have fever at school! She is all the more horrified as an environmental activist because it is the left-wing government of the State of Victoria that proudly imposes tyrannical measures against terrified citizens. But she also assures me that a certain revolt is rising in this very fragmented British society and that the demonstration against the compulsory mask had finally joined the activists who on the same day organised an action in support of Julian Assange in front of 10 Downing Street.
Around 7 a.m. a French activist whom I know arrived, then a German activist with whom I sympathized. We discuss the situation in France and Europe, and in particular the way out of the crisis that the Russian vaccine maneuver represents. The queue forms around 8 a.m. with a dozen of the usual activists, we all know each other. Since the desire of some to make lists and decide who comes in and who doesn't has faded, the atmosphere is much more friendly and cordial. Among the public personalities I see Fidel Narvaez but nobody else. However, rumours are circulating that the « social distancing » has been hardened to leave only 5 places for the public. The fight will take place again, this time with the Court… We go back home at 9 o'clock, the building is completely deserted except for the security guards. A ghost courtyard. We don't know if it's because of the corona-crisis, since the British government had already tended to push justice to exist only by video and telephone, or is it because in reality, apart from the extradition of Julian Assange and the Eastern Europeans, this court only deals with minor cannabis use offences or neighbourhood disputes. This building, built in 2011, is therefore permanently empty and would therefore never really have been used for justice.
Are the hearings of extradited Eastern Europeans taking place « online » as announced by the poster on the door on 27 July? This announcement has disappeared, in the queue, the lawyers of the other cases are few. The secretariat of the court seems to be closed and as on July 27th there will be no more list of names posted on the doors of the rooms. However in the entrance hall several lists of judges are present. The name of Julian Assange appears on a small sheet of paper pinned on the list of cases judged in room 3. Opposite his name is a schedule: 3:30 pm. Ouch, if we have to wait that long, I'm not happy about it. But as we know that nothing is done here according to the rules, we have to stay. Three of us activists rush to the secretarial desk where only one employee has taken off her cumbersome mask behind her glass wall: she tells us to stay, there will be changes. We stand in front of the door in single file and talk.
Water flows from a neon light on the ceiling. Security guards have installed a rubalise and are trying to control the leak in the middle of the waiting room. They call in two cleaning workers, Eastern Europeans, who have to mop up the water with a cloth at the end of a long pole, without any safety equipment, even though they can electrocute themselves… Here, I notice that one of the security guards we know is wearing a blue badge instead of Mitye's orange badges. He confirms: yes, Mitie did lose the court deal, he was lucky enough to be taken over by the new company, OSE, and he is happy to keep a job close to his home. It is true that Mitye had committed some abuses here in front of us and against us and maybe even against Julian Assange, whom we saw terrorized while they were in charge of his custody. We are still waiting until 10 o'clock. Little by little the situation is becoming clearer: the Eastern Europeans are gathering in front of Room 1 and Room 3 will be entirely devoted to Julian Assange. Florence Iveson, the new lawyer who replaced Hamilton Fitzgerald, is busy with Alistar Lyon and Gareth Peirce's assistant between the consultation room, the secretariat and the still closed courtroom.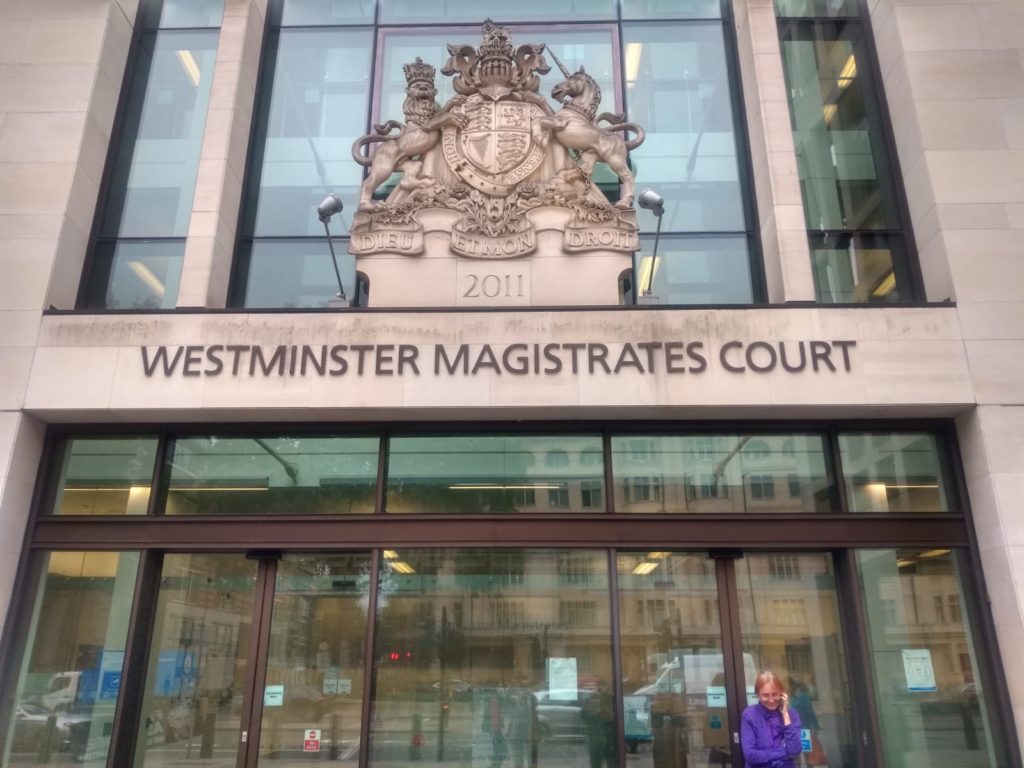 After 10 o'clock, the hearing still hasn't started, and a certain nervousness sets in. The journalists who have arrived for Julian, Juan Passerelli, Mohamed El Maazi, a woman and two men I don't know are sitting on the waiting room armchairs confident that they will be able to go home. That's not our case, we're worried about having to stand here all day. Shortly after the court clerk, a woman I've seen several times, still immersed in her computer, comes out of the courtroom with a deeply annoyed face of someone who is being assigned a task that is not hers. Finding myself nearby, I hear Florence Iveson asking for a delay because Belmarsh is not responding to the lawyers' requests. The clerk finally responds that perhaps they can talk to him in the room once the video connection is established. But the lawyers have to manage to get their clients to appear, and the court makes no effort to do its job… Yet another galling indication that all these malfunctions show a world of false pretenses. Finally at 10:30 am we are still standing in front of the door, while Iveson and the two collaborators of Peirce and Birnberg lock themselves in the room.
Then John Shipton and Stella Morris enter the waiting room. John Shipton greets us kindly and then exchanges with the journalists. It is a question of who is going to give him his precious place, which I cannot do given the efforts I am making to be here. But I have a feeling that, like the Woolwich Court, it won't be necessary. Nevertheless, when the clerk comes out at 10.45 a.m. and announces that because of the « social distancing » only journalists will be allowed in and no one else, the emotion is high. Someone still says that we have been here since 6 a.m. She brings in the journalists, who are five in all. That's when John Shipton walks towards her, Stella Morris behind him. He says, « I'm Julian Assange's father and she's his partner ». And I, who's always at the front of the line, say « and I represent a human rights association ». The woman looks at me with hostility and shouts « I'm not talking to you »! I'm taken aback because I didn't say anything aggressive. We could have announced that we are Julian Assange's « French family », the one John Shipton spoke about on April 18, 2020, but it is not our style to lie. What could be more natural in a democratic country than the presence of a human rights association to monitor respect for rights! We do not need to justify being there!
So the clerk tells me to step back to respect the « social distancing ». I do this with difficulty because the line is pushing me behind my back and the activists are as upset as I am. I point out to her that at least I am wearing a mask, a utensil that visibly gives me more legitimacy today than the evocation of Human Rights… The clerk remarks « I have to manage this situation » which is not easy objectively. We wait silently. Finally, she brings in John Shipton and Stella Morris. I can enter in my turn and I quickly push the door of the public box without turning around. Three other activists can enter, one French, one German and one British – the whole of (Western) Europe is there to at least symbolically support Julian Assange. I'm sitting in the last seat in the front row. With two of the three chairs condemned, John Shipton is on my right, Stella Morris at the back of the row, the other activists behind. I find myself in a good position to see Julian Assange on the two video screens on either side of the room and I'm sitting right in line opposite Vanessa Baraister.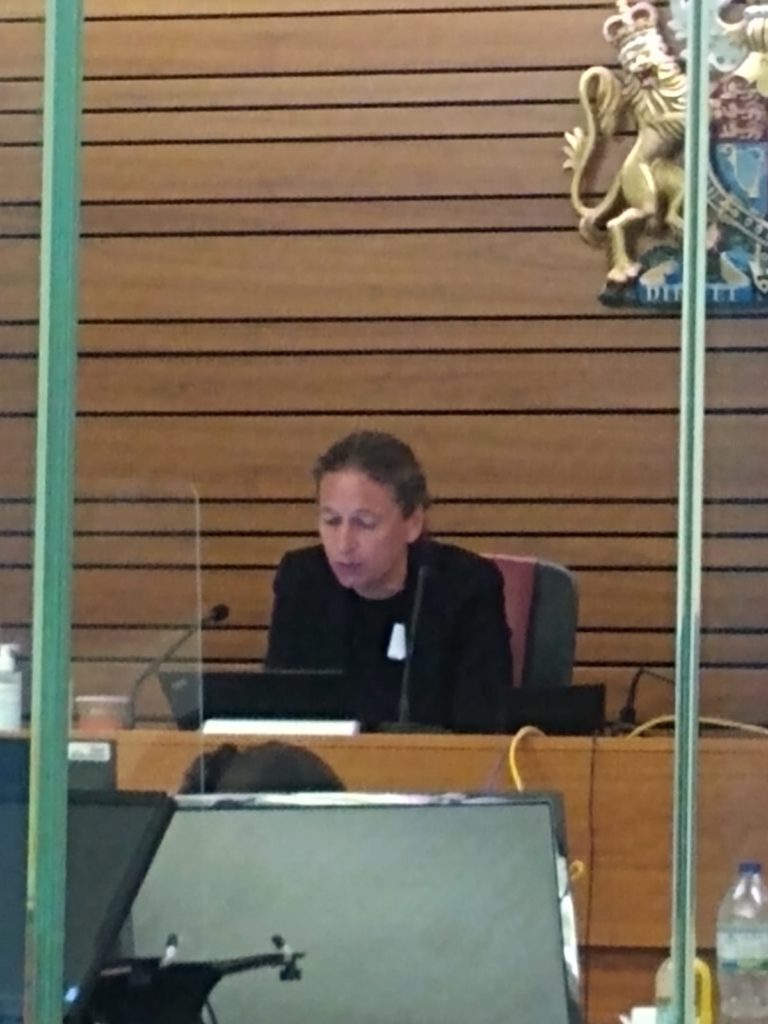 Baraitser is already there and staring at us. And above all, Julian Assange is also there in the video. He's sitting in this box with dark blue walls on red seats that look like a waiting room. The room is different from the one on July 27th and differently filmed. Whereas on July 27th the camera was filming him up close across the street, cutting him at the waist, here it is located on top of a wall, which is reminiscent of a surveillance camera, and you can see it in its entirety. The set is the one of the productions of last December and January. There is a door on the right, a small window overlooking the corridor and an indecipherable sign above her head. Julian Assange is sitting with his hands clasped in his lap, his right leg crossed over his left leg. He is wearing the same beige sweater and white shirt as last time, slightly too short grey trousers and white socks. He has short hair and no beard, or a very short beard, no glasses and a sad and resigned look that I saw especially last November and December. As then he looks bad, prostrate. He doesn't move and doesn't change position for an hour and a quarter. Sometimes he leans to the side as if he were the victim of a malaise and keeps his eyes down. He does not participate in the show, either because he is unwell or because he refuses to bail. He frequently has a dry cough, which resembles asthma, and then brings his hands to his face. I am concerned and saddened to see him like this.
He looks cold in this sweater, while the guards are all in white short-sleeved shirts and black pants. And guards there are! The prison video suddenly pulsates, even if these uniforms are rather reminiscent of those of private security guards and not the black uniforms already seen in such circumstances. First there are two men, one white and one black, looking at Assange as they stand in the doorway. Then there are women joining them. It goes down the hallway, and the hubbub is audible all the way down here. Julian Assange remains impassive but the pressure on him is visible. On July 27th the staff of « Belmarsh » were dressed as nurses in blue and green scrubs. Apparently Julian Assange has changed location again, but we still don't know exactly where he is. We still don't know if he receives our mail and if not why and why he can't answer it .
In the room chaos floats in the air. Vanessa Baraitser has her nose in a file, silent. Lawyer Florence Iveson is in and out, for some reason. Julian Assange is absent, prostrate. The noise gets louder: the guards are talking, and every time someone enters or leaves the famous conference call a metallic voice « left the conference » is heard. It REALLY doesn't sound serious. Really « Kindergarten », as I confide to my German colleague. Like a kindergarten, a nusery, when the life of a man in prison is at stake. You pinch yourself to believe it. At one point Baraitser raises his head, asks « Officer, Wandsworth », and then catches up with « Belmarsh », and asks him to be quiet because we can't hear anything in our room! A guard arrives and sits down in front of Julian, we see him clearly crossing the box and then disappearing from our field of vision. Permanent surveillance, how Assange could freely express himself in court with such pressure on him!
Moreover, at 10:55 am Julian Assange coughs, then nods his head and bites his cheeks, seems older. Baraister then decides to open the trial and asks him to present his name « formally identified ». I can hear his voice through the loudspeaker. It is hesitant, stumbling over every syllable, every word is interspersed with silence, like in December 2019 when he was at his worst. Is he under psychological pressure, physical torture, medication? His date of birth, « 3 July 71 » he pronounces it as if he doesn't believe in this identity as uncertain as his voice is here. The chaos continues: Baraitser gives the floor to Claire Dobbin through the « conference call ». We hear the beginning of a sentence uttered by Dobbin, then nothing more. Baraitser then gives the floor to Florence Iveson, who forces the tone so that Dobbin can hear through the machine. For once I can hear correctly what the defence is saying. Florence Iveson seems uncomfortable and after 15 minutes her cheeks are red, she turns around frequently to consult Alistar Lyon sitting behind her. Julian Assange is coughing more and more, his shoulders are tucked in, sometimes he just moves his fingers. The guard who controls him also moves and then you can see him on the screen. Baraitser tries to get Dobbin to repeat his sentence, then throws in the towel and calls a technician to repair the equipment. A young man arrives and we wait another fifteen minutes without moving.
This example clearly shows that telephone justice, like telephone medicine, cannot work. There is no prosecutor, how can a hearing take place? The conditions not being met for a fair trial, in a normal country the judge would have immediately sent everyone home and set another date that was binding for everyone without trying to reconcile agendas! But the question has been asking itself for some time now: Is Vanessa Baraitser really a judge?
At 11:15 Claire Dobbin can finally talk on her phone. She says she didn't know that the hearing was set for 10 o'clock. Baraister preaches to her like a little girl on the subject that she had actually set the date on July 27th. It's so surreal that it feels even more like a theatre rehearsal in a kindergarten with people playing a role. A certain Smith stands behind Dobbin and tries to justify himself by the lists announcing 3.30 pm. I can hear Clair Dobbin because the sound is very loud.
Florence Iveson begins her speech with the new accusation whose documents would have arrived the same day. She points out that the defense did not have time to read the 43 pages and that it is « astonishing » that a new « request » has been made because it considerably expands the first one. According to her, Krombach did not send the document in time and argues that the sheer size of the file makes it impossible to meet the September 7 trial date with a « pragmatic approach ». She also argues that the notion of « narrative background » should not be excluded from the file. The new file should have been presented at an « early stage ». I don't quite understand where she is going with this, what is the « narrative background » – (the political history?) that would not be highlighted? Nor do I understand why Prosecutor Gordon Krombach should have handed over the file when he is only one of the seven « assistant United State Attorneys » listed at the bottom of the indictment signed by G. Zachary Terwilliger, Unit States Attorney, on June 24 (1). It will be necessary to look into the complicated functioning of the American institutions and their links with the 2003 bilateral extradition treaty.
I am perplexed by the date of 21 December, which I hear without understanding the precise context. What I understand is that it is asking for additional time to process these documents and because this request initiates a new process (« new conduct »). It would even seem to us that a new charge should give rise to another separate procedure that should be separate from this one and should first go through the diplomatic channel before becoming official. Baraitser then asks her to illustrate her words with « new conduct ». I do not understand her answer, which is very brief. Julian Assange is even more immobile and prostrate. Then Ms. Dobbin has the floor. She cites Krombach and paragraph 9 of the Grand Jury's decision that the United States is continuing its « criminal investigation » against Mr Assange and that the prosecutor is continuing his « criminal » investigation. She repeats that it is certainly not for this « substitute » charge that he has been « charged » that is not important since in any case the procedure will be « enlarged ». According to the procedure, Mr. Assange is a hacker and this is the real background of the extradition request. While she is talking, the guards move from their seats, a woman opens the door of the box, there is noise and I can no longer hear the details of what is being said. I have the impression that Julian Assange hears nothing and doesn't understand it either.
Florence Iveson replied that according to paragraph 9, the ongoing investigation, the evidence given relates only to the charges for 2010 and not to the « superseding charges ». These are the Jabber Messenger conversations between Chelsea Manning and Julian Assange, which the prosecution has always made a big deal of in these documents, but never, in my view, was in a position to produce them publicly. Yet at the February trial, Room 2 of the Woolwich Court was equipped with a gigantic screen on which it was possible to show the famous Jabber messaging protocols proving the Manning-Assange conversations. I attended all 4 days of the trial and saw nothing like it. It should also be remembered that the Jabber messaging system was developed by the German Wau Holland Foundation, the same foundation that from 2009 to 2014 produced and directed the Wikileaks project 04 « Defending Freedom of Information » and for which Assange was project manager (Projektleiter) in 2011 and 2012, according to the foundation's public activity reports (2). Jabber was supposed to be a tamper-proof encrypted e-mail… Julian Assange trusted the Germans twice as much as he did, as director of their « Wikileaks » project and as a user of their Jabber product… and that was fatal to him. In the room, the managers of Wau Holland, including « friend » Andy Müller Maguhn, are conspicuous by their absence…
Once Florence Iveson has repeated her request for more time, Baraitser sums up her position like a teacher facing her pupil: the old request is not cancelled by the new one. The defence needs more time. The « narrative background » has been ignored and the « case management hearing » cannot decide which evidence is admissible. She announced that she was in favour of giving the defence more time to work on its arguments.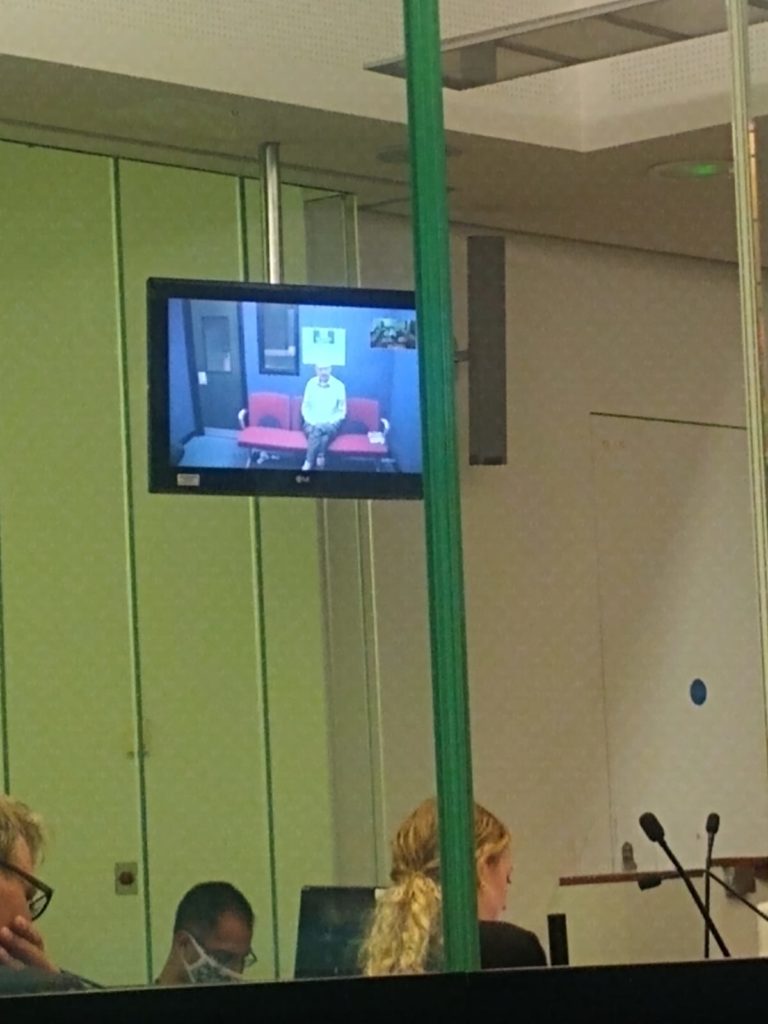 I look at her closely and then something happens. I see this woman's face like it lights up and gets rounder. She is right in front of me, not far away after all. She looks rejuvenated. My eyes are exactly in line with hers, which then take on a beautiful light green hue. She keeps talking, then looks down at her text. She reads her text clearly, more and more mechanically, as if it had been written in advance, or by someone else, like a script for a role. She reads more and more visibly. I have in front of me a woman who behaves like Svietlana Tichanouska, the housewife who was the « first opponent » of President Lukashenko when she fled her country to pro-American Lithuania last Monday after pushing militants to commit riots. She then published a video in which she read a text, so visibly that one cannot help thinking that she is hostage to her new American 'friends' and that she wants to show it indirectly (3). I turn to my German colleague and disconcertedly ask her « is this woman an actress? (Schauspielerin)
Vanessa Baraitser's biography and the reasons for her responsibility in this case have been a mystery until now. Her career as a judge seems quite mysterious as there is almost no public information about her. Her father Michael Baraitser is a white South African neurogeneticist of Jewish origin who came to Great Britain in the early 1970s and is well established in British scientific institutes (4). One of her sisters, Lisa Baraitser has an impressive CV as a psychologist, researcher and specialist in maternity, gender, feminism and queer theories (5)! The second sister, Paula Baraitser has a comfortable position as a researcher in sexology at Kings College London, another prestigious institution (6). With such extensive family expertise in psychology and human sexuality, one wonders how Vanessa Baraitser could not see that the propaganda campaign slandering Assange as a rapist was based on a complete vacuum, which I and some of my feminist friends immediately perceived once we read the published Swedish documents.
How is it that Vanessa Baraitser, from such a family, versed in psychology and armed with prestigious diplomas, as a district judge, a simple prudential court judge, participates in such a shameful manipulative sketch? The key question would be « what's her interest »? Moreover, the seriousness of his activity as a judge is called into question. Indeed, we have not been able to find other traces than a few cases of harassment, voyeurism and alcoholism on the public highway (!) (7)and in the chapter on extraditions, the curious French case of the flight of Alexandre Djouhri, bearer of Nicolas Sarkozy's financial suitcase in 2012, which she released in February 2019 (8). A « magistrate » court judge may have been a lawyer, but here again there is no trace of any activity. I myself did not see Baraitser judge other extradited persons before the bizarre case of a Latvian member of the KGB on July 27. In September and October 2019 I saw in three hearings Emma Arbuthnot judge Poles locked up in the prisons of Wandsworth or Belmarsh and decide whether or not to extradite them. I saw other judges trying these routine cases. Vanessa Baraitser, on the other hand, seems to have only the Assange case as her job and that is strange.
At the end of her reading, Baraitser said to Iveson: « You need more time. When you're ready, inform the court ». Julian Assange's lawyer then seems to panic. She turns, with a red face, to Alistar Lyon and his colleague and talks about « instructions » and « communication difficulties ». However, it does not occur to her to ask her client what he thinks about it, when he is right there in front of her, and normally a lawyer is not forbidden to address his client during the trial (I checked with the lawyers of the Poles). Apparently everything is done so that Julian Assange can NEVER speak freely in person in the presence of anyone from outside the circle. Baraitser helps him by setting a date, next Friday or Wednesday. Then she addresses Julian Assange « the date of September 7 will be effective. You have not been arrested on the new charges » (of course, he is still presumed innocent, yes!).
Julian Assange raises his head.
Then Baraitser asks Iveson and Dobbin if they agree. For her, in February it was a general agreement, and now there is a new procedure, a new request. Does everyone agree? Dobbin and Iveson agree. We're not asking Assange's opinion. Baraitser's looking forward to getting it over with. She starts a layus on the « global pandemic » (our beloved Covidian religion), proposes a « cloud video platform » for witness depositions and gives the deadline of August 21 for the list of witnesses who will come personally. The prospect of a cloud platform trial is worrying. It is 11:40 a.m. Julian Assange is still coughing, we activists, we feel our nervousness and our emotion rising. Baraitser, Dobbin and Mr. Smith are discussing whether the secretariat is available. Dobbin goes on about the « mental expertise, psychological report » requested by prosecutor Krombach. Iveson agrees with her, but not us! Indeed, the long militant experience shows that a political prisoner should never accept psychiatric expertise to save his skin, because the credibility of his action will be permanently damaged and this will inevitably harm him. A fortiori such an expertise is useless in extradition proceedings! Finally, Iveson declares that he will be able to present the « evidence » by August 24. Dobbin also summoned him to respond to Mr. Krombach's « 25 statements ». One enters into secretarial debates, who can who cannot. There is talk of a « pre-hearing » and then of a video conference.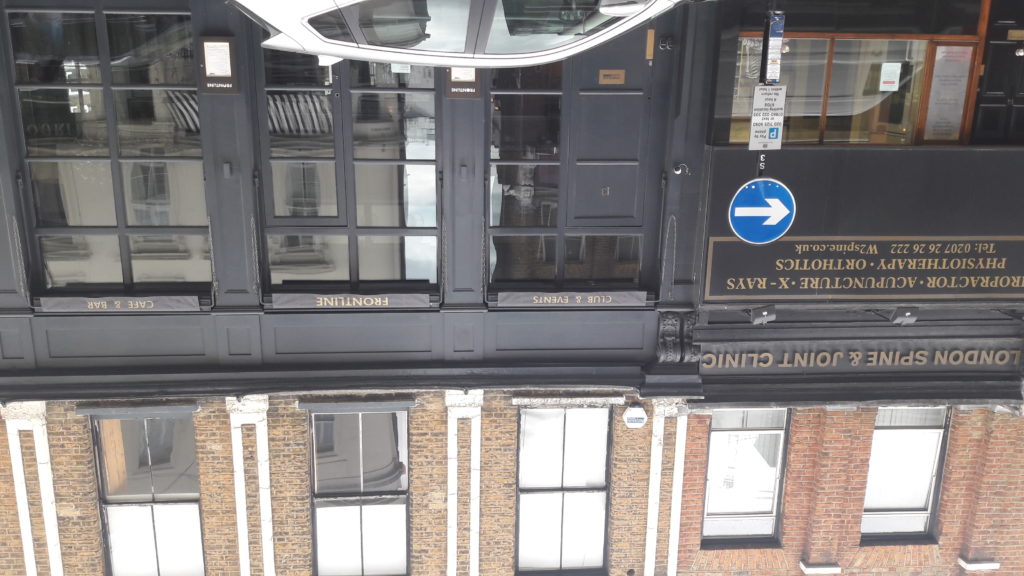 When Baraitser raises his voice, I understand that the hearing of August 24 has been cancelled. She announces that today was the last administrative hearing and that the physical appearance of « Mr. Assange » at the Old Bailey on September 7 at 10 a.m. is maintained. She tells him that he remains in custody and asks for an understanding. A weary, choppy voice is heard: « I have heard some of your words, » says Julian Assange (I am having this sentence confirmed by the real English speakers to make sure I understood). In fact, he hasn't heard everything that's going on and may not be in a position to understand. Vanessa Baraitser doesn't care, she's done her performance, she's in a hurry to leave. The whole room respects the ceremony and stands up. Then almost everyone in the room has their backs turned and puts their things away. But I realize that Julian Assange is still here and I'm staying, as always, until his final departure. I want to see his gait so that our doctor can assess his state of health. When the audience doesn't really pay attention to him anymore, Julian Assange raises his fist! So I raise my arm and my fist too! I look at him! Some activists will tell me, « But he can't see you. I say, « Maybe someone will tell him we're here. He saw us in January and February. He knows we're here… ». And then Julian Assange leaps up and leaves the room with a quick step like a man who is just waiting for this opportunity to run away! I am reassured – his walk is alive and well, not doddering or uncertain like in winter. He wants to live and run away from there… When he disappears from the box, I agree to leave my seat and leave the room.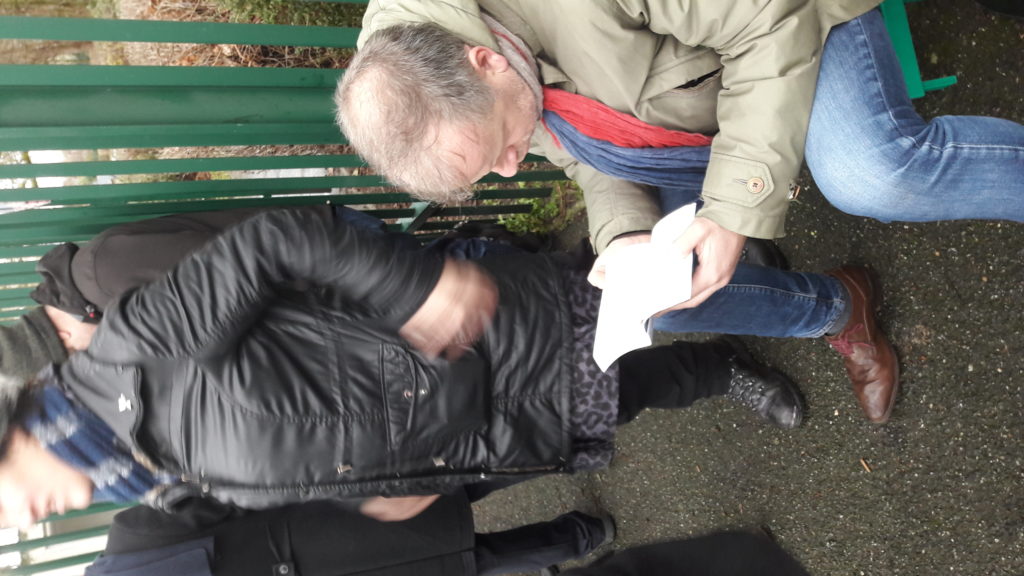 As always, I am stunned by what I have seen and experienced. It takes me a little time to come to my senses as the activists give a voice to the door of the building. I talk to John Shipton about the political quarantine that prevents us from coming to act for Julian from France. We talk about Julian's health and conditions of detention « for 11 years » and the impossibility of talking to him at the moment. I have to leave quickly because because because of the quarantine I cannot afford to lose my return ticket on the Flixbus. I have work to do because I am immersed in reading an important book: « Sexus Politicus » by Christophe Deloire, General Secretary of Reporter sans Frontières since 2012, who was present at the trial of Julian d'Assange on 24 February. It is really important to understand how the network of political elites that decides our most intimate lives works, if we want to regain power over ourselves.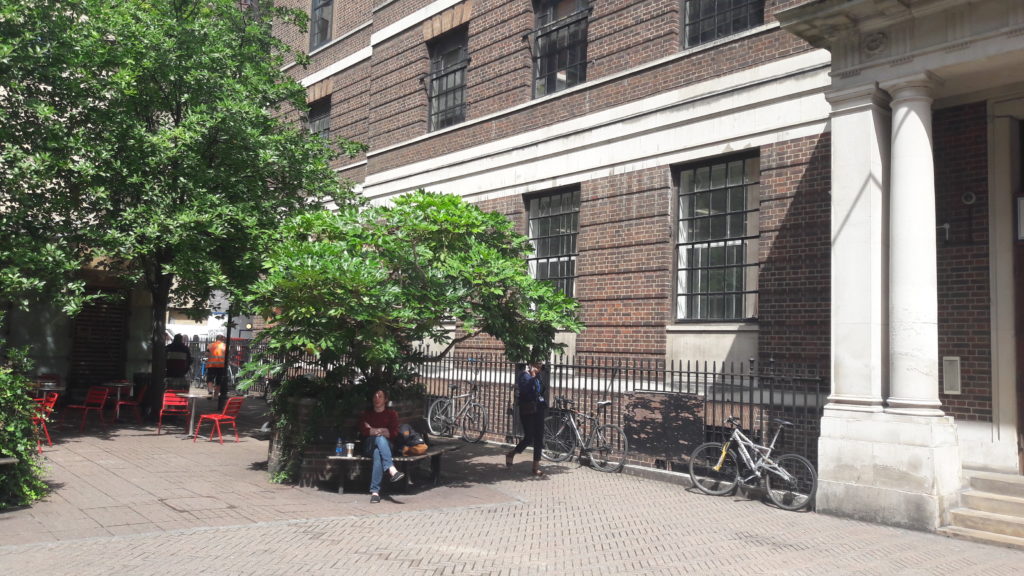 [1] https://www.justice.gov/opa/press-release/file/1289641/download
2. http://www.wauland.de/media/2009_Jahresbericht.pdf
http://www.wauland.de/media/2011_Transparenzbericht-Projekt04_de.pdf
3. https://mobile.twitter.com/tutby/status/1293099290349404160
4. https://therealslog.com/2020/03/03/extradition-showtrial-julian-assange-is-a-curates-egg-but-magistrate-vanessa-baraitser-is-a-rotten-apple-from-central-barrel-casting/
https://www.waterstones.com/author/michael-baraitser/57524
5. http://www.bbk.ac.uk/psychosocial/our-staff/academic/lisa-baraitser
6. https://www.health.org.uk/fellow/paula-baraitser
7. https://www.dailymail.co.uk/news/article-6516565/London-barrister-Aisha-Bijlani-court-allegedly-harrassing-city-lawyer-colleague.html
https://www.dailymail.co.uk/news/article-6607417/Ministry-Justice-adviser-52-punched-paramedic-road-spared-jail.html
https://news.sky.com/story/man-guilty-of-upskirting-photos-spared-jail-after-losing-job-and-having-mental-health-issues-11713948
https://www.bbc.com/news/uk-england-london-48716898
8 https://www.lemonde.fr/police-justice/article/2019/02/26/la-justice-britannique-ordonne-l-extradition-d-alexandre-djouhri-vers-la-france_5428453_1653578.html