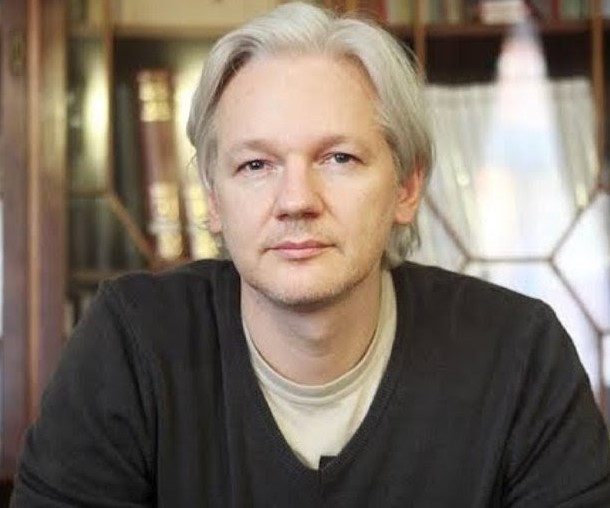 Monika Karbowska
My ninth trip for a hearing of Julian Assange at the Westminster Magistrate Court takes place on January 22nd as always on the Flixbus with poor migrants but this time under the sign of increasingly violent emotions: anger, exasperation and psychological fatigue. I am an activist and my emotions open the way for me to reflect on the ethical timeliness of my actions. Emotions are the sign of our humanity but also the compass that keeps our citizen indignation intact and subtly directs our intuition towards solutions for analysis or action. This time my emotions show me that we are reaching a point of no return, a tipping point, a change of cycle. Today, to shed light and win the battle, to really free Julian Assange, we must reverse the virtual storytelling that Wikijustice does, but also understand what reality has of symbolic to extract the signs of real power.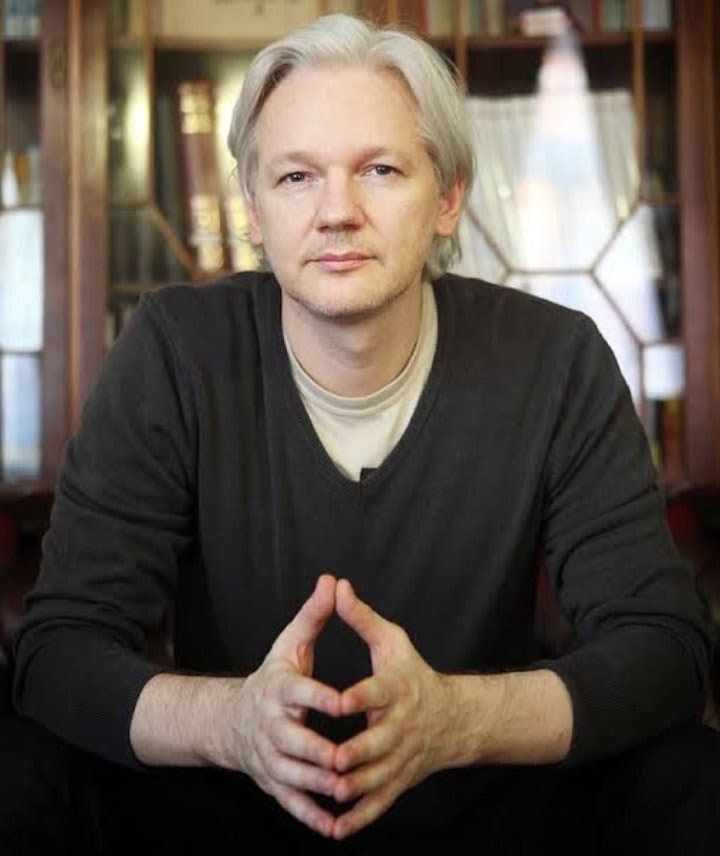 I am exasperated because moving the hearing from January 14th to the 13th at the last minute required great physical and organizational effort on our part. But it also upset the program established on December 19 for this last « case management hearing » set for January 23. While we had hoped that Julian Assange would appear in person to fully participate in the organization of his trial, we must accept that it is possible that the rumors that he will only be present on video are true. But precisely, I no longer believe in explanations that are never official, rational and justified. Justice by videolink is for me an aberration and a serious violation of the ECHR, which defines a fair trial as a physical trial. But since the texts of human rights are only respected in the capitalist system if citizens use them, it is unfortunately not the East European migrants extradited en masse by the Westminster Court who will be able to assert these rights in the total absence of British organizations. In the case of Julian Assange each hearing marks a step in the recomposition of power in this case. Each element gives us clues as to the real power and that is why I am obliged to note all the details while remaining open to all solutions. Including the good news of an immediate release of Julian Assange, which, let's remember, is legally quite possible with a lawyer who would apply for release and a judge who would want to show that he or she is independent of political power.
So I imagine Julian Assange simply walking out of the court door as a free man. I imagine shaking his hands and telling him all about what happened here. I also imagine everything that will have to be set in motion to deal immediately with his new situation as a Commonwealth undocumented migrant released after 10 years of actual detention.
Power and hierarchy in a queue
In this state of mind, between anger and hope, I get up at 5:00 a.m. to arrive at the court door at 5:30 a.m.. I now know that the « Greekemmies » arrive even earlier and that places are more and more expensive in this audience. Indeed, our team is in place at 5:40 a.m., but there are already 3 people in front of us: an Australian journalist, an elderly lady who turns out to be a psychiatrist who signed the list  » Doctors for Assange  » and Paul, who more than ever, this morning, looks like an understudy of Julian Assange. He's sitting in a folding chair, a clever idea after his malaise the week before. Everyone turns out to be French-speaking and in a later conversation with Paul I learn that he spent his last summer in France with his bike. So we discuss, we have to keep politeness despite the tension and fatigue, because we are, alas in theory, allies for a cause but in reality we are at odds because of our differences in strategy.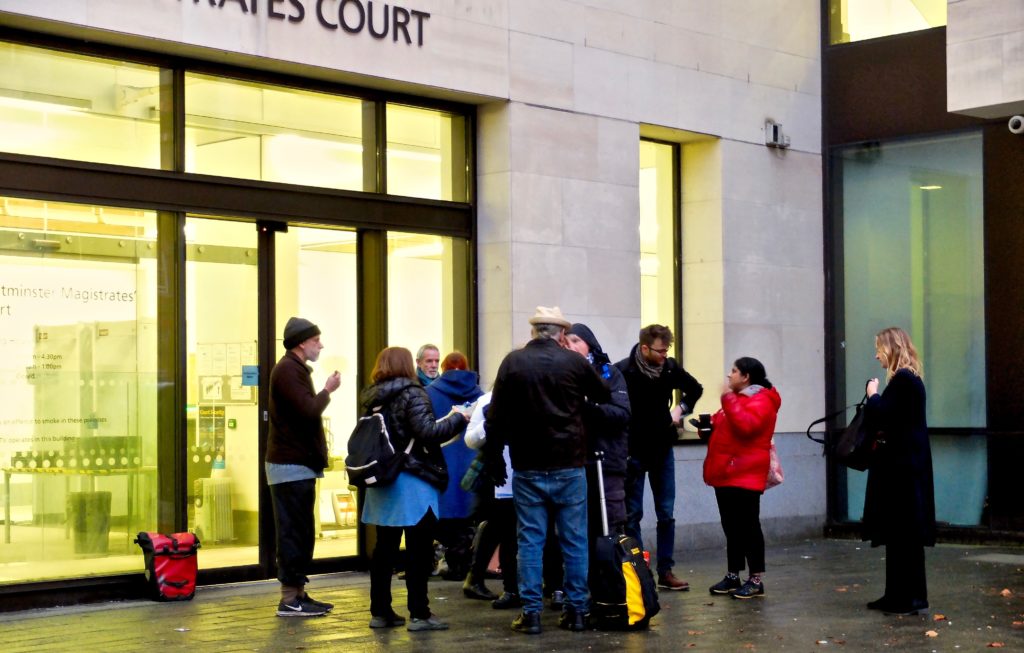 This is what Dr. Felicity De Zulueta talks about for several hours, introducing me to her collaboration of 20 years ago with lawyer Gareth Peirce, and to her own work as an expert with political refugees, even if later I find on the internet only the trace of her real specialty – the trauma of children who are victims of violence. I tell her that she will be shocked, that one does not come out unscathed from such confrontations, even a non-medical person like me sees the symptoms of torture that Julian Assange suffered. Dr. De Zulueta agrees. She knows that the situation is bad, she has read the report of the doctor from Wikijustice. She appreciates the quality of his work. I explain to her that Wikijustice has always wanted to collaborate with the relatives of Julian Assange and had proposed, as early as July 2019, to the lawyers to discuss the best strategic coordination to be implemented for optimal support of the political prisoner Julian Assange. It is the lack of response and the violence that characters like Greekemmy inflict on us under the impassive eye of the lawyers that made us take a more radical direction. Without forgetting the SOS letter we received from Julian Assange on August 17, 2019, which gives us the DUTY and not simply the right to do everything possible to save him.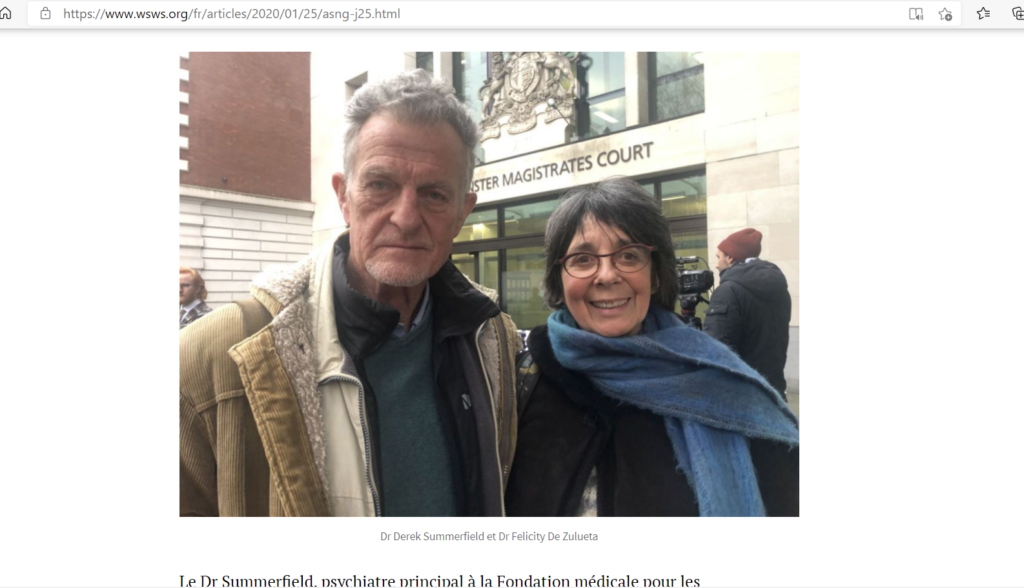 Greekemmy arrives en masse around 6 am but some of his collaborators are already behind us. We count the present while our friend J., who is late, is twelfth in line. We should all go home, even if it's room 3. Alas, the sneaky freeloader is still king: J. won't be coming home while others, including Naomi Colvin, placed before her by Greekemmy, will be able to fill their twitter account with brief remarks. Basically, the police can install security barriers, but it's ridiculous. For a media man as famous as Assange was 10 years ago, we are barely 30 in front of this place where his final fate is sealed by the iniquitous system he denounced. But in order to fight we must be there, we have no other choice. Julian Assange is deprived of communication with us, deprived of mail, parcels, emails, the money we sent him. He no longer receives visits, not even from John Shipton, who has disappeared permanently from circulation. Some of the 30 people waiting from 5:30 to 9 am are journalists he knows and who will write stereotypical papers about him. Or write nothing as they did after December 19, a hearing on which no major media representative published anything while they were forcefully hunting for a stolen photo of an exhausted man locked in a van.
It is finally 9 o'clock and the security guards unlock the doors. We enter each one watching his place. I am lucky, I pass the metal detector very quickly, I check on the lists in the hall, yes, alas it is room 3, the name Julian Assange is at the top of the list. So I find myself first in front of the door of the room, Doctor De Zulueta behind me, further on the psychiatrist Derek Summerfield, with the friends of our team around them. The head of the ushers, Rosie Sylvester, directs the operations and places us, 25 people, in single file in front of the room so as to clear the space of the corridor. As long as she's there, I'm confident that the rules will be respected. Problems can start when security guards find themselves alone under the fire of various requests and manipulations. In fact, today, those managing Room 3 are the same Mitie team that stood guard outside the door of Room 4 during the December 20 ghost hearing, which was procedurally flawed and potentially illegal. The security manager Mitie, who had the strange right to attend a closed hearing on December 20, seconds the chief bailiff but I know, since November 18, that when she is not present, this man holds a power that he does not always put at the service of legal rules (incongruous presence during the closed hearing of December 2 or appeared Julian Assange, cooperation with Greekemmy to enforce his illegal lists …). Journalists have the privilege of sitting quietly on the chairs in the waiting room. There are more than 20 of them, almost the same as on January 13, except Moritz Muller from the German magazine « Nachdenkseiten » that I recognize because I saw his picture. It's the first time I see him, he didn't come before. Precisely, Greekemmy goes to see each of the journalists one by one, she talks to them and hands them a photocopy of an article from El Pais about the proceedings against UC Global in Spain. With Dr. Zulueleta we discuss the undeniable responsibility of Rafael Correa and his diplomatic staff, including Fidel Narvaez, in the management of this surveillance and the confinement of Julian Assange in the apartment at 3 Hans Crescent Street. It was then that I noticed Kristinn Hrafnsson sitting with the journalists next to the head of the « mementums » of the DefendWikileaks project John Rhees. Does he have a press card that he didn't have on October 21, just like Joseph Farell? It is true that « Wikileaks » has no legal structure and is not a media organization, so the website is not allowed to issue press cards. It is the « 04 Wikileaks » project of the Wau Holland Foundation, but this German organization is an association for training and user advocacy and not a media. Kristinn Hrafnsson is a minority shareholder of the Icelandic company Sunshine Press Production created in 2010 but it is a film production company, not a publisher or a newspaper. Perhaps the CIJ, Centre for Investigation of Journalism is taking on this task even though it is registered as a British charity and not a media organization.
Strange collective ritual
I think about it when lawyers from both sides enter the hallway and walk past us. There is no « rustle of dresses » because in the « magistrate » courts the employees of justice dress in civilian clothes but the black color of the clothes as much as the theatrical aspect of their behavior accentuate the effect of « sacrificial rite » which comes to my mind when I remember all that I have been living in these places for 5 months. Clair Dobbin arrives with his second, then the « Americans », the prosecution team in which I recognize the elderly man who refused to give me his quality and name at the end of the hearing on December 19, 2019, lock themselves in the rooms marked « private » at the end of the corridor. They greet the group formed by Gareth Peirce, Edward Fitzgerald, Mark Summers and Alistar Lyon. In this group I am surprised to see Stella Morris and also the blonde woman who accompanied, on January 13, the young dark-haired boy that Morris was coaching on December 19 and 20. By the way, today I know the boy's name: MC Mc Grath . He is probably American, a graduate of Boston University, MIT. He is a hacker, computer scientist and creator of the Transparency Toolkit website. He lives in Berlin, collaborates with Russia Today Germany, and has given lectures on its counter-espionage monitoring site. In my opinion, he cannot be a British trainee lawyer at the same time[1]. So he doesn't belong in this court, or else I and my friends should be able to sit among the lawyers in the courtroom[2]. These huge procedural flaws that should invalidate these shading hearings of Julian Assange logically make me doubt the diplomas and qualities of the other lawyers: if the secretariat of the tribunal registers any computer scientist as a lawyer, how can we believe that he checked Stella Morris' diploma or that Gareth Peirce still has the right to plead despite the fact that she is retired?
The feeling of participating in a sacrificial ritual, rather than in a political trial crucial to the future of our freedoms on the European continent, then settles in and never leaves me. When I see Kristinn Hrafnsson and John Rhees waving a small plastic press card under the nose of one of Mitie's agents, my tension rises a notch. I know they have to be accredited and show their pink accreditation sheet and I remind the agent. Seeing me, Mitie's manager takes matters into his own hands: he calls the bearers of the accreditation sheet and brings these journalists into the room. Afterwards, he let the audience in. I sit in the front row to get a good view of the screen on both sides surrounded by my friends, the two psychiatrists and Paul on my right. Paul has lost his clumsy appearance, Greekemmy no longer manages him and he plays a role that I understand as important. As the second row takes its place, I see that those who don't have accreditation are still accepted by private security. They will even be allowed to use their phones to type their text while ours are severely checked to stay off. When we notice the unequal treatment to the agent of Mitie who scans us, she tells us that they write with their machine. Faced with these people entering without accreditation, using forbidden telephones, I have the even clearer impression that the court is a room privatized by private interests in which a ceremony that has nothing to do with the official justice of the state is taking place.
The sensation becomes almost certain when I see the Australian journalist who arrived early in the morning asking the « Americans » for their names one by one, a young man, two young women, the elderly brown man with a satisfied smile and Clair Dobbin's usual collaborator. The Australian asks and immediately gets what we and our allies have never been able to get since we have been haunting these halls. Strange political trial where all the lawyers, judges and journalists checked by the world of Greekemmy know each other and work together as in the Polish proverb « Reka reke myje », « the hand washes the hand ». The clerk of the registry wearing a veil seems very self-effacing, even though she does the job of calling « Julian Assange » on the video screen, remote control in hand. Likewise, the clerk behind her distant desk seems absent and preoccupied with managing the rest, the 20 Poles, Romanians and Slovaks whose extradition she has to manage after the end of the cumbersome meeting on Assange. It is five minutes to 10:00 on the room clock. I am here to see Julian Assange and eventually to convey our messages to him through my thoughts, my heart and my eyes. Julian Assange seems to be alone in the face of the ceremony that disposes of his life.
---
[1] https://exposingtheinvisible.org/films/group/mc-mcgrath/
https://transparencytoolkit.org/
[2] https://www.youtube.com/watch?v=kQLDvasKPdo
Trial or video interview?
On the screen I first see a row of three red armchairs in a small room with blue or purple walls. The light is raw and distorts the perception of colors. In the distance on the wall a sign « HMP » but you can't see the word « Belmarsh » written on it. The scene is filmed differently than usual. The camera is placed three meters from the chairs. « So that we can't see anything, » I say to myself. Indeed, first a guard in a vaguely brown uniform enters the room. We have never been able to see the uniforms of the Belmarsh guards, those who work at the entrance to the site are dressed in white shirts and black pants. The will to show us that the prison is real seems obvious today. Then behind the small box window I see the slender silhouette of Julian Assange, higher than his guard, walking with a not badly assured walk. He enters the room and lets himself fall on the central armchair. My anger rises. They show him from so far away that you can't see his face at all. It's a matter of not distinguishing the expressions on his face, his facial expressions, so that we can't see the traces of his suffering. Signs of torture. I can't even tell how long his beard and hair are, or what his eyes are saying. In fact, it may not be him. How could we see him when we can barely distinguish him under a pale light as if he were 100 meters away from us? Julian Assange is wearing a brown suit and I see dark sneakers at his feet and light socks. He is immediately motionless, puts his hands on his thighs, then crosses them in front of him, puts his right foot on his left knee and doesn't move for long minutes. As he enters, he is carrying a backrest, but as soon as he is seated, he puts the useless artifact on the seat next to him and does not touch it anymore, the pile of papers looks from afar like an illustrated magazine sitting in a waiting room.
But that's when I notice that someone is sitting across from him off-camera. I can see a hand, a human form moving. Julian Assange is observed during his trial by an invisible guard as if in an interrogation room. I am flabbergasted by this scene, which is so contrary to human rights, to the traditions of habeas corpus, to this whole long history of struggles for the rights attached to the individual here in England since the Middle Ages. This history of struggle that I learned with passion as early as 1988 when I began my studies at the Institute of History at the University of Warsaw. How is it that we live such a regression, when since ancient times people have been fighting against royal arbitrariness and the right to justice is to freely confront the judgment of men and God's judgment, face to face, to assume one's faults as well as to prove one's innocence? What value is there in the word of a man locked in a cage that is going to be presented to the judge while his executioner or the policeman is staring at him? How can we still talk about a trial? I propose the name of ritual sacrifice, it seems more appropriate. Even the Inquisition, which knows a lot about torture, took care to keep the appearance of a real trial in which the accused expressed himself freely while confessing his faults and being sentenced to death. Without a trial, the death sentence is meaningless, and therefore the existence of the Inquisition is useless. It is just as well to kill the accused immediately with a bullet to the head or a missile with a drone. For assassination to become justice, certain rules are needed. If this trial does not respect these rules, it is nothing more than a slaughter ritual. I am thinking of Polish communist friends, of Mateusz Piskorski, prosecuted and accused of espionage for having dared to criticize American domination in Europe. I think of myself and all my friends in the struggle. If Julian Assange is put to death at the end of this ritual without there being a chance of a real trial, then we will soon be next on the list.
While the « interrogator » betrays his presence by moving his hands in the foreground, Julian Assange, who cannot see the room, becomes agitated and can no longer hold on to the chair. He rubs his hands, touches his hair, looks left and right as if he wants to take his gaze out of the interrogator's field of vision, and then stops. He seems to be asleep, he flees from the intolerable by withdrawing inside himself. Meanwhile, Hrafnsson writes on his phone and then stares at Fitzgerald sitting in the front row between Gareth Peirce and Mark Summers, who remains silent. On the same bench next to them, Clair Dobbin sits upright like an I. Behind him is the row of the American prosecution. In the last shot, Alistar Lyon rubs shoulders with Stella Morris, the other woman, and MC Mc Grath who takes no notes and does not look at Assange. The judge called by the press Baraitser enters and begins the formal ceremony.
Pre-programmed ritual or trial?
At the command to « formally identify yourself, you can hear me », Julian Assange answers in a weary but less hasty voice than before « Yes, I am Julian Assange, 3 July 1971 ». And that's all he will say today as his life is decided in an implacable mechanism of final crushing. He does not have the strength to do more. We have known this since our doctor's report on torture. This trial should never take place and the lawyers should boycott this deadly theater and shout scandal everywhere until the end. They will not do it because it suits them to do things the way they want to do them.
The prosecution begins the hostilities and for ten minutes Clair Dobbin talks to the judge in a firm voice. Her flow is fast and all my attention is focused on understanding her and taking notes. Dobbin recalls that the court decided on December 19 to give the prosecution until January 10 to present their « evidence » and to hold the « full extradition hearing » in February and March over 4 weeks. She believes that the prosecution has met these requirements. I hear the British representative of the U.S. prosecution quoting several times « the United States », pointing out that « the USA » has responded, and then I am concerned when I understand that she repeats that American medical experts should examine Julian Assange. There is no way we are going to let this pass. Julian Assange is already seen by these people as a trapped game, I have been watching them for 5 months. You can see with the naked eye that his condition is deteriorating in English prisons, but it is not up to his worst enemies to decide whether or not he was tortured – it is up to the British administration to take responsibility and up to the UN to ensure that he is treated in a truly neutral country far from the influence of Washington. In the West, these countries are not legion, France is one of those rare countries that does not have an American base on its soil, and we have the associative and medical fabric to ensure the neutrality of this expertise.
For the time being Julian Assange remains impassive, strangely motionless while we talk about his life. I am certain that he hears nothing. If this could be proven, the procedure should be cancelled for formalities. Moreover, I wonder about another strangeness: Clair Dobbin talks about the « United States » but only a legal authority has the right to make an extradition request to the British government on the basis of the « Extradition Act » of 2003. This body is never cited and worse, the indictment has never been formally read. Will it finally be read on February 24 at the time of the final proceedings? A trial without an indictment seems really strange to me. If you add the procedural flaws that are legion, the impression of witnessing something distorted becomes stronger. Moreover, the Grand Jury that secretly decided to prosecute Julian Assange for espionage is a purely American political rather than judicial structure that has no equivalent in any other country. Does the bilateral extradition treaty recognize this institution as a legal body whose decisions would have to be enforced by British courts? I do not think so. In diplomacy nothing is automatic, everything is governed by the rule of reciprocity. If the Grand Jury has no equivalent in Great Britain, it is up to the British prosecutor to formulate this indictment against someone who is neither an American nor a British citizen and who is not protected by the consular law of his own country. If Julian Assange were Polish, Tunisian or Greek, the consul of his country would have been obliged to visit him in prison and to be present, in this room, with us. There is no Australian consul in Britain and this situation casts a harsh light on Australia's colonial status vis-à-vis Britain.
Precisely, Clair Dobbin and Judge Baraitser embarked on a long dialogue on the extradition calendar. I hear them talking about Prosecutor Lewis, who is busy with cases in Northern Ireland and unavailable in February. For us, defenders of Julian Assange, the prosecutor's occupations are of no concern to us, I even wonder why a Court devotes so much time to them as if we were in a secretariat and discussing planning among executive assistants. Nevertheless, I understand that Dobbin proposes to divide the programs of the « killing » in two and again Baraitser agrees as if it were a foregone conclusion. We're heading for May 18, when everything will be decided after a week of « mise en bouche » from February 24 to 29. I'm very worried, I'm watching the reaction of Julian Assange's lawyers, but a man approaches the clerk of the court office and hides the protagonists. I can only observe that Julian Assange is asleep on the box seat, his body leaning slightly to the right side. Last week his right leg had given way while he was walking. What if he had had a mild stroke? That would also explain his speech difficulties. Hrafnsson and Rhees stare at Fitzgerald, but do not react to this surprising change in events with any gesture. Do they already know about it?
Edward Fitzgerald finally has the floor, he stands up and instead of starting a strong diatribe in defense of his client, he says that he supports the accusation in the proposal to « divide the hearings »! He even seems to be in complete harmony with Clair Dobbin, he looks at her in all connivance, she is standing too, and they look at each other a meter apart in complete agreement. Why not. After all, in real life they are colleagues, lawyers in the same field, working together on some cases, competing on others. It would be natural for them to socialize privately, eat together or more. This is why usually in political trials victims fight to have cases moved to courts in other cities to avoid collusion of interests due to the inevitable proximity of local life. Edward Fitzgerald does his job, however, by asking for « more time for evidence », more time to present the evidence. The evidence is the witnesses who have to appear. He speaks of a « significant » number of witnesses, he cites witnesses designated by numbers, witnesses 4, 6, 12, without their names or initials. The twelfth witness is key because it is related to the « spanish procedure ». Baraitser also seems to be interested in this trial in Spain and to accept the importance of all the witnesses from this procedure. Why is this? The mere escape of the surveillance videos cannot mechanically hinder the extradition procedure. Moreover, we still do not know who the plaintiff is and whether Julian Assange is a witness or a victim and who has been named, and above all by whom, as a suspect.
From an oratory point of view, Mr. Fitzgerald is not very good: he stammers, stutters, has trouble finishing his sentences. Sometimes his speech takes on surrealist accents when he says he is waiting for « instructions » from Julian Assange while Julian Assange does not look at him and struggles to stay straight in his seat without falling down. I wonder how he would be able to give instructions if he is not in good enough health to attend his trial. I get irritated when Mr. Fitzgerald evades the question of Julian Assange's health with a « we are not in the position to face the medical background of Julian Assange ». This attitude revolts me when he has Julian Assange's life in his hands for which he can demand an independent medical report and release on health grounds.
On the contrary, Edward Fitzgerald, under the watchful eye of Gareth Peirce, goes into the extradition schedule, discusses with the judge the deadlines for the submission of evidence, asserts that some witnesses are « not available » and that the « spanish witnesses » are the most important. The judge commented on the details, asking for the availability of witnesses number 10, 11 and 12. The lawyer says that there is a large volume of documents to read and that it would take another week in March. We are again in the « executive secretarial » mood as Julian Assange slumps more and more in his chair. Fitzgerald promises to submit the list of witnesses by February 1 and to make sure, he hopes, that they will all come to testify. In a stutter, he points out that he needs time to « take instructions from Mr. Assange », explain the publications and give the witnesses time to check their availability. He asked for three or four weeks of trial and one day per person to allow each witness to summarize his or her position. From a formal point of view, it is always annoying to hear negative expressions in lawyers' speeches that should be broken in political jousts. At present, I find it hard to bear hearing about « extreme complexity », or « great difficulties » or « not easy process ». But Kristinn Hrafnsson seems satisfied with the way things are going. Julian Assange, on the other hand, seems less and less concerned, he looks down, does not see the Court, does not react to anything, and above all does not touch the file that is supposed to represent his defense and that lies on the seat next to him. I can make out by dint of effort the extreme sadness that can be read on his face.
Mr. Fitzgerald, however, assures us that he wants to « involve Mr. Assange at every stage of the procedure », whatever his « medical background » may be. (I have difficulty understanding this last expression. Either the accused is capable of participating in his trial or he is not. If not, the trial must be adjourned and the person treated, I don't see a third way legally speaking). When Fitzgerald begins to say that the « USA must respond to witnesses » and finally evokes the examination of the validity of the extradition procedure according to the 2003 treaty, Clair Dobbin takes the floor again and easily counters him by demanding a shortening of the time limits. Then the judge summarized what they agreed on (the dates of February and May) and listed the non-agreements. And she orders a recess.
« Ladies and Gentlemen Lawyers, please…. »
We keep our eyes glued to Julian Assange who is almost lying on the box seat. But the security guards kick us out of the room rather abruptly. It is 11:00 am, they announce that the hearing must resume at 11:15 am and then at 11:30 am. It's hard. We have to pick up our bags and go out to stand again in front of the door to face Greekemmy who doesn't lose an opportunity to push us outside. Naomi Colvin is even so sure of her status that she will try to get in with the lawyers before being prevented in extremis by an agent. I think that this kind of drama is designed to keep us from witnessing the negotiation and agreement between lawyers, prosecution and judge. It's as simple as that.
I am very tired and overwhelmed when we are allowed to come back into the room. The security guards get rougher and force us to sit at the back of the box while from there we no longer see Julian on the screen on the right. Dobbin immediately attacks, setting the dates of February 14, 20 and March 27 with 3 weeks of prosecution and defense response. Fitzgerald agrees. He repeated the importance of the « spanish issues ». As the lawyers do not inform us of anything, we will have to make our own investigation in Spain. The judge agrees. Meanwhile, poor Julian Assange remains apathetic, his hands slumped on his knees, he has a grin of suffering on his face – with a lot of concentration, I end up being able to distinguish his features better. Joseph Farell, sitting among the journalists, takes out a small telescope from his pocket and scrutinizes his former project manager coldly. Vanessa Baraitser is satisfied. She turns to the screen and aloud informs us of the program: February 19, the last « case management hearing », with a videolink that will also serve to prolong the detention, then the « full extradition hearing » in Woolwich in the week of February 24, possibly until March 2, then three weeks from May 18. But she forgot to make sure that the accused understood what was happening to her and she is getting out. The hearing is over. I don't want to and I will at least remind the lawyers of this procedural flaw that should have allowed them to cancel the whole hearing. In French, I say to the room, « Gentlemen, ladies, can you ask Julian Assange if he has understood what is going to happen to him? A muffled noise reacts to my intervention, which I claimed in a loud voice, fed up with passively watching the killing of the sacrificial lamb. There are limits to everything. Some activists and the psychiatrist ask me to repeat in English. But Rosie Sylvester grabs my arm and threatens to ban me from entering the courtyard. I apologize to her, because she is trying so hard to make this strange place respect some basic rules.
But I think it's too much emotion for me. We go out and find the friends who were not allowed in. Some manage to talk to Mr. Fitzgerald and Mrs. Peirce. Fitzgerald assures them that Julian is doing very well and that he sees him every day whenever he wants. This is totally contradictory to what Gareth Peirce has been repeating over and over since October before us, that it is almost impossible for her to make the « legal visit » to Julian Assange. As for her health, everyone can see it now. Doctor De Zulueta was very moved by the visible suffering of Julian Assange and expressed her emotion during the forced break. So, which of the lawyers is lying in this case?
The money
Gareth Peirce assured our friend J. to work for free, « pro bono ». However, as soon as the hearing was over, Joseph Farell called in front of the cameras to donate money on the site of the Courage Foundation, money intended to ensure the defense of Julian Assange. Courage is a project of the Wau Holland Foundation and it is to this German structure that citizens are invited to donate money to pay Julian Assange's lawyers via the website
Moral courage – Wau Holland Stiftung (wauland.de)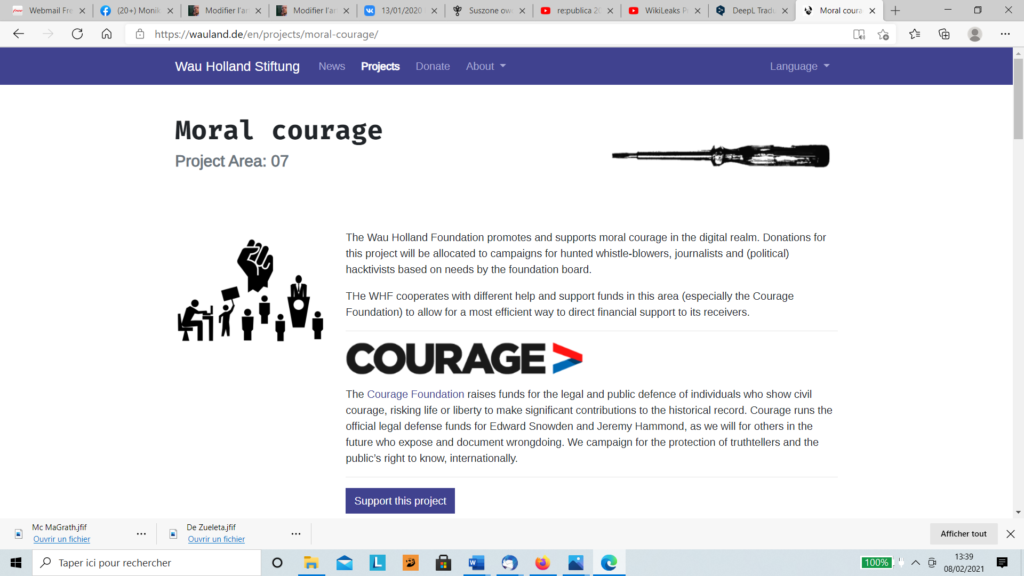 However, for donations that are not tax-exempt, the Courage project managers advise people to send their money by transfer to a bank in New York, the recipient's address being Courage Foundation, 201 Varick St., P.O. Box #766, New York, NY 10014, USA [1]. We have a problem with people of good will being called upon to send their money to the United States to a country that is legally suing Julian Assange and in fact persecuting him. How is it that the collaborators of the Wikileaks project who are the founders of the Courage foundation, Sarah Harrison for example, did not see the contradiction and the danger that immediately jumps out at us? Setting up the headquarters of the Courage Foundation, which is supposed to defend Julian Assange, in the United States, the country most hostile to Julian Assange, is in fact endangering the citizens supporting Julian Assange and all the opponents of the war policies of the United States, because it will allow the American State to file the coordinates of these opponents, especially Europeans, through the control of their financial donations.
This alerts us all the more since 201 Varick Street is a building owned entirely by the U.S[2]. federal government. It houses the Office of Technological Measures under the Homeland Security Department – that is to say, the U.S. Department of the Interior – and the Court of the Bureau of Immigration under the Department of Justice. This U.S. federal court also validates deportations and administers all laws affecting the stay of foreigners in the United States. As Julian Assange is awaiting extradition to the USA, the impression is strong that the Courage Foundation is installed in the proverbial lion's den. I also remember the strange concert organized by the Courage Foundation on November 5, 2019, in front of the Home Office, the British Home Office. The fact that the Courage Foundation, run by the German Wau Holland Stiftung, rents offices in such places and moreover organizes concerts in front of the British « mouth of the wolf » is surprising and worrying to say the least.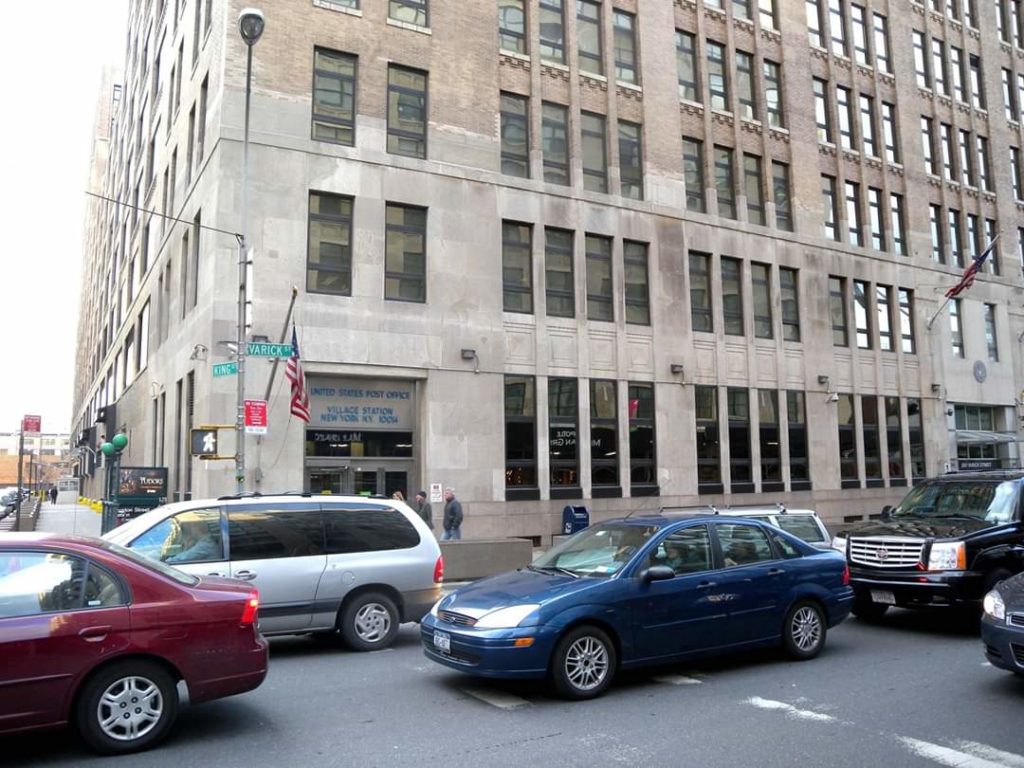 Moreover, for other whistleblowers like Jeremy Hammond, the site https://freejeremy.net/donate, which can be accessed through the « Donate » link on the Courage Foundation's site, refers the donor to Derek Rothera & Company, Chartered Accountants, Units 15 & 16, 7 Wenlock Road, London[3]. Problem, this account manager has assured us that he will no longer take care of the Courage Foundation since 2016. According to Derek Rothera Compagny, the foundation has repatriated its accounts to New York and manages them from there. It seems to me that for the trust of the donors a public audit of the Courage foundation is necessary and the legal publication of its financial statements indispensable.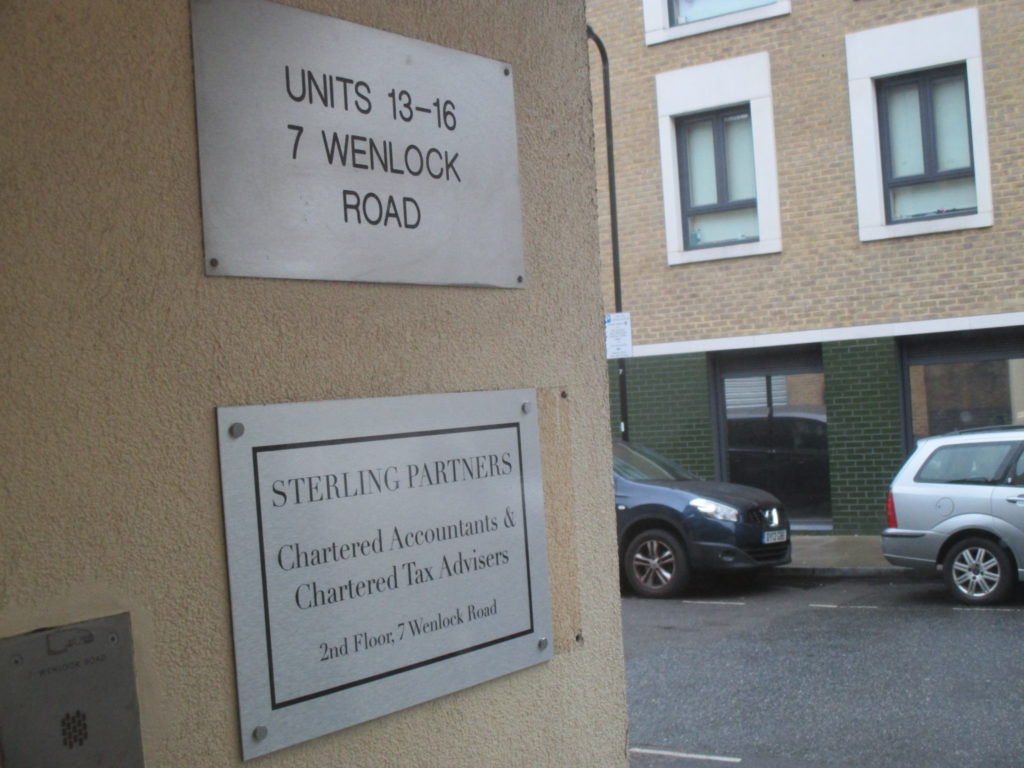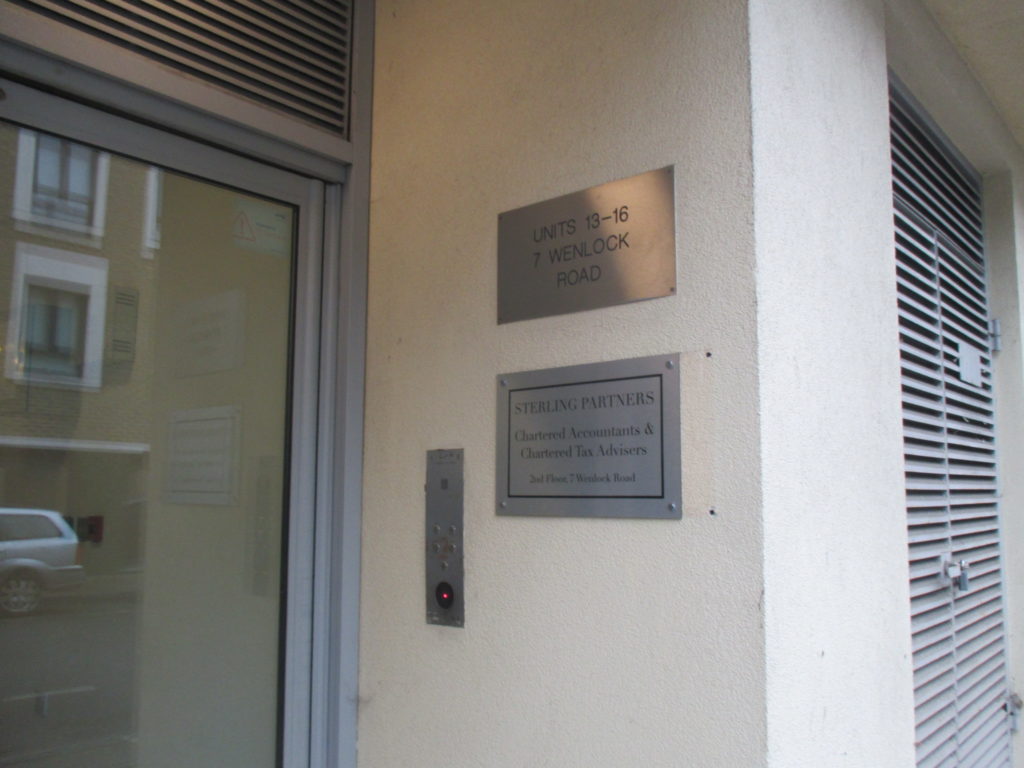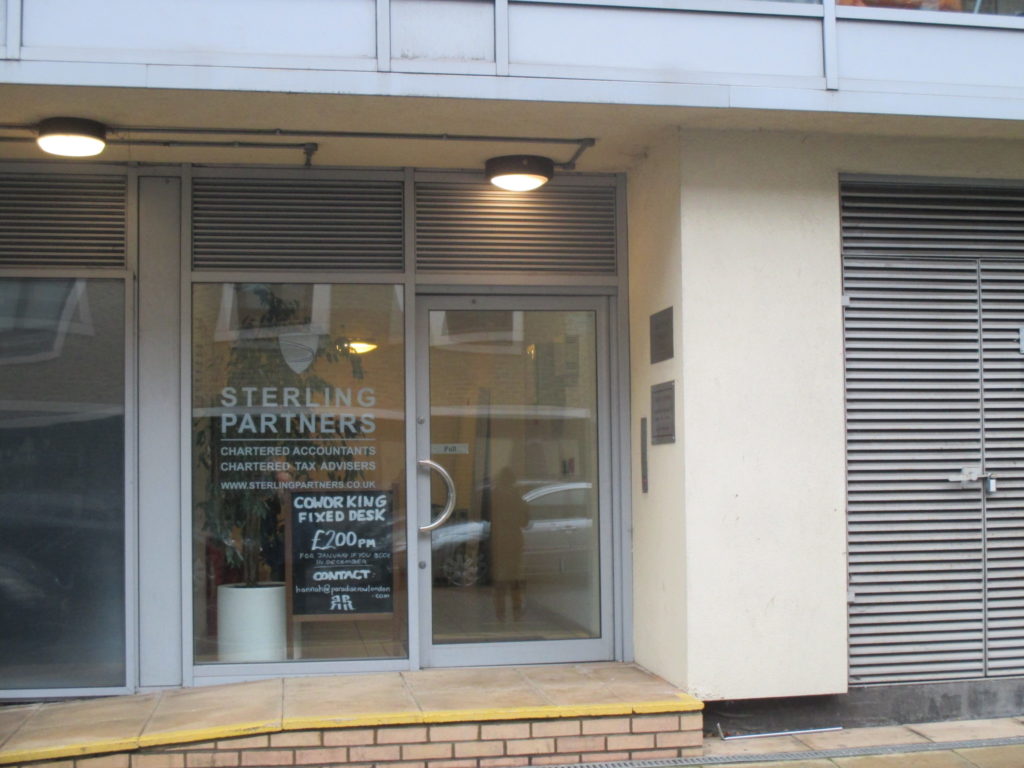 I am not opposed to a good lawyer being compensated for, among other things, having the assurance that he or she is able to devote himself or herself fully to the task. I fully agree that donations should be made by citizens to Julian Assange to help him or her pay for an effective lawyer. But Julian Assange is not the president or even a director of the Courage Foundation and, as he is imprisoned, he is not in a position to decide anything in this matter. Those who manage the Courage Foundation and collect donations from citizens must accept citizen control over the use of these donations. This is all the more urgent since the laws in Europe are clear: only donations can be collected from European citizens if they are made to an organization with an official seat in a European country and duly registered according to the laws of that country. The place of registration of this type of organization may vary (Prefecture for France, court for Poland, register of charitable organizations for Great Britain) but everywhere the legal obligations are the same: publication of activity and financial balance sheets every year so that the amount of donations and their use is public. It is not normal that the Courage foundation collecting donations for the defense of Julian Assange escapes the obligations of European laws of transparency and therefore citizen control. We call upon the legal leaders of the Courage Foundation to take their responsibility to repatriate the foundation's headquarters to Europe and to publish the financial statements of the institution. The credibility of their action is at stake.

The life of Julian Assange is at stake!
---
[1] https://www.couragefound.org/donate/
https://defend.wikileaks.org/donate/
[2] https://en.wikipedia.org/wiki/Varick_Street
https://www.gsa.gov/historic-buildings/federal-building-new-york-ny
https://en.wikipedia.org/wiki/Environmental_Measurements_Laboratory
https://www.justice.gov/eoir/new-york-varick-immigration-court
https://www.justice.gov/eoir/page/file/eoir_an_agency_guide/download
[3] https://www.couragefound.org/donate/