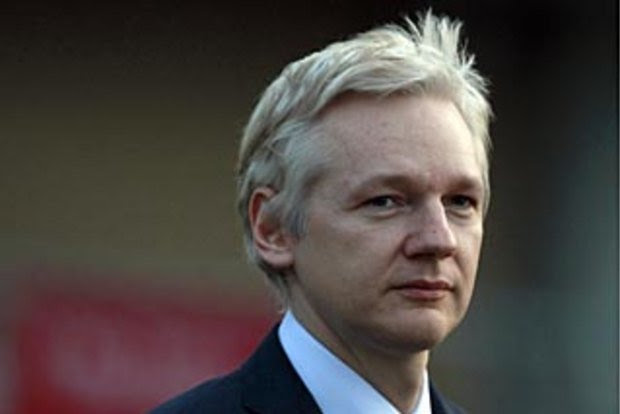 Monika Karbowska
I need to warm up and rest for long hours in my room to recover from my disappointment not seeing Julian Assange free nor seeing him at all. As always I feel as if all I have to do is see him, to open the doors of these dummy cages and to set him free. It is even more infuriating today when he is JURIDICALLY free and should NOT be locked up. I cannot bring myself to leave London because I still hope for a miracle, a turnaround. After all, the MET police have made it clear that Assange is a kind of private captive, an iron mask put on by political decision-makers without the freedoms and rights of a democracy being respected. But today we are whole peoples whose rights are being massively challenged by the political authorities and we are defending ourselves only weakly « in the hope that it will stop »!
The next day I go down to discuss in the cafés of Norfolk Place. The neighbour of the Frontline Club listens to my disappointment despite all my efforts the day before and tells me that she saw Vaughan Smith entering his club the same evening. She said to him « You must be sad that your friend has not been released », and Vaughan Smith would have answered, enigmatically, « We'll soon see him ». Are there any secret negotiations for the release of Julian Assange conditional on his agreeing to some arrangement that he had refused until now? Perhaps.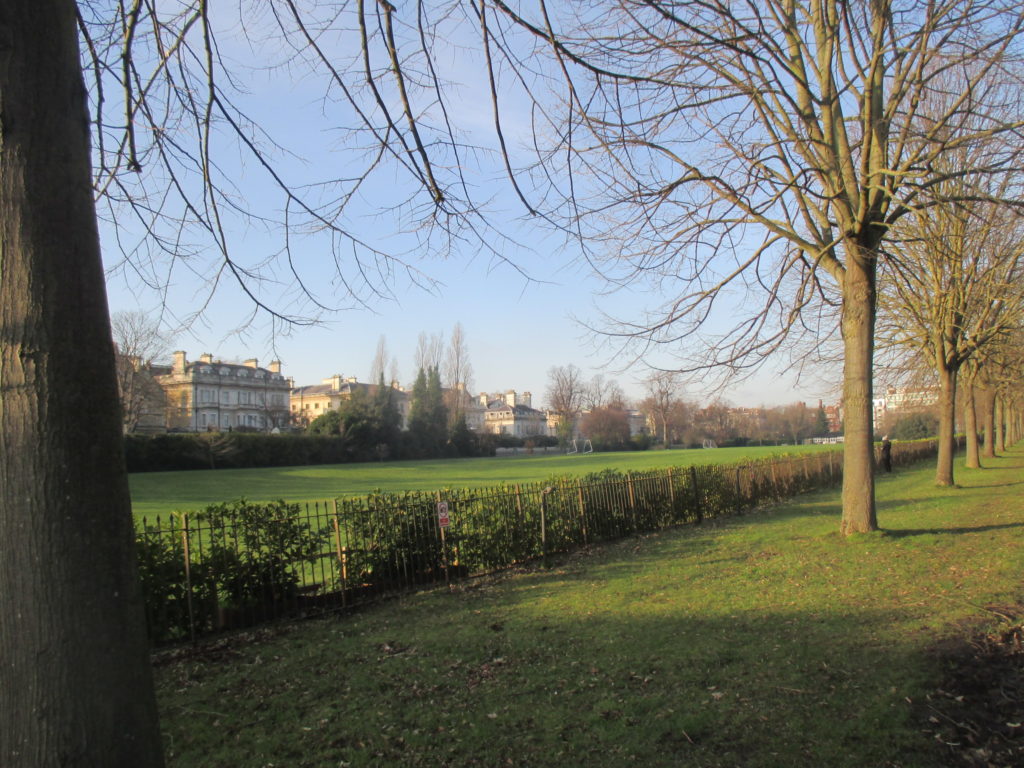 I really want to go to the English side of the sea and spend a few days in peace and quiet. But the government has activated the covidian bans and I'm not so sure I'll find a hotel in unknown places anymore. I first decide to take a tour of the city centre, Hyde Park and the Kensingnton and Knightsbridge area. On the 7th of January the atmosphere in this part of London is strange. A part of the population obeyed the fear of the epidemic, only went out for food shopping and wore masks. Another part of the population refuses to obey the injunctions of the political class and shows its disapproval simply by walking outside. The streets are covered by numerous MET cars which don't stop anyone, but create a quickly heavy atmosphere. Londoners concentrate in the park as if they were meeting there. The weather is very cold and sunny, people walk, run, cycle, walk dogs, play with their children, feed squirrels, chat, drink tea, coffee and hot soup sold in a few take-away pavilions. They gather imperceptibly but in the park the police who patrol non-stop do not succeed in frightening them. It seems as if they are participating in a protest that is as silent as it is determined. I take part in the movement and I am happy to enjoy the air without a mask.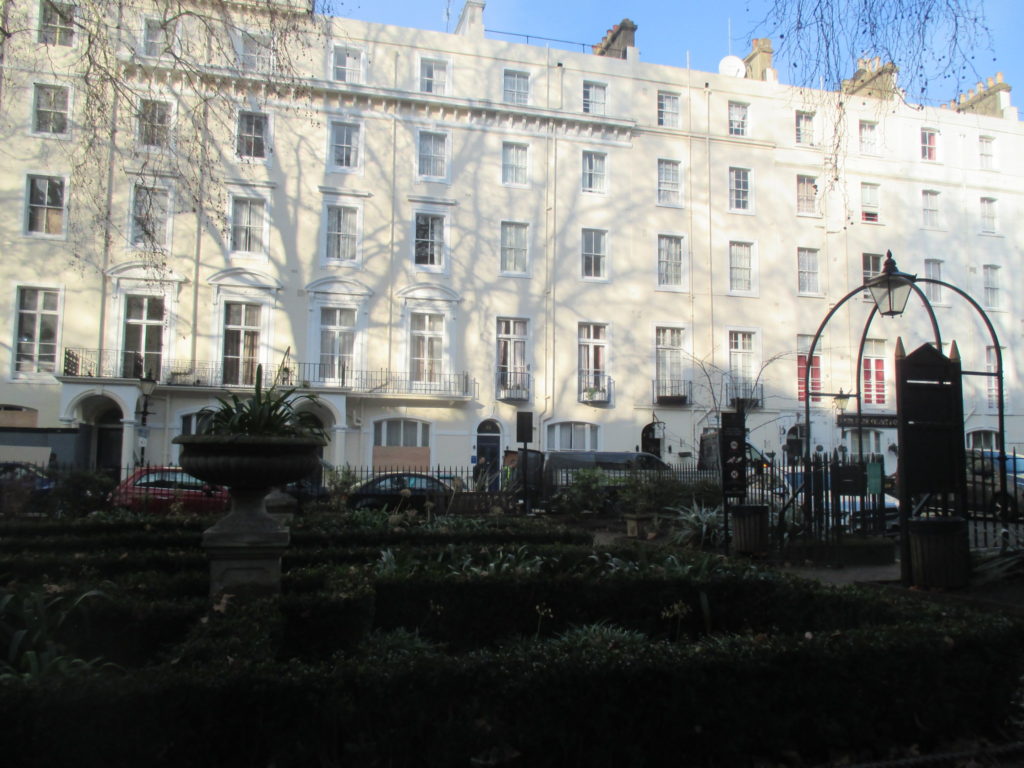 Back at my hotel, I prepare my departure to France but I am already thinking about my future return to London. Will Julian Assange be presented every 28 days for the famous « call over hearing » that brought me here for a year and a half? I want to check what English law says on this subject, although it is obvious that Assange is « outside the law », arbitrarily maintained since he is legally free and physically still captive. It was then that I discovered that on the internet that… the name « call over hearing » does not exist in British law! Everything the judge (or the lawyers I asked) said about Julian Assange's obligation to appear every 28 days to extend pre-trial detention was FALSE ! Even the polish lawyers. They manipulated the truth. The name « call over hearing » exists only in Australian law and refers to hearings that prepare a « schedule » of the trial[1]. In UK law remand in custody is called « remand in custody », (I have heard Baraitser and others use this term more than 15 times) but it is NOT possible to extend this detention indefinitely. On the contrary, the limit of remand in custody is very clearly set out in the Act, by « Section 22 of the Prosecution of Offences Act 1985 (POA 1985), and the Prosecution of Offences (CTL) Regulations 1987 » and this limit is … 56 or 70 days for an offence tried by a Magistrate Court and 182 days for a crime tried by a Crown Court!
However, extradition is always tried by a Magistrate Court and Assange has been imprisoned for 20 months, more than 600 days, 10 times more than the legal standard of the Custody Time Limit.
I am amazed by this discovery and furious at having trusted judges and lawyers for so long and not having checked directly on the law!
But the best part is that « if the prosecutor fails to build the case for the prosecution within this time limit, the exception to the right to parole ceases to apply. The accused therefore has an absolute right to release »[2]!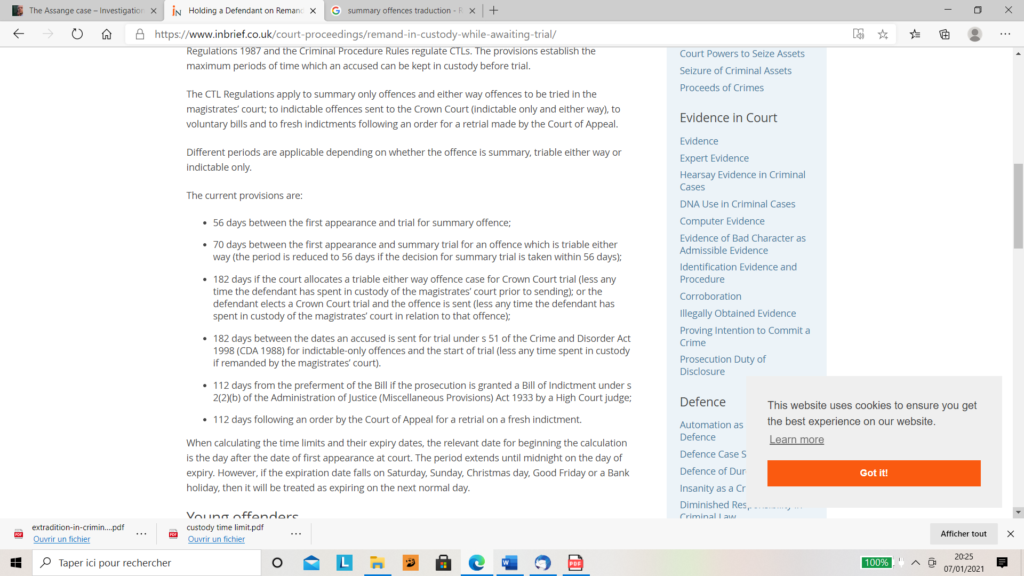 The prosecution may apply for an extension of pre-trial detention, but cannot use as an argument its own inability to present valid reasons for imprisoning the citizen. If the prosecution is unable to bring forward any new elements within the shortest possible time, the citizen is released. The reasons for which the prosecution may request continued detention are the absence or illness of the accused, a judge or an important witness. The second reason is the existence of an ancillary procedure decided by the court if there is more than one accused or more than one offence.
I now understand what all the strange « secretarial » debates were about in the court proceedings against Julian Assange. I remember Clair Dobbin being « unavailable at that time », or the « judge so-and-so on a trip », or the « spanish witnesses » so indispensable that they alone justified Assange's imprisonment… These procrastinations served to have a reason to prolong his detention! [3]The famous « Spanish procedure » also served this purpose: to start a parallel trial to give Baraitser the opportunity to order Julian Assange to « you remand in custody » every month, 20 times, from September 2019 to December 2020! But the big problem is that Julian Assange's lawyers played the prosecution's game to the full, without ever protesting against the arbitrary imprisonment of their client! They were and still are totally complicit in the crime!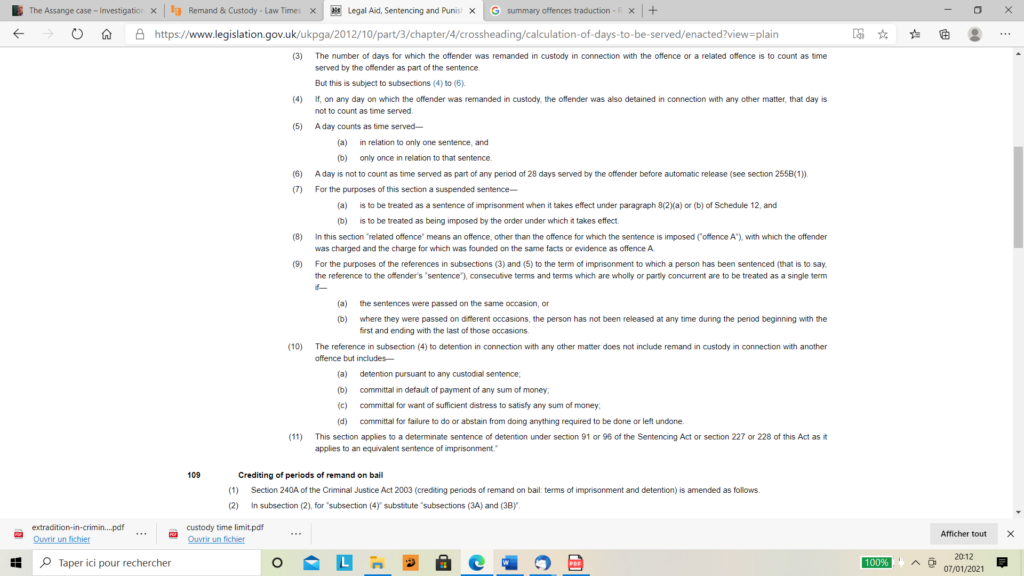 The only time the 28 days apply is when the Public Prosecution Service (Public Investigation Service, the prosecution system) arrests the person and has 28 days to compile an indictment file before they are obliged to present it to the judge. And again, in order to be able to require someone to be remanded in custody, the accusers must prove that a crime has been committed and that the accused can effectively evade justice. Julian Assange did not commit any crime, nor was he accused of any crime when he was officially imprisoned in May 2019: an extradition request is not a crime, a computer intrusion is not a crime, and interrupting his release on bail is not a crime either, just an offence for which one is punished by losing the bail money[4] .
In the Assange case everything is done by all the protagonists in the game to create a false justice parallel with false laws and false procedures, as if the legal rules of Great Britain as a country did not exist, as if Assange was being tried in a foreign country, a parallel state, a « parakratos » as the Greeks so aptly describe their « deep state ». Parakratos is an illegal state ruled by the oligarchy, which makes a mockery of formal democracy. Great Britain is governed by a « parakratos » which makes a mockery of the « Custody Time Limit » and other human rights formalities in the case of Julian Assange.[5] In fact, the words « Custody Time Limit » were never uttered at any of the 20 hearings I attended, as if it were understood that for Julian Assange captivity will be « no limit ».
In any event, the trial must be held 182 days after the indictment, which must be presented no more than 28 days after the arrest, i.e. 6 months. I understand better why it was urgent that the trial at the Woolwich Court be held in February and why it was necessary to smoke « new charges » to put Assange back in captivity until the second trial in September.
The prisoner advice website in Britain is even more explicit about the rights of defendants and the presumption of innocence, explaining that there is a « presumption in favour of bail », conditional release. This means that it is up to the public authorities to prove that the accused must be kept in detention as he or she may abscond or interfere with the investigation. It is not up to the citizen to justify himself but to the prosecution. If the prosecution cannot prove the bad intentions of the accused, the accused is automatically released under certain guarantees such as a stable address or regular reporting to the police[6].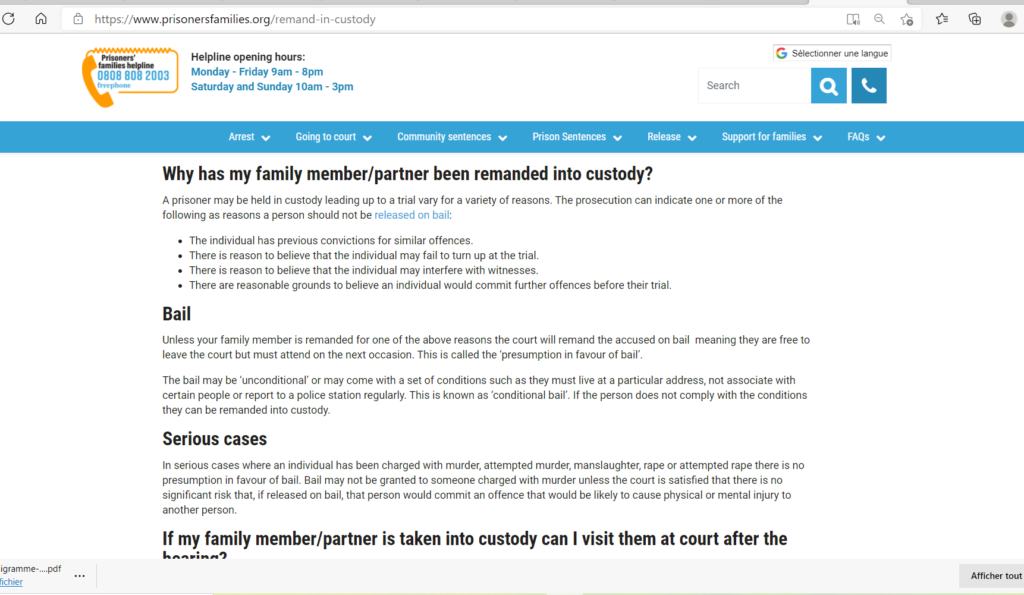 In the case of extradition, it is impossible for the prosecution to investigate the intentions of the accused since by definition the investigation takes place in a foreign country. That is why Poles who attend the Westminster Court are systematically released at the first hearing and present themselves free to the court afterwards. It makes sense: if the Westminster Court had to hold extended pre-trial detention hearings every 28 days for the thousands of extradition cases, the congestion would be such that it would be impossible to bring any case to a conclusion. Indeed I have never seen an Eastern European on the Westminster lists appear twice. Why didn't that give me a clue? Because the lawyers and judges lied to me, lulled my suspicions into believing that in the case of Julian Assange everything was normal. As if Assange was some kind of monstrous criminal, an Elephant Man for whom special standards had to be created?
It is obvious that the grotesque Swedish European Arrest Warrant had to have the « rape » ticked in red, otherwise it would have been impossible to imprison Julian Assange in 2010, make him pay an expensive bail and keep him almost two years from December 2010 to June 2012 under an electronic bracelet.
A document from the Home Office for the preparation of extraditions after Brexit, dated 19 June 2020[7], even stipulates that the « Custody Time Limit » for extraditions is the same as for citizens prosecuted in the country, i.e. 56 days extendable to 70 days, maximum 182 days before the trial. Julian Assange has already served double the time allowed… and is still in captivity. The Westminster Court is even violating Home Office rules!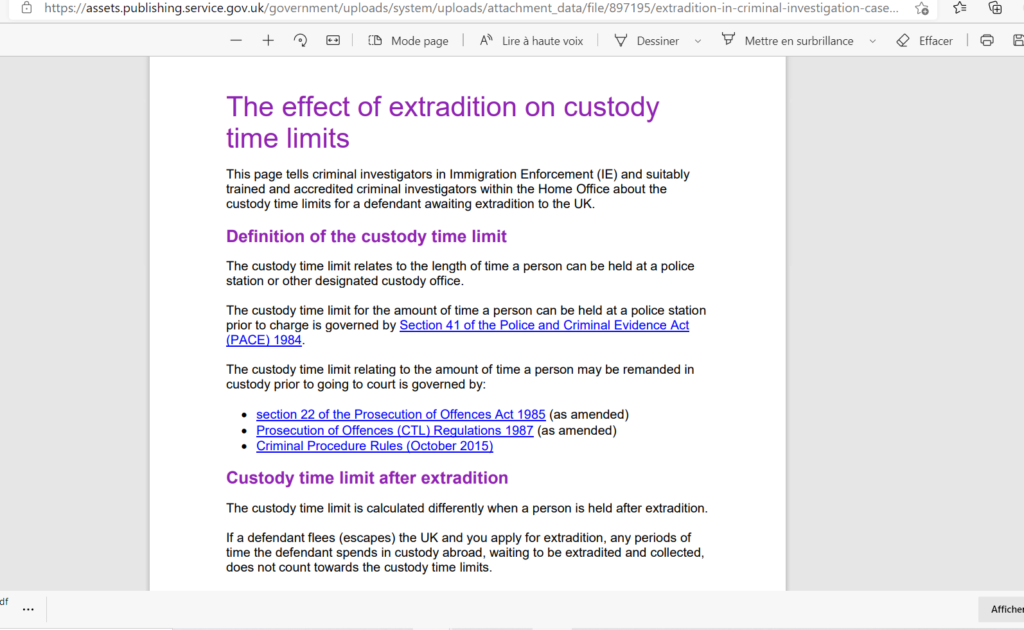 Moreover, this same document specifies that it is impossible to arrest a citizen without an arrest warrant. This seems obvious, but it must be remembered that no arrest warrant was ever presented to Julian Assange! Assange has slipped from his « punishment » for breaking an electronic bracelet in 2012 to indefinite captivity without ever producing an arrest warrant! Indeed, it was at the hearing on 20 September 2019, when he had FINISHED his sentence, that the arrest warrant should have been presented! What had happened then?
Assange was not presented in court and there was no lawyer! I saw it myself as it was my first time in Westminster Court. It is because we sounded the alarm that on 11 October 2019 the jailers were kind enough to show us on video a shaggy and ill-fitting Julian Assange as they would show an Edmond Dantes after years of oblivion… Needless to say that Assange's lawyers were never overly moved by the « formality » of the absence of an arrest warrant as if they had already recorded the necessary return of our lives to the Ancien Régime….
I remember the resounding trials of Queen Victoria's reign, especially that of the « telegraph boys »[8], those young proletarian boys raped and prostituted by prominent artistocrats: only intermediary pimps, were charged and convicted. The grandson of Queen Victoria, Victor Albert « Eddy » of Sachsen Coburg Gotha, heir to the throne, had been accused by witnesses and victims of participating in the rapes. The trial was interrupted to prevent the name from appearing in public, and the police had received such strong pressure from the palace that they were never able to complete their investigation. When in Britain it is impossible to name a name in a trial, one can be certain that it is a member of the ruling royal family involved in a dirty business. The rules of common law had been so massively violated that the opposition press was able to use the case as a weapon to challenge the legitimacy of the royalty. Today, with the lawlessness in the trial of Julian Assange we are decidedly not far from the Victorian era since even the procedures of the public prosecutor's office no longer apply. Worse, unlike in the 19th century, the public is chased out of the court and the press is hand-picked!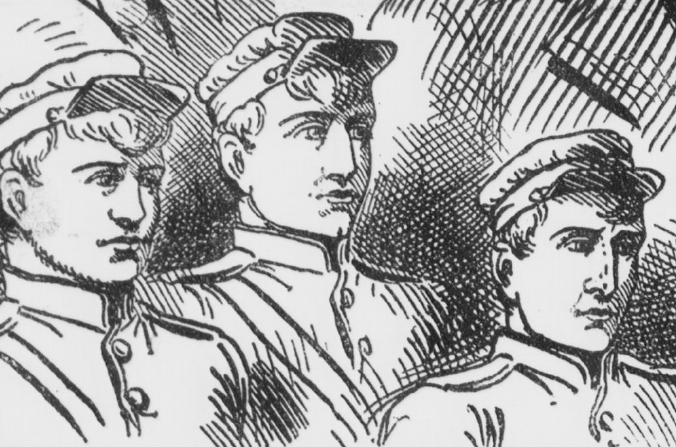 Uncovering Cleveland Street: Sexuality, Surveillance and late-Victorian Scandal – NOTCHES (notchesblog.com)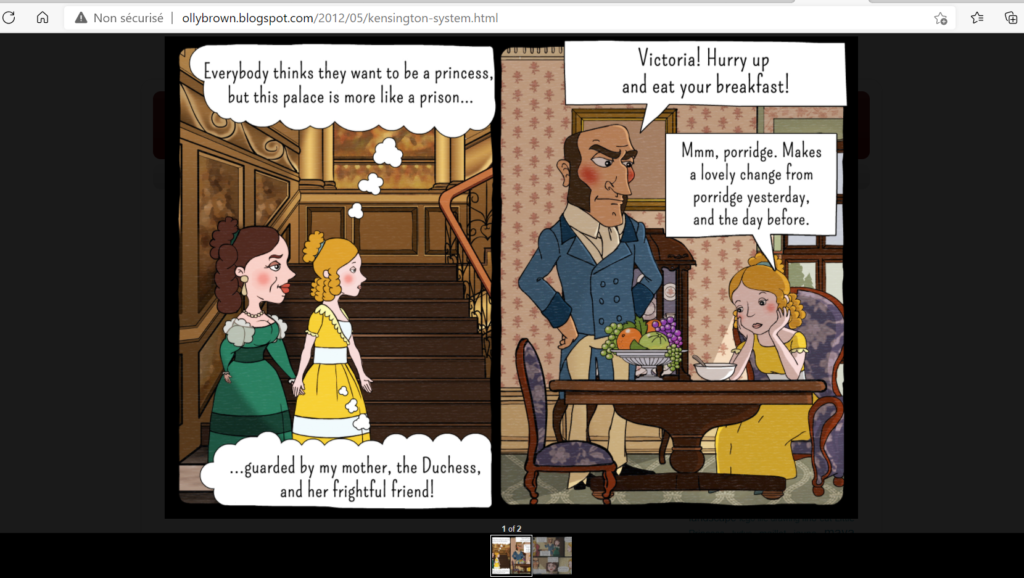 Before leaving the neighbourhood I visit my acquaintances. For them there is no doubt that Julian Assange is more a prisoner of « Kensington » than of Belmarsh. The « Kensington system » is what was called in victorian times the captivity in Kensington Palace of the royal descendants that the rivals wanted to prevent from ascending to the throne. Victoria of Sachsen Coburg Gotha had been the first victim of the system when she spent an austere childhood in this manor house, as gloomy today under the guard of men in black with machine guns as it was when she was watched by her mother's lover Marie Louise von Sachsen Coburg Saalfeld, a man named Conroy. King George IV's entourage suspected him to be Victoria's real father and wanted to send both mother and daughter back to Germany while Conroy manoeuvred her onto the throne to become the regent and guardian of what he wrongly believed to be a malleable person[9]. Contrary to the golden legend spread by the media since the advent of Elisabeth Lyon-Bowes as Queen of England, royal successions here have always been the result of sordid intrigues and coups d'état. The royal storytelling that Victoria mastered to perfection during her long reign and which has been pursued by modern means from 1953 to the present day should not give us any illusions. It is time to look into the turpitudes of royal power because it is more than likely that it is the royal power and not the government that is imprisoning Julian Assange.
---
[1]https://www.courts.qld.gov.au/courts/planning-and-environment-court/going-to-planning-and-environment-court/hearings-and-reviews
[2] « If the custody time limit expires : When the prosecution fails to comply with the defined time limit, the exceptions to the right to bail listed in Sch 1 of the Bail Act 1976 cease to apply. Therefore, in effect the accused is given an absolute right to bail »
https://www.inbrief.co.uk/court-proceedings/remand-in-custody-while-awaiting-trial/https://www.legislation.gov.uk/ukpga/2012/10/part/3/chapter/4/crossheading/calculation-of-days-to-be-served/enacted?view=plain
[3] The application must be made before the expiration of the time limit. In considering whether to grant an extension the courts have regard to the criteria laid down in s 22(3) of the POA 1985. Under that provision the court must be satisfied that the need for the extension is due to any of the three specified conditions:
the illness or absence of the accused, a necessary witness, a judge or a magistrate;
the ordering by the court of separate trials in the case of two or more accused or two or more offences;
some other good or sufficient cause. »
[4] https://www.inbrief.co.uk/court-proceedings/remand-in-custody-while-awaiting-trial/
[5] https://www.sfo.gov.uk/publications/guidance-policy-and-protocols/sfo-operational-handbook/custody-time-limits/
https://www.bindmans.com/insight/blog/those-awaiting-trial-to-spend-longer-in-custody-the-ministry-of-justices-latest-attempt-to-tackle-the-backlog-by-extending-custody-time-limits
[6] « Bail
Unless your family member is remanded for one of the above reasons the court will remand the accused on bail meaning they are free to leave the court but must attend on the next occasion. This is called the 'presumption in favour of bail'.
The bail may be 'unconditional' or may come with a set of conditions such as they must live at a particular address, not associate with certain people or report to a police station regularly. This is known as 'conditional bail'. If the person does not comply with the conditions they can be remanded into custody.
Serious cases
In serious cases where an individual has been charged with murder, attempted murder, manslaughter, rape or attempted rape there is no presumption in favour of bail and the individual will automatically be remanded into custody. »
https://www.gov.uk/charged-crime
https://api.parliament.uk/historic-hansard/commons/1988/jun/28/remands-in-custody-for-more-than-eight
Remand in custody | Prisoners' Families Helpline
[7] https://www.gov.uk/government/publications/extradition-in-criminal-investigation-cases
La reine Victoria – Jacques de LANGLADE – Google Livres
Jacques de Langlade, « La Reine Victoria », éditions Tempus
https://en.wikipedia.org/wiki/Cleveland_Street_scandal
https://www.irishtimes.com/culture/heritage/an-irishman-s-diary-queen-victoria-s-dad-1.2164329
https://de.wikipedia.org/wiki/Victoria_(Vereinigtes_Königreich)
https://de.wikipedia.org/wiki/Victoire_von_Sachsen-Coburg-Saalfeld
[9] https://www.historyofroyalwomen.com/the-year-of-queen-victoria-2019/the-year-of-queen-victoria-birth-of-sir-john-conroy-mo/
My return home and France's policy against England
It's time to go home but there are no buses and the Eurostar prices are staggering. I find an Easyjet ticket not too expensive. Of course, I wonder about the PCR test that Macron has imposed on truck drivers in Dover and I know that this test is required for travellers from outside the European Union such as Serbia for example. But then it should be possible to do this test which I abhor on arrival at Roissy. I am consulting the company's website, I also want to see what law governs this imposition. The Brexit is registered, a bilateral agreement governs the travel of the French to Great Britain and it is in virtue of this agreement that Great Britain let me enter its territory without a visa on January 2nd. But it is not easy to find this agreement. On the French websites it is about the quarantine requested by Great Britain and the form I filled in. There is no mention of what France requires of British nationals. It is the same thing on the English sites which logically inform me about British laws, decrees, circulars and not French ones. The media talk about a bilateral agreement on cross-border traffic signed on 24 December, Christmas Eve, to regulate the problem of lorries blocked at Dover. But the text of the agreement is not published in the Official Journal. There is a vacuum, as often now that the fact of the prince creates reality illegally in all arbitrariness.
As for Easyjet, you have to have already paid for your ticket to access the « conditions of access on board », that is to say the famous Passenger Locator Card, the form that checks your covid health status and which is as illegal as the papers that the DFDS company makes you sign. As it is illegal to collect health data on people, Easyjet does not brag about it and does not publish it in full on its website. On Friday 8th January I leave Paddington on a hopeful note (« I'll see you soon! This circus will end! ») and take the train at Victoria Station to Gatewick, a town halfway between London and the South Coast. Gatewick is a brand new airport built for those low cost tourist and bustling journeys that are only a memory today whereas on March 11th last year, they were part of our daily life for better or worse.
What strikes me is the heavy silence in the huge, completely deserted passenger and employee terminals, except for a few lined security guards. I walk for a long time on the stairs, corridors and empty halls before arriving in a small space painted in orange « Easy Jet check-in ». A security guard with an Easyjet badge is sitting behind a gatehouse before the luggage is checked in. He does not check passports, only covid Passenger Locator Card and … PCR tests. He refuses to let me board without a PCR test. He does not want to hear my arguments that the information is not accessible on the company's website. He doesn't want to hear and he doesn't understand that requiring a medical test for a trip is in fact a violation of human rights, the Constitutions, the ECHR, the Charter of Fundamental Rights etc. Of course, he has no idea that he, as a private individual, has no right to access medical information about me because it is covered by medical secrecy which is part of the right to physical integrity and privacy.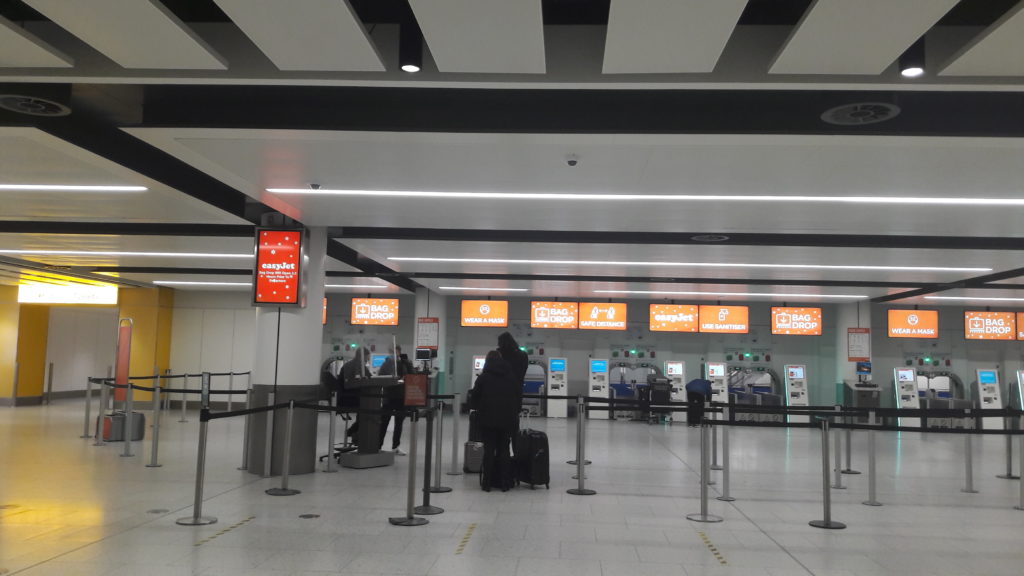 He is obtuse, stupid, unpleasant, he thinks he's a little chief: the real kapo mentality that many previously normal citizens now endorse. He is not even moved by the fate of a woman stuck in this deserted airport who has paid for her ticket, which he knows Easyjet will never refund. (No traveller has been reimbursed by any airline since the start of the covid. The boxes are getting free credit from their former customers. Voracious capitalism is still there and Flixbus already owes me 400 Euros for bus tickets cancelled at the last minute for the past year). He doesn't inform me, doesn't help me in any way, pushes me aside like a useless object to meticulously check the papers presented to him by the few dozens of docile travellers like sheep who are afraid of not being able to go home without his imprimatur.
I'm falling apart. All this nervous tension and psychological violence is too much for me. Fortunately I am supported by the Wikijustice team. I ask for help from the French Consulate on whose site there is vaguely a list of companies doing the famous PCR test, the one that is used to rip us off in France by artificially increasing the number of « cases » to allow Macron to lock us up like cattle to the hut. It is indeed France that requires the PCR test of all travellers coming from Great Britain, including French nationals who are nevertheless entitled to go home and should be able to carry out the test on arrival at Roissy. The consulate employee is nice, but lost: « ah well, Easyjet doesn't give an address or do the test on its website? Yet they had promised! And at Gatewick airport there is no mobile lab either? Yet the British had promised this during the negotiations? So we were fooled… « . And it's the French citizens who pay.
I go to a pharmacy, the only shop open in the ghost airport. They do the test well, but it lasts a week. The mobile lab was recently in the car park, but there too you have to make an appointment and wait several days for the result. Incompatible with a plane to be hung the same day. The pharmacist advises me to pay an expensive Hillton hotel to wait for the test result at the airport. No, if I have to stay, because the plane to Paris has already left without me, I prefer to go back to more hospitable places like New Heaven, Eastbourne, Brighton, Worthing on the south coast.
I am exhausted when I take the train to the coast. But one problem after another has to be solved. I book as soon as possible the same nice hotel where I stayed on the way. The manager is a very affable young man who is in revolt against Covidien storytelling and the lockdown that is killing his business and the whole economic and social life of his region. He is happy to see me again and sorry for what is happening to me, the price of his room is much lower than what I could have hoped for in Normandy in France. One last debriefing with my friends from Wikijustice, an excellent fresh fish and chips for dinner (to take away but working very well) and I fall asleep under the weight of all these emotions and my anger against the system.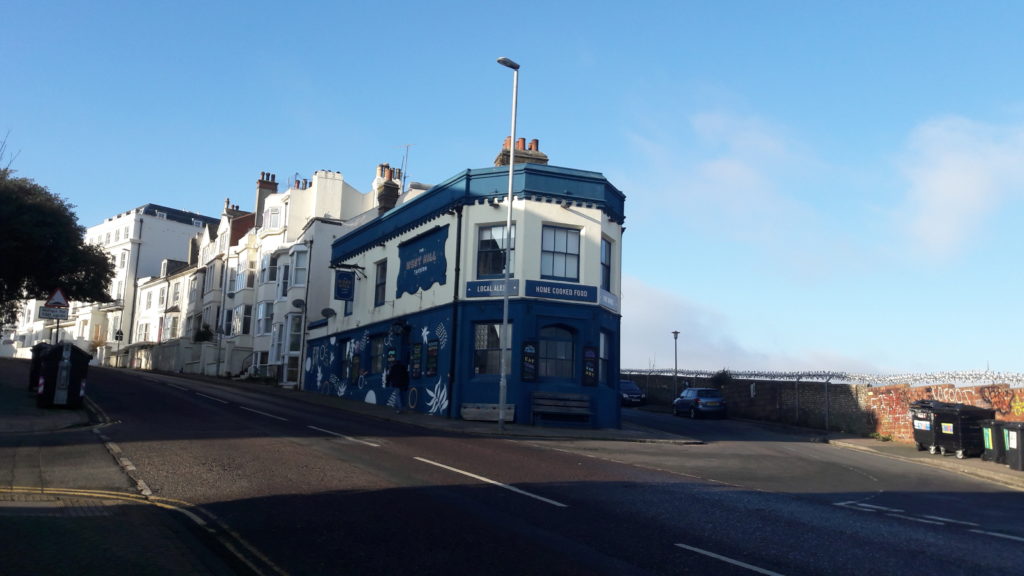 I am stuck in England while French propaganda is in full swing against the « English variant » whose inhabitants here are supposed to die massively. What I see doesn't fit this scenario at all. I see towns where people collectively go out into the streets, parks and beaches, play sports, meet each other, eat out as much as they can to encourage their beloved shops. They don't look at all terrified of disease. For them it's politics. They don't understand why the government persecutes them like this, but they don't intend to die. When we discuss this further, they admit that their government is being undermined by the international mafias and networks that have a vested interest in the installation of the Covid dictatorship: the National Health Administration, the English social security system has been privatised and is in the hands of Big Pharma, the Imperial College of London pursues political goals that have nothing to do with public health, while Prince Charles is directly involved in the global food business and on 25 January will open the World Economic Forum in Davos with Karl Schwab, the propagator of the ideology of transhumanism, and Xi Jing Ping, the leader of China, who is thus asserting his power over a Europe in freefall.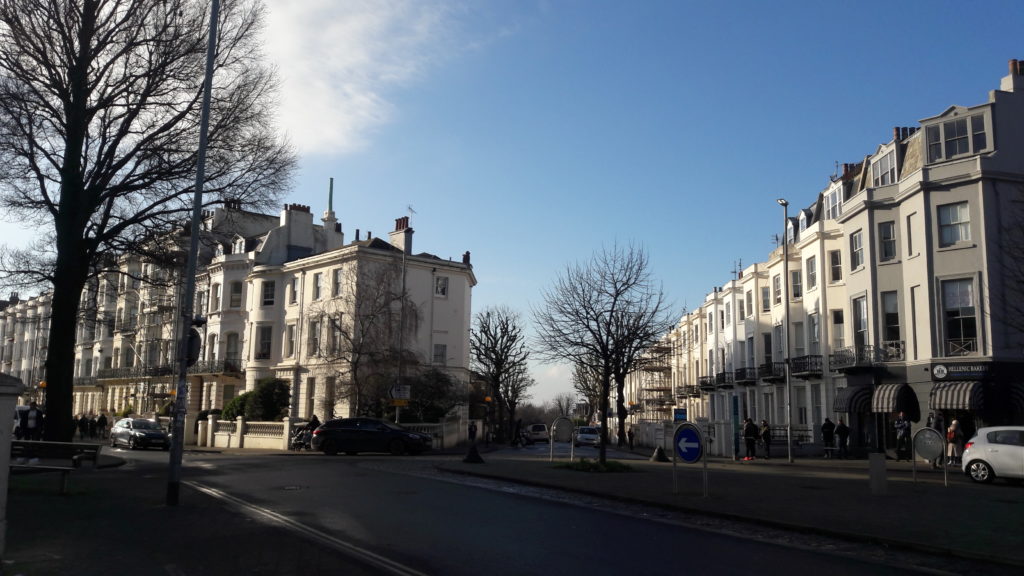 Music resounds every evening in the small houses: the neighbourhood is usually a tourist centre, artists perform in bars and there is music, shows, bars, pubs, restaurants and hotels, shops that sell everything and nothing. The police don't patrol much, but I understand that pub managers, artists and shopkeepers are afraid of raids and controls in the neighbourhood. So we keep a low profile. A 13-year-old girl is having a birthday party on Saturday night, I accidentally ring her parents' doorbell but she doesn't seem scared. No one is wearing a mask, I feel safe here too.
But I have to do everything I can to get back home while the FRENCH government is putting illegal obstacles in my way! Indeed, the Universal Declaration of Human Rights says that everyone has the right to leave their country and to come back! The government doesn't have the right to embodie me to returning home! It is not up to the British to help me go home because I am not their citizen and it is logical that they don't care about the illegal test that my government imposes on me! If I have to do a quarantine, it must be done in my country when I arrive on French soil!
The problem and the salt of the whole affair is that it is… very difficult to do a PCR test here because the English simply don't do it ! Already the information is not easily available, you have to book the test on the internet. One of my contacts warns me: he is Greek and his aunt has been stuck in England for 10 days without being able to return to Greece because of this damn test that many EU countries now require travellers from the British Isles to take. She booked the test twice on the internet but the results take 4 days to arrive, and the test must be dated less than 72 hours before departure. Each time the 72 hours were exceeded and she lost the test money and plane tickets… I have to find a place to do the test physically, especially as I don't see myself tampering with my nose on my own with the homemade swab provided in a kit as the « internet » test requires. I already know that this sample is painful and anything but harmless because it affects very sensitive and vital nerve centres in the respiratory tract…
Saturday morning, January 9th, I start looking for the test. I go to a large Boots pharmacy which is on the official lists of the English and French governments. No that's not true, they don't do Covid testing here. Maybe in the suburbs, in a place 30km from here where I have to go by train. I try at another big pharmacy but nobody there seems to care about testing either. I start to regret December when the Paddington pharmacy opposite the Imperial College of London had « here covid test » and nobody was bothering… Maybe I should have taken the test in London? But despite the alarmist media storytelling, there weren't many ambulances around St Marys Hospital and no posters about the tests.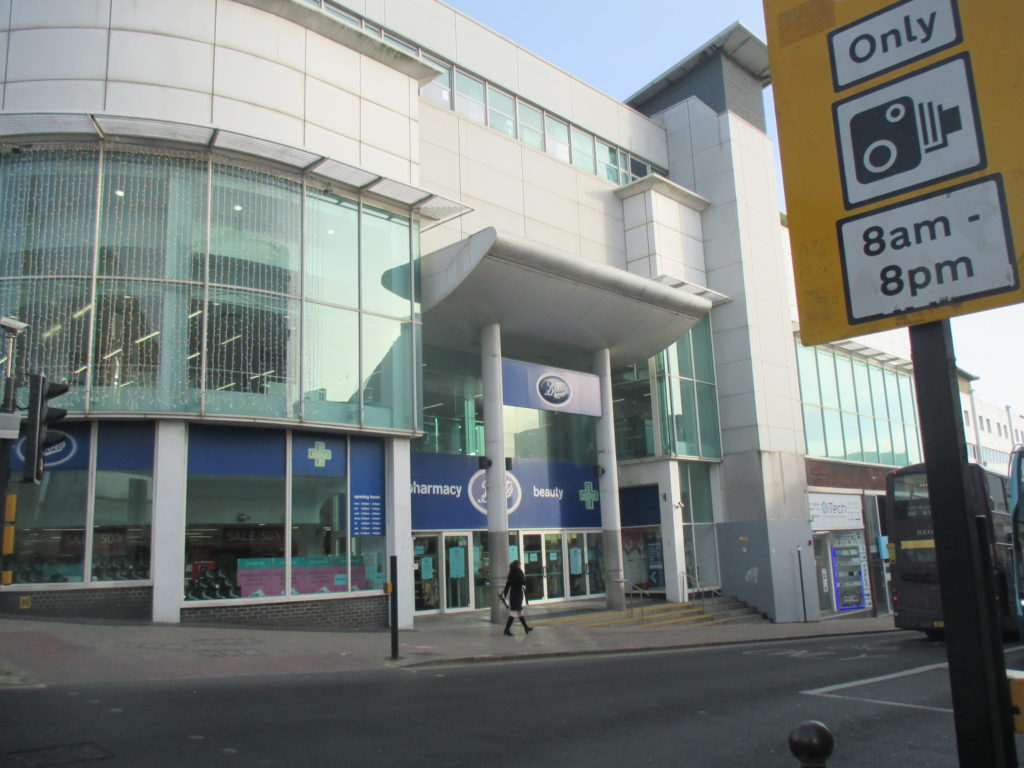 In desperation, in a cosmetics shop where I do some shopping, I ask the young saleswoman: what do you do if you have Covid symptoms? The young woman opens her round eyes as if she had never thought you could REALLY have Covid. She tells me that she would go to a local doctor, but would not do a test first. Does she know a doctor who does the test, like some people in London who get paid a lot of money by rich travellers who have to take the Eurostar? She replied that at weekends it's difficult, but pointed to the local medical centre next to the station.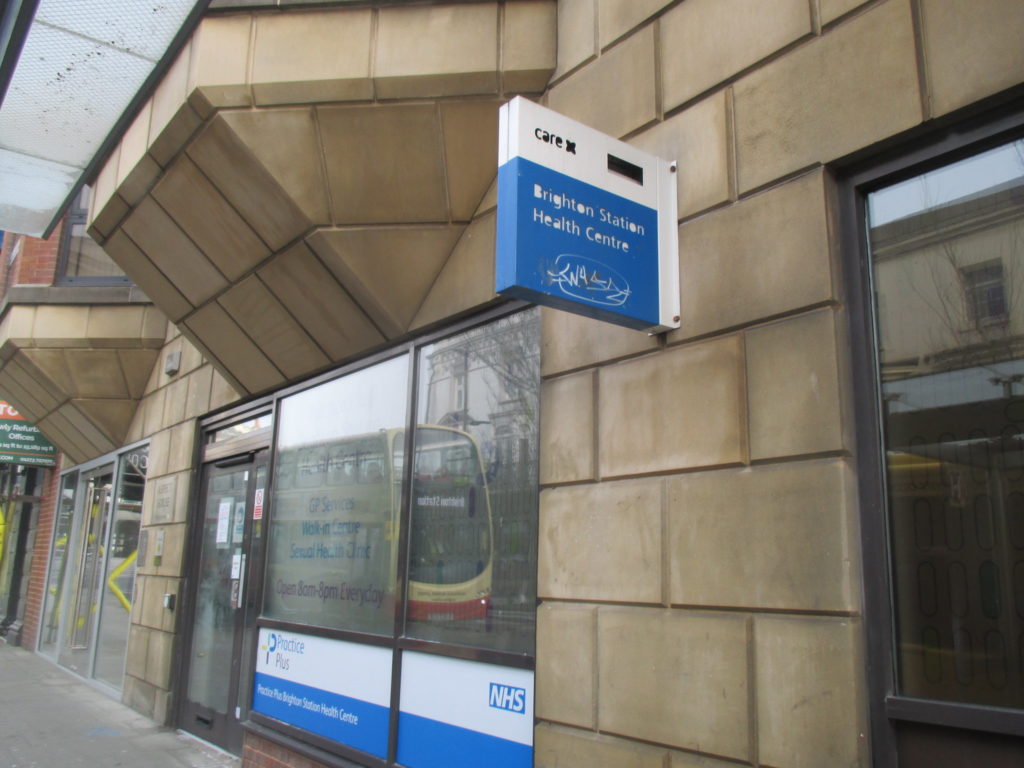 I quickly understand why, in case of real illness, she would prefer to pay a private doctor. The public medical centre is deserted. I am greeted freshly by a surly secretary who directs patients by telephone to teleconsultations. I see that refusal to treat in the public system is as widespread here as it is in Poland or elsewhere in Europe and that telephone medicine is also taking its toll. I would like to make it clear that I am not ill, but that I just need this bogus test to be able to cross the French border. Her colleague is kinder and takes pity on me, she is looking for a solution. She gives me the address of two private clinics in the area where the test can be done quickly with results available within 72 hours. One is closed, the other is not too far away.
I walk for 45 minutes in the pretty Victorian quarter while the inhabitants go out quietly for their afternoon stroll after shopping. I arrive in front of a modern and luxurious building. At the entrance is a young woman in a hostess uniform. After putting on the mask and gel, I notice threatening signs such as « stop covid, stay away, social distancing ». in the lobby, which looks more like a luxury hotel than a hospital. When I come in the young woman rushes in on me and then is devastated when she sees that I am not a « client ». No, we don't test for travel. « But if you have covid symptoms, where do you go? « This woman's reaction to my question is the same as that of the previous one: total incomprehension as if the covid didn't exist and was just a movie story! I specify: « what do you do if you are really sick, you have a flu or bronchitis »? His face lights up a little under his mask: « I go to see a liberal doctor, and if I'm really ill I go to the public emergencey service. But she doesn't seem terrified by this eventuality.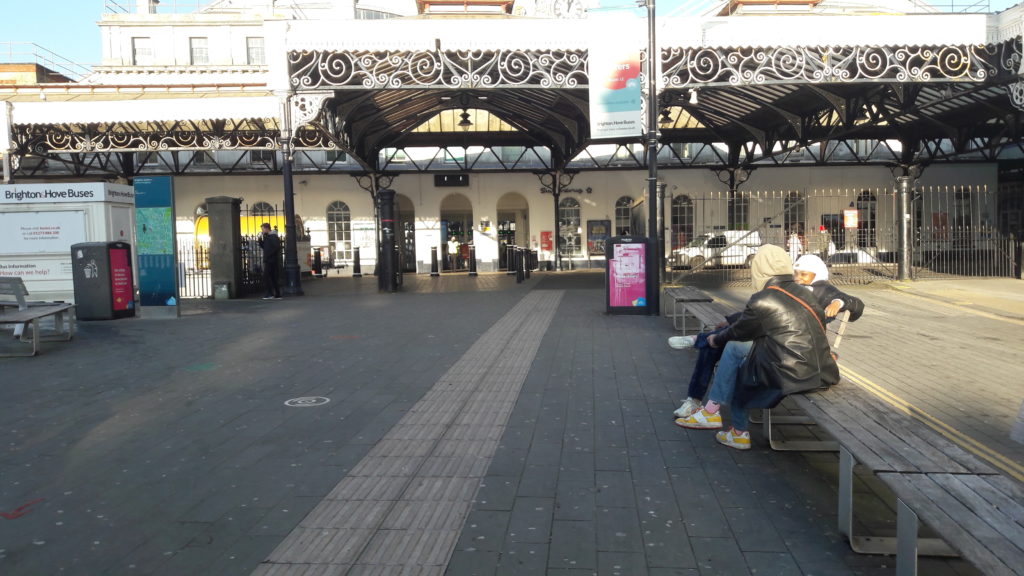 I don't insist, I thank her and I leave. What can I do? Go to the public emergency services and beg them to do it for me? That's when a friend who supports Assange contacts me and offers me help. She can give me the address of the place where the Germans have been taking the test since it is required by their own authorities, but it is in London. I get the address immediately but I still go to check the Boots pharmacy in the far suburbs by train. It is tiring and with the cold and stress I am exhausted.
Crawley is a small town in an industrial area and a railway junction to Porthmouth. On leaving the station I find myself in front of modern hangars, a bus terminal and a newer shopping centre. The atmosphere here is already much more Covidian than on the coast. All the major shops are closed, only the Boots pharmacy remains. Young people hang out in the centre because it was supposed to be their Saturday night meeting place, but security guards inspect the masks strictly and prevent the pharmacy's customers from touching the products on the shelves. It's gloomy. The dispenser is veiled, masked to the eyeballs and hidden behind a large partition window. She prevents me from bending down towards the hole at the bottom of the glass in order to stretch out my ear to hear her better: with the mask I can't understand her. We end up talking through google translation. No, the pharmacy doesn't do any covid test. It doesn't understand why in the city centre they directed me here. The only solution is the private clinics in other cities, but they are closed at weekends. The PCR Covid test that Macron is so fond of and with which Mr. Drosten and his start up collect phenomenal money is shunned by even the most covid convicted English. I've come up short again.
I no longer have anything to do here in this region which is as big as the great suburbs of London, like the space between Paris and the Essonne, but I will never be able to find or make that damn test. I have to find a place in London. In the little station a friendly railwayman is nicely flirting with me by helping me buy my return ticket. As soon as I'm outside I take off the costume of the mask and try to walk around naturally with my face uncovered on the platforms. The man visibly appreciates it. We understand each other. Here people want to live, unlike in France. Walking towards my hotel I pass through the district of artists, craftsmen and antique dealers. I admire some showcases of jewellery, ceramics and old posters. Obviously deserted and despairing. But a small café is open and a good smell escapes from it. The young owner is Italian, she allows me to sit at the table while waiting for my hot chocolate. She is sorry she can't serve me food, it is forbidden  » but we all hope that it will be over soon and we will live normally again ». That's all we all hope for.
I finally buy some food in the big sandwich shop that sells ham and local meat next to my hotel, which I already know. Here there are no masks on the faces and we talk openly. The young waiter behind the counter is Swedish, he confirms that Sweden does not play the Covid game and is not doing any worse. But beware, not everything is simple: Sweden, so tolerant for its own people, protects itself from « foreigners » and requires a strict quarantine of each traveller, even with a Swedish passport. « It's hard, I haven't seen my family for a year, » concludes the young man modestly. In this suburb everyone is a migrant and even municipal posters announce « Europeans, you are welcome »!
His fellow cook is Romanian and he is much more vehement: he is my age, has experienced dictatorship and has understood that this is what is being put in place in the West. He tells me about the New World Order, the project to trace the private life of humans and the eugenic preparation of Pfizer sold under the name of vaccine. He tells me that forcing people to undergo medical experiments has been forbidden since the Nazi experiments in the camps, since Mengele. He tells me about the camps. He tells me about the war and Nazism. He is devastated by what the West has become. The Romanian migrant is much more aware of the seriousness of the situation than the young Swede, difference of historical experience.
The sandwich is excellent and good news arrives on my phone: my friend in London has managed to make an appointment for me in a pharmacy that does Covid tests even on Sunday. I have to call them back to confirm my details. A drawing solution thanks to the solidarity of Julian Assange's support networks!
The English variant only exists in French propaganda
The next day Sunday 10th January I take the train to the familiar Victoria station. I have an appointment at one o'clock and I take advantage of the time ahead of me to wander through the beautiful districts, Knightsbridge with the Harrods opposite the Ecuadorian flat where Julian Assange was kidnapped, then the Kensington and Chelsea Borough, a « royal borough », that is to say a commune that depends exclusively on the royal power and not on the government or a municipality, as indeed Plumstead, the commune where the Belmarsh prison is located, depends on the Royal Borough of Greenwich. As in France, the fashion for masks is mainly the preserve of wealthy neighbourhoods, whereas proletarians prefer to preserve their ability to breathe. In Chelsea, adults even mask their grandchildren, although this is not compulsory. The atmosphere is therefore rather unpleasant, despite the few cafés open where I can eat without being able to sit down or warm up.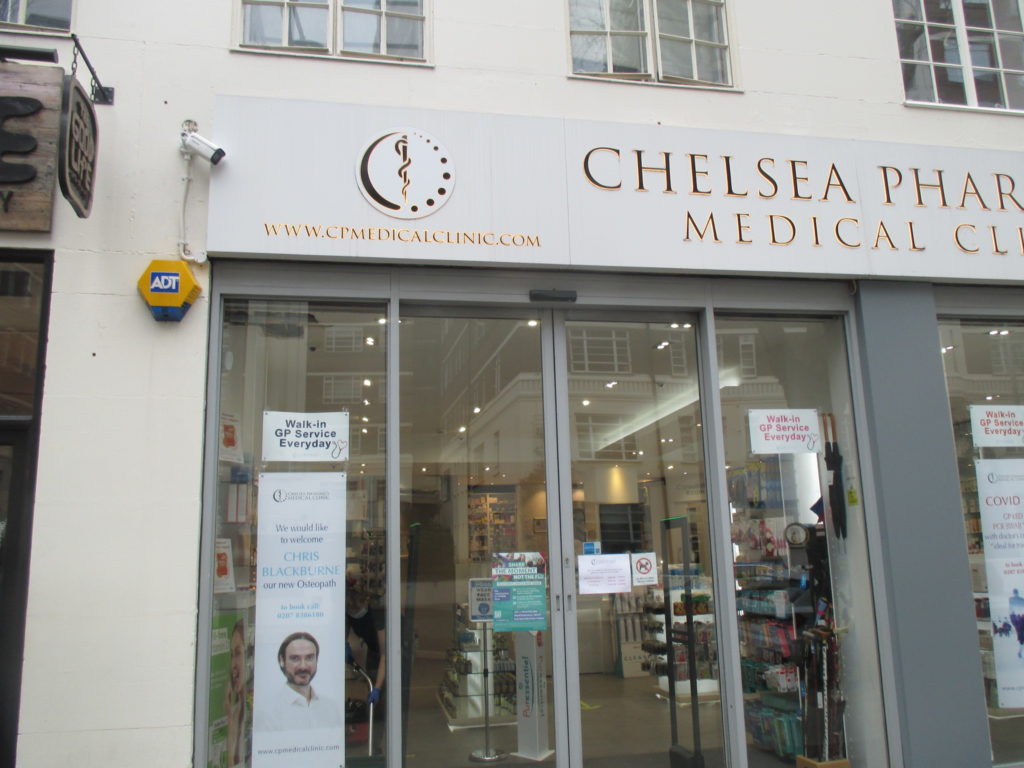 The Chelsea Pharmacy Medical Center is located at 61-62 Sloane Avenue. I take a deep breath and call my friends before going home. I have to check in at the counter and pay first. 170 Euros is HUGE, more expensive than travelling from France to England and back! Then a young medical secretary takes me to the basement. I'm suffocating under my FFP2 mask which I've taken on purpose to be taken seriously. The test's clientele are not sick people, but inhabitants of this rich neighbourhood who want to travel, I can hear it in their conversations. I explain that I am also in this case and that I just want to go back to France, aware that it is the French government that requires me to take the negative test. And what will become of me if the test discovers my antibodies or bits of viruses from last year? How many cycles will the amplification be? The secretary doesn't know. She sets me up in a small and sinister doctor's office despite its sterile whiteness.
She gives me two papers to fill out, one medical type form (do I have covid symptoms, am I taking medication?) with my address and another that looks like an administrative form for the National Health Administration. I don't have the time to understand all of these documents that the doctor already has. She is young, Indian origin, very masked and not at all pleasant. She doesn't behave like a doctor but rather like a laboratory technician. I explain to her that the covid I had and precisely for this reason I am afraid of having a positive test. I even brought a part of my medical file which she can read, if she is a doctor… But she is disdainful, sweeps my file away, doesn't let me talk and doesn't listen to me. What she tells me is stereotyped propaganda about the covid which give me nothing. I'm looking at a typical Big Pharma employee, cold, methodical and authoritarian. She refuses to answer my questions about the number of amplification cycles of the test. She assures me that the test can only show « if I have been in contact with Covid in the previous month ». Good. Does it detect the English variant? Because that's what Macron requires of us French people so that we can return to our country.
The woman raises her eyes to the sky and says « But there is no such thing as the English variant! It's the same virus! I smile « so you confirm that it was the French government that invented the story of the English variant »? His silence is worthy of assent. My second question is even more delicate. On the first form I have to sign that I agree that in case of a positive test, it will be transmitted to the National Health Administration. Of course I don't agree but I want to go home and my own government is blackmailing me?
What will happen to me if the test is positive? Will I be forcibly quarantined here? (Which would be illegal?) If so, who will pay for my stay and for my loss of earnings because I won't be working? The woman doesn't really know, but since she wants to be dominant, she tells me « I have to pass this information on to the authorities ». I won't know any more. The technician puts me in front of a bed, tells me to take off the mask « for her » and pushes the long pole up my nose. It hurts like hell, and I have a thought for the poor Polish truck drivers who get their noses punctured 2 or 3 times a week each time they deliver in England and then drive back to the continent. In fact, the injury will take 10 cheeks to heal and several neurological after-effects will come back because obviously a major nerve is damaged in the airways. This test is a useless and dangerous torture for your health. I shout, the woman is not happy with my behaviour, but I tell her that I suffered a lot in March, deprived of care and taken too late to the hospital because of the lockdown policy.
She doesn't want to hear about what the real covid is, she puts the swab in a little box that looks like a pregnancy test and leaves the room telling me to wait 10 minutes. I immediately call my friends because I feel oppressed in this room in the basement where I am locked in. And if the test is positive, will I be able to run away from here? How can I be sure that my rights will be respected? I think then that the medical experimentation camps for prisoners at Auschwitz, Buchenwald and Dachau[1] were clean and looked like state-of-the-art hospitals of the time. The selected prisoners might have thought they had a better chance of surviving there than in the misery and filth of the camp, but in fact the torture in white coats was worse and very few survived.
The lab technician posing as a doctor has the right mentality in every respect. Besides, when she comes back and looks at the box, she doesn't say « your test is negative », but « you can go home », as if she had already realised that my basic rights to live at home will now be subordinated to the torture I have to endure and she can inflict on me. This is the fascist world that they are putting in place for us.
I ask her what time the results will be available and all I can think about is running away from this detestable place. In fact the sample is sent to a real laboratory that will confirm the analysis and they will send me the result by email within the day. I leave sounded but relieved and I just want to relax and forget about the strange times we live in.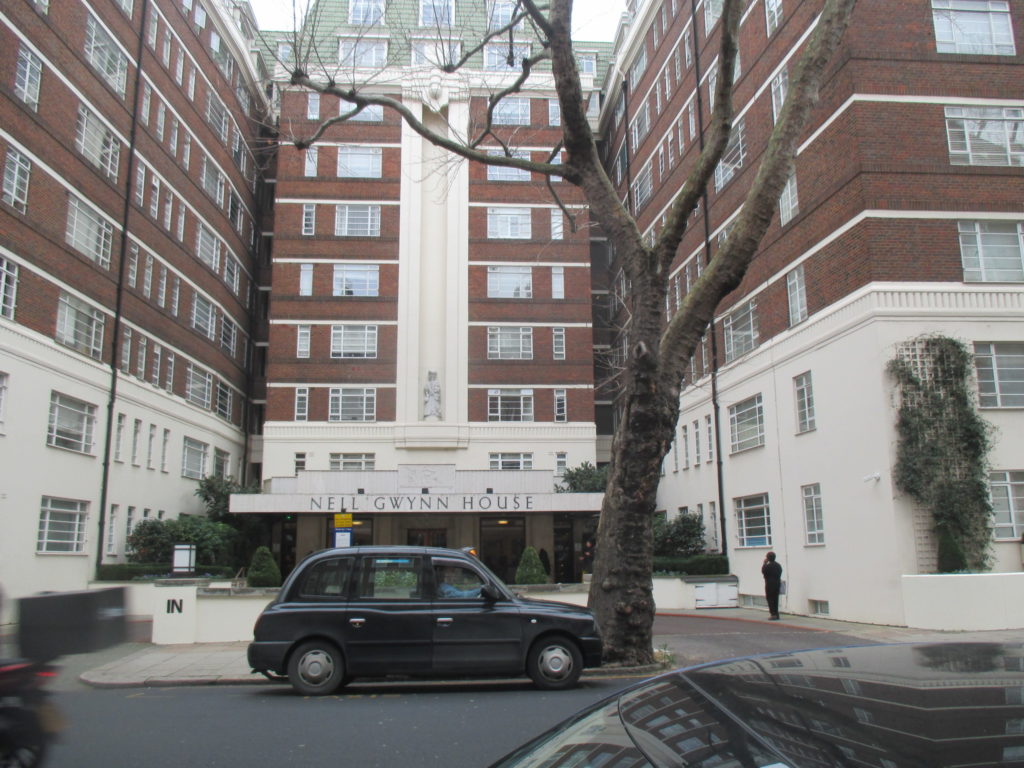 I spend the rest of the day walking around the nice and chic Pimlico area watching Londoners continue to defy the illegal lockdown bans by going out with family and friends. I take the train in the evening to my artists' hotel and my warm fish and chips from the seafront. The signed « Wandsworth Medical Center » document is emailed to me at midnight. I can take the morning boat, if DFDS accepts me on board. Wandsworth, another commune where the royal prisons are located.
---
Les expérimentations médicales à Auschwitz Clauberg et les femmes du bloc 10 – YouTube
Nazi human experimentation – Wikipedia
Medical experiments / History / Auschwitz-Birkenau
The victims of unethical human experiments and coerced research under National Socialism (nih.gov)
Back to the french police
The morning is grey and wet but I am enjoying my bus ride from my hotel to New Heaven Harbour on the waterfront boulevard. The sea is grey, green, iridescent, magnificent at the foot of the chalk cliffs. I find the ferry waiting for the loads and the few travellers at the small ferry terminal. At the ticket office, the employee with a closed face puts on her mask when she sees me and doesn't want to look at anything but the test. It takes her 10 minutes to check the validity of my paper by going through her computer, then she agrees to sell me a ticket to Dieppe and looks at my passport. I pay 30 euros and wait for boarding which will take place after a search of our luggage by 3 security guards that is as absurd as it is meticulous, while there are only 6 of us passengers on a huge empty ferry – 3 teenagers returning from a concert because they are carrying musical instruments including a violin, a young French-English couple and me.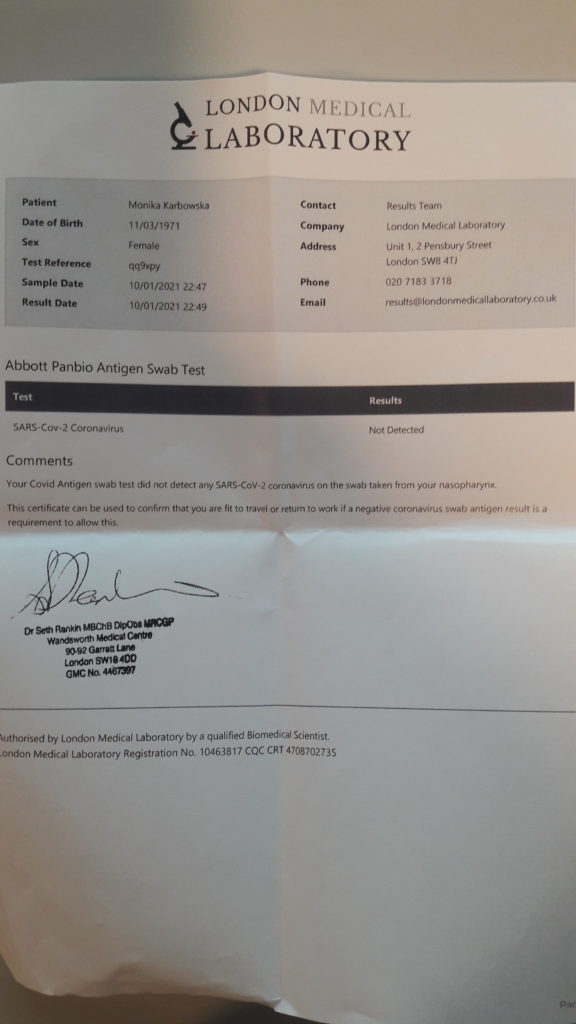 Before boarding the ferry I witness a scene that says a lot about the atmosphere in England. While I am waiting for boarding, a panic-stricken man rushes towards the ticket office. He asks in an English man with a strong Eastern European accent or to do a covid test because he wants to get home to the continent as soon as possible. I think he's a truck driver. The counterwoman and her colleague shrug their shoulders and don't want to help him at all. « We are not the government, » the woman even tells him, sending him for a walk. The man is about to leave and I understand the despair in his eyes. I approach him and ask him for his nationality. He is Bulgarian. Half in Russian, half in English, I explain to him how I took the test and I take my phone and give him the address in Chelsea. It is then that the DFDS employees, seeing me doing it, call the man back and give him a paper at the counter. Before going out, he comes to thank me and shows me what they gave him: the address of a laboratory in the city! Did they initially refuse to help him out of racism? Or for not taking part in the covidian bidding war that the locals don't particularly like? I won't know, but the incident leaves one wondering.
I spend 5 delicious hours in the boat admiring the landscape, the cliffs, the green sea, breathing from the top of the last bridge, full of lungs! The ticket entitles us to an excellent dish of the day at the ferry's restaurant. I then realise, sitting at the bar table in front of the sea, that this is the only place where I can sit at the restaurant, for the first time since last October 14th… For once I am a privileged person!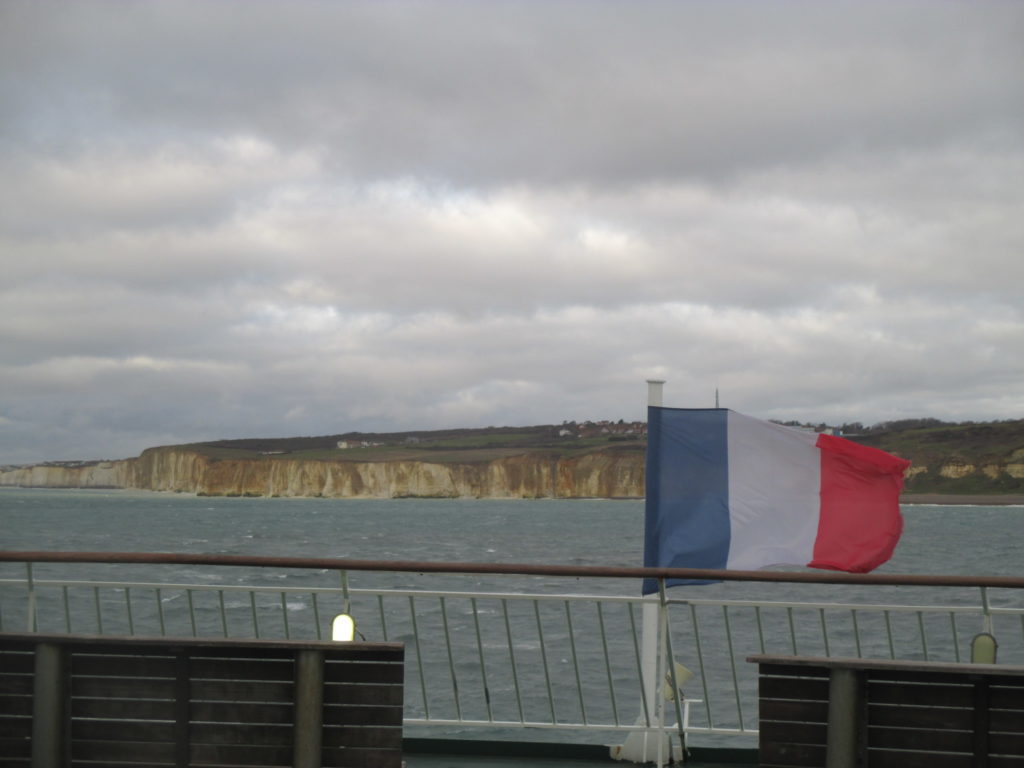 I am worried on arrival in Dieppe despite the beauty of this crossing. Dieppe with its masks on the beach and its sinister madness, I don't want to linger there any longer. We still have to go through the French border whereas the English authorities let us out without control. We get off the ferry and a small bus leaves us in front of the Police aux Frontières guardhouses in the ferry terminal. The three teenagers are picked up by an adult, they must be local as the police don't even look at their papers. So I am the last one to present, again the covid test and my passport. I am angry about the illegal control of the test but obviously I don't say anything about it.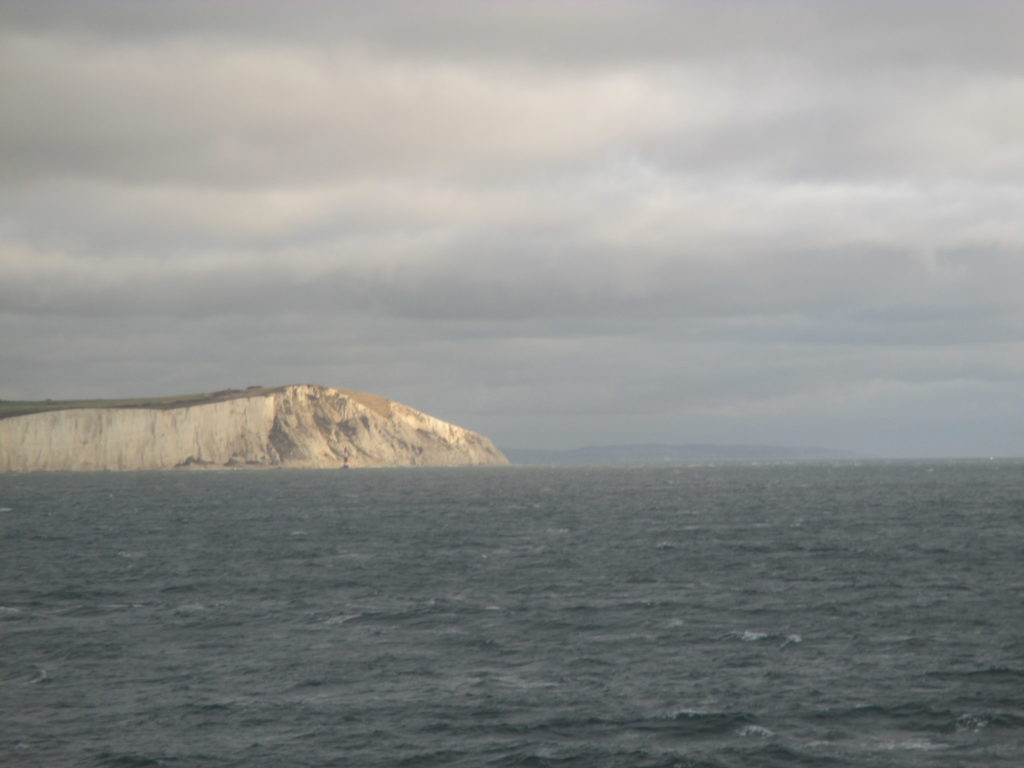 Two young cops from the french border police are watching me in a backstabbing attitude, camped on their legs and clinging to their guns. One of them says to me, « Where do you come from, madam »? « From the boat » I answer. « But from where? » he insists. « The boat comes from England, I didn't swim across the sea! This is the moment when I can take off the damn mask for the identity check. I find myself alone without a mask in front of 5 masked male cops. But I can smile at them to defuse the charge. The young cop hasn't managed to catch me. He actually wants to know what I did in England, where I was, but in reality he doesn't have the right to interrogate me. What I did in England is only a matter for the English authorities, if I am in order with them. It is the principle of sovereignty over a territory: each person is master in his own country and not in the other. The French police will have to revise the philosophical principles of law and the legal texts!
The man keeps trying to trap me. « You bought something in England »? He's not a customs officer, the customs officer is just checking my passport. I laugh as I turn to him: « Fish and chips especially! Everything is closed! But I enjoyed spending a few days in a country where they don't impose the mask outside! ». I come back to the customs officer: « You know, for your health, you have to breathe, without a mask! Oxygenate yourself! Don't you need to breathe sometimes? « I get bolder: « How old are you? Because after the age of 45, you know, breathing is no longer an option, but a necessity! ». The policeman is very young, the customs officer is my age. He looks at me under his mask: « Madam, everyone wants to breathe ». I reply: « You're right. It's a pity that the mask is compulsory on such a beautiful beach in Dieppe. It doesn't make you want to stay for a holiday ». The youngster has received his lesson, the mask should not be a taboo subject.
Dieppe is always so sinister with masked passersby and all the restaurants that are double-booked. I don't stay and I head towards the station. The SNCF-( train) employee demands a « special travel authorisation » from me, I am stunned. His colleague takes him back « no, the curfew is still at 8 pm, 6 pm it will be next week ». The SNCF is already knows Macron's plans against us. The agents, formerly on the left, not only don't oppose them while their town is dying, but even beat the Führer in a zeal for kapos.
I am sad and I would like to leave as dry as I am. But to go where? If France falls, the whole of Europe will fall, even the English are counting on us for the Resistance. It's so hard. But at least we've fought a successful battle, Julian Assange is still there. We're going to fight to get him out and free ourselves. We were effective, we will be effective again. I thank Heaven and my friends for this hope.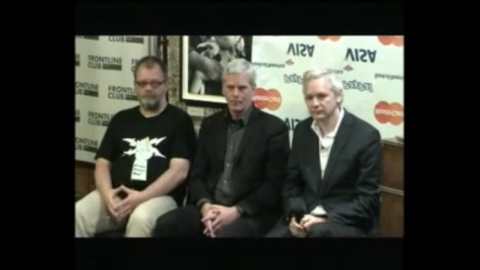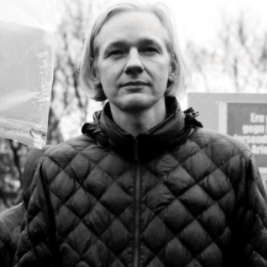 The Universal Declaration of Human Rights
Preamble
Whereas recognition of the inherent dignity and of the equal and inalienable rights of all members of the human family is the foundation of freedom, justice and peace in the world,
Whereas disregard and contempt for human rights have resulted in barbarous acts which have outraged the conscience of mankind, and the advent of a world in which human beings shall enjoy freedom of speech and belief and freedom from fear and want has been proclaimed as the highest aspiration of the common people,
Whereas it is essential, if man is not to be compelled to have recourse, as a last resort, to rebellion against tyranny and oppression, that human rights should be protected by the rule of law,
Whereas it is essential to promote the development of friendly relations between nations,
Whereas the peoples of the United Nations have in the Charter reaffirmed their faith in fundamental human rights, in the dignity and worth of the human person and in the equal rights of men and women and have determined to promote social progress and better standards of life in larger freedom,
Whereas Member States have pledged themselves to achieve, in co-operation with the United Nations, the promotion of universal respect for and observance of human rights and fundamental freedoms,
Whereas a common understanding of these rights and freedoms is of the greatest importance for the full realization of this pledge,
Now, Therefore THE GENERAL ASSEMBLY proclaims THIS UNIVERSAL DECLARATION OF HUMAN RIGHTS as a common standard of achievement for all peoples and all nations, to the end that every individual and every organ of society, keeping this Declaration constantly in mind, shall strive by teaching and education to promote respect for these rights and freedoms and by progressive measures, national and international, to secure their universal and effective recognition and observance, both among the peoples of Member States themselves and among the peoples of territories under their jurisdiction.
Article 1.

All human beings are born free and equal in dignity and rights. They are endowed with reason and conscience and should act towards one another in a spirit of brotherhood.
Article 2.

Everyone is entitled to all the rights and freedoms set forth in this Declaration, without distinction of any kind, such as race, colour, sex, language, religion, political or other opinion, national or social origin, property, birth or other status. Furthermore, no distinction shall be made on the basis of the political, jurisdictional or international status of the country or territory to which a person belongs, whether it be independent, trust, non-self-governing or under any other limitation of sovereignty.
Article 3.

Everyone has the right to life, liberty and security of person.
Article 4.

No one shall be held in slavery or servitude; slavery and the slave trade shall be prohibited in all their forms.
Article 5.

No one shall be subjected to torture or to cruel, inhuman or degrading treatment or punishment.
Article 6.

Everyone has the right to recognition everywhere as a person before the law.
Article 7.

All are equal before the law and are entitled without any discrimination to equal protection of the law. All are entitled to equal protection against any discrimination in violation of this Declaration and against any incitement to such discrimination.
Article 8.

Everyone has the right to an effective remedy by the competent national tribunals for acts violating the fundamental rights granted him by the constitution or by law.
Article 9.

No one shall be subjected to arbitrary arrest, detention or exile.
Article 10.

Everyone is entitled in full equality to a fair and public hearing by an independent and impartial tribunal, in the determination of his rights and obligations and of any criminal charge against him.
Article 11.

(1) Everyone charged with a penal offence has the right to be presumed innocent until proved guilty according to law in a public trial at which he has had all the guarantees necessary for his defence.
(2) No one shall be held guilty of any penal offence on account of any act or omission which did not constitute a penal offence, under national or international law, at the time when it was committed. Nor shall a heavier penalty be imposed than the one that was applicable at the time the penal offence was committed.
Article 12.

No one shall be subjected to arbitrary interference with his privacy, family, home or correspondence, nor to attacks upon his honour and reputation. Everyone has the right to the protection of the law against such interference or attacks.
Article 13.

(1) Everyone has the right to freedom of movement and residence within the borders of each state.
(2) Everyone has the right to leave any country, including his own, and to return to his country.
Article 14.

(1) Everyone has the right to seek and to enjoy in other countries asylum from persecution.
(2) This right may not be invoked in the case of prosecutions genuinely arising from non-political crimes or from acts contrary to the purposes and principles of the United Nations.
Article 15.

(1) Everyone has the right to a nationality.
(2) No one shall be arbitrarily deprived of his nationality nor denied the right to change his nationality.
Article 16.

(1) Men and women of full age, without any limitation due to race, nationality or religion, have the right to marry and to found a family. They are entitled to equal rights as to marriage, during marriage and at its dissolution.
(2) Marriage shall be entered into only with the free and full consent of the intending spouses.
(3) The family is the natural and fundamental group unit of society and is entitled to protection by society and the State.
Article 17.

(1) Everyone has the right to own property alone as well as in association with others.
(2) No one shall be arbitrarily deprived of his property.
Article 18.

Everyone has the right to freedom of thought, conscience and religion; this right includes freedom to change his religion or belief, and freedom, either alone or in community with others and in public or private, to manifest his religion or belief in teaching, practice, worship and observance.
Article 19.

Everyone has the right to freedom of opinion and expression; this right includes freedom to hold opinions without interference and to seek, receive and impart information and ideas through any media and regardless of frontiers.
Article 20.

(1) Everyone has the right to freedom of peaceful assembly and association.
(2) No one may be compelled to belong to an association.
Article 21.

(1) Everyone has the right to take part in the government of his country, directly or through freely chosen representatives.
(2) Everyone has the right of equal access to public service in his country.
(3) The will of the people shall be the basis of the authority of government; this will shall be expressed in periodic and genuine elections which shall be by universal and equal suffrage and shall be held by secret vote or by equivalent free voting procedures.
Article 22.

Everyone, as a member of society, has the right to social security and is entitled to realization, through national effort and international co-operation and in accordance with the organization and resources of each State, of the economic, social and cultural rights indispensable for his dignity and the free development of his personality.
Article 23.

(1) Everyone has the right to work, to free choice of employment, to just and favourable conditions of work and to protection against unemployment.
(2) Everyone, without any discrimination, has the right to equal pay for equal work.
(3) Everyone who works has the right to just and favourable remuneration ensuring for himself and his family an existence worthy of human dignity, and supplemented, if necessary, by other means of social protection.
(4) Everyone has the right to form and to join trade unions for the protection of his interests.
Article 24.

Everyone has the right to rest and leisure, including reasonable limitation of working hours and periodic holidays with pay.
Article 25.

(1) Everyone has the right to a standard of living adequate for the health and well-being of himself and of his family, including food, clothing, housing and medical care and necessary social services, and the right to security in the event of unemployment, sickness, disability, widowhood, old age or other lack of livelihood in circumstances beyond his control.
(2) Motherhood and childhood are entitled to special care and assistance. All children, whether born in or out of wedlock, shall enjoy the same social protection.
Article 26.

(1) Everyone has the right to education. Education shall be free, at least in the elementary and fundamental stages. Elementary education shall be compulsory. Technical and professional education shall be made generally available and higher education shall be equally accessible to all on the basis of merit.
(2) Education shall be directed to the full development of the human personality and to the strengthening of respect for human rights and fundamental freedoms. It shall promote understanding, tolerance and friendship among all nations, racial or religious groups, and shall further the activities of the United Nations for the maintenance of peace.
(3) Parents have a prior right to choose the kind of education that shall be given to their children.
Article 27.

(1) Everyone has the right freely to participate in the cultural life of the community, to enjoy the arts and to share in scientific advancement and its benefits.
(2) Everyone has the right to the protection of the moral and material interests resulting from any scientific, literary or artistic production of which he is the author.
Article 28.

Everyone is entitled to a social and international order in which the rights and freedoms set forth in this Declaration can be fully realized.
Article 29.

(1) Everyone has duties to the community in which alone the free and full development of his personality is possible.
(2) In the exercise of his rights and freedoms, everyone shall be subject only to such limitations as are determined by law solely for the purpose of securing due recognition and respect for the rights and freedoms of others and of meeting the just requirements of morality, public order and the general welfare in a democratic society.
(3) These rights and freedoms may in no case be exercised contrary to the purposes and principles of the United Nations.
Article 30.

Nothing in this Declaration may be interpreted as implying for any State, group or person any right to engage in any activity or to perform any act aimed at the destruction of any of the rights and freedoms set forth herein.