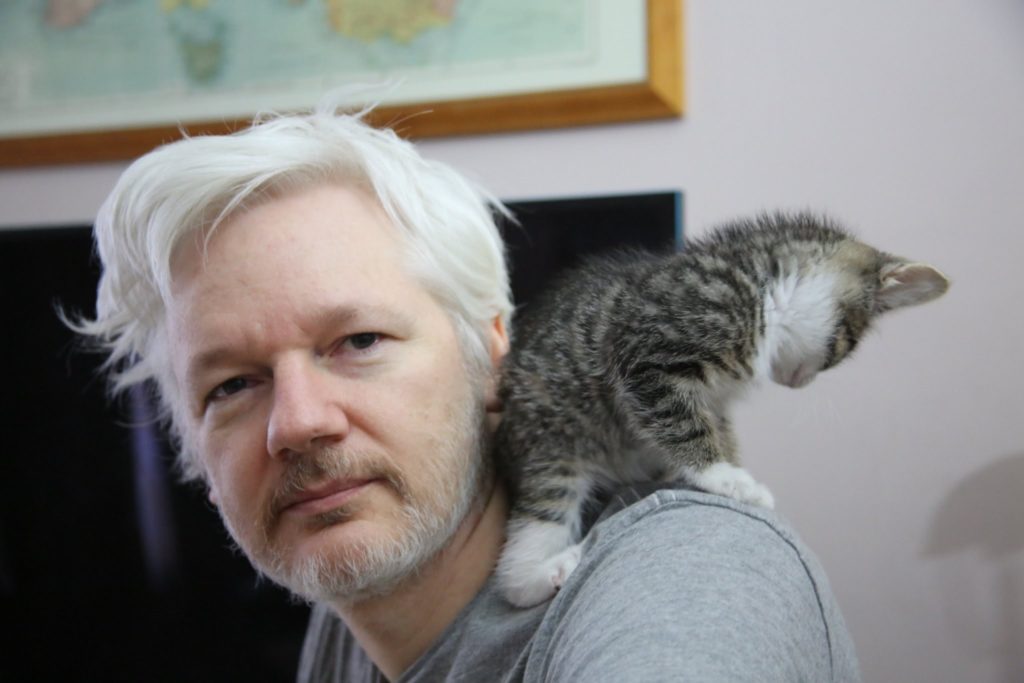 Monika Karbowska
Dieppe the muzzled versus Brighton the rebel – trip to England on 2 January 2021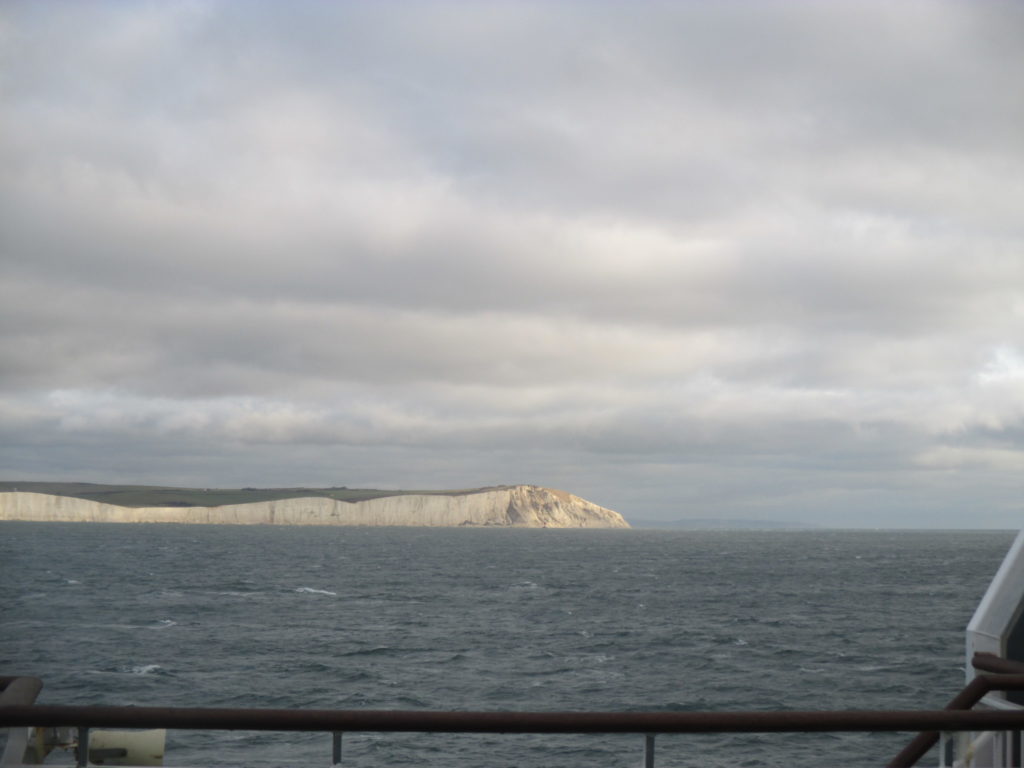 At a time of global lying, the media and governments make us believe that it is forbidden to travel. But this is not true. So I left for England on January 2nd, first going to Dieppe and from there with the ferry across the Channel.
My journey began at the Saint Lazare station on January 1st in a strange atmosphere that reminds me of the science fiction film « Brazil »: 2 different police forces are walking around the station looking for some non masked persons, Vigipirate soldiers are marching around in commando, jumping around as if behind each lethargic traveller under his mask an armed terrorist would come out, 2 private security companies share the market of the mask control, and the SCNF-train- employees are wearing brand new outfits and always make you understand that the mask is more important than the train ticket.
The train is a place where you learn the discipline of the mask, not a means of public transport. Every five minutes a loudspeaker spits out a hysterical voice of guilt-ridden commands: « all responsible against coronavirus, download the government application all anti-covid »! I swap with a waitress at the only Starbucks « café » open – normal cafés being banned by the government, the American multinationals logically take over the whole market. She is hidden behind a glass window, yet she is alone in a vast empty room. I don't understand what she is saying and when I finish my coffee purchase I ask her if she can't lower her mask so that I can understand her words. The company should at least allow her to do that… She sighs and tells me that between colleagues we stop the mask bullshit but that she fears the kapo customers.
She's right, because very quickly I get the wrath of a toilet attendant when I take off my mask in the toilet to breathe, look in the mirror and wash my face. Yet another one who thinks she is a little boss thanks to Covid and who doesn't know that the kapos were always the last ones to be shot by the Nazis after loading all the victims on the trains to the camps. I am thinking of 1 January 1941 when the French had not yet all understood what had happened to them. The atmosphere must have been a bit like the one I'm experiencing here on 1 January 2021. The Paris-Rouen train is nevertheless still quite quiet, I can sleep under the « abaya » veil from which I can remove the mask. The ticket inspector only passes by once and of course you have to wear the muzzle so that he can control it properly. It's much worse on the Rouen Dieppe train: several controllers in a group go through the trains 10, 20 times in search of the « criminal without a mask ». I wonder why this train line is so full of kapo railway workers. Already in July I had my first surreal conversation with a ticket inspector who spent her time tracking the no masked « criminal » throughout the train. I was alone in the whole car and when she said to me « I obey orders » I replied « remember the SCNF- train employees who said that during the purification trials. To what limits are you willing to obey? She didn't know how to answer, visibly unaware of all this part of our European history and the psychological mechanisms that have plunged people into the vicious circle of submission.
But the worst thing is that it was the RATP and SNCF trade unions who were the first to demand the mask in public transport, from 11 May 2020, on employees and passengers, and opened the door for the government to impose it everywhere, in all weathers, in all places and for everyone. We will not regain our freedom to breathe until these trade unionists understand the anti-human muzzle imposed on workers 15 hours a day is the first step towards the restoration of serfdom. Unless it wasn't a mistake? I remember this last political rally « before the war » to which a friend of mine, a Yellow Vest from Paris, now converted to covidianism, took me. It was on 10 March 2020 at the Parole Errante in Montreuil. 5000 trade unionists and users of the RATP and the SNCF celebrated happily and determinedly the victory in the Great Strike to save the pensions that we all held against Macron during the hard winter months. I attended the event, I listened to the vibrant revolutionary speeches of young trade union activists who sang a moving International at the end[1].
https://www.facebook.com/RevolutionPermanente.fr/videos/430499884409927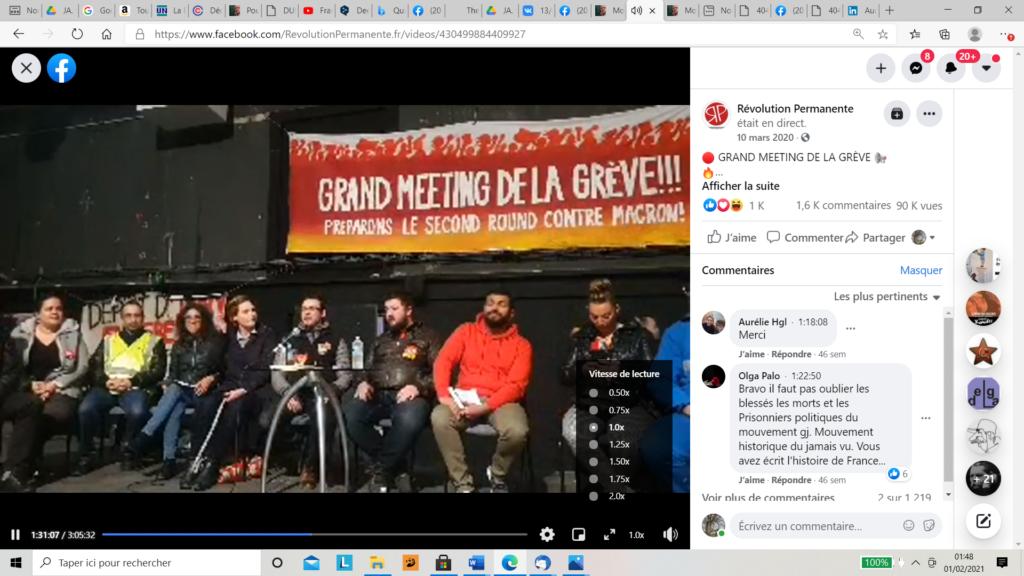 Less than a week later all these fine spirits were wisely confined, obeying Macron's order to immediately cease all political, cultural and social associative activity. Since then, we no longer have freedom of assembly and association. How could such a reversal come about? What if the trade unionists of the SNCF and the RATP didn't win the pension strike but simply negotiated their adhesion to the corona regime in exchange for their special regime? Betraying us all? The answer to the question would explain to us the mechanism of servile submission of the SNCF and RATP agents to all the delusions of covido-dictatorship. Moreover, I remember that three weeks later the friend who took me to the meeting explained to me that she had had the covid in December 2019 and that she had already read all about the virus in Chinese scientific documents from that time on, that it was very serious and highly contagious and that we were all going to die from cytokine storms that were impossible to prevent, treat and cure. But then, she knew on March 10, 2020 that the contamination would be massive at this meeting of several thousand people gathered together and she took me there anyway? She knew and she didn't tell me anything? What should we think of her attitude and that of those trade unionists who have disappeared from social and political life since then?
---
[1] https://www.facebook.com/CoordRATPSNCF/posts/141151180777677
https://www.facebook.com/RevolutionPermanente.fr/videos/430499884409927/
Crossing the sea in January 2021 – The English coast in struggle against covid-dictatorship
In Dieppe I find the hotel where I stayed during the summer. The owner has lowered the price by a third but we are only 3 guests in this beautiful establishment in an old house near the port. She remembers me and trust is built up as the day goes by. She understood that she was fooled by Macron's policy because she had scrupulously followed the « barrier gestures » and imposed hygienic-masked delirium on all these summer customers. Macron closed the hotels and forbade her to work, thus destroying the tourism that towns like Dieppe live on. But it's not just the hygienic terror in the hotels that drives away the customers: I discover with displeasure that masks are compulsory in the whole city of Dieppe and in the whole region. It is also imposed on the vast pebble beach and submission from all is the order of the day. I came to oxygenate my lungs, as in July, and I am subject to the same prison regime as in Ile de France. Who will come to pay for a hotel in a provincial town to breathe in the stale air from his mask?
I break down and shout my anger at the deserted sea. But in Dieppe people stare at me with a nasty look when I wander on the beach without a mask. The air is literally unbreathable. So I decide to cross the Channel with the ferry the very next day, even though I had planned a few days of holiday here. When I call the hotel manager from the boat to explain to her why I've shortened my stay, she's not surprised. She knows that the mask has never been taxed out in England and she laments the English tourists who will not be coming back when they were an important source of income for the town. If they came back, they would immediately be subjected to a forced PCR test at the town's university hospital without being able to leave the boat, as happened to about thirty English tourists who had disembarked just before New Year's Eve, a Dieppois informed me. I had a long discussion with this man concerned about the death of his town. He already knows three restaurateurs in the region who have committed suicide and nobody talks about it. One of his relatives works in the EPADHs in the region and she also has a lot to say about the active and passive euthanasia that is taking place there.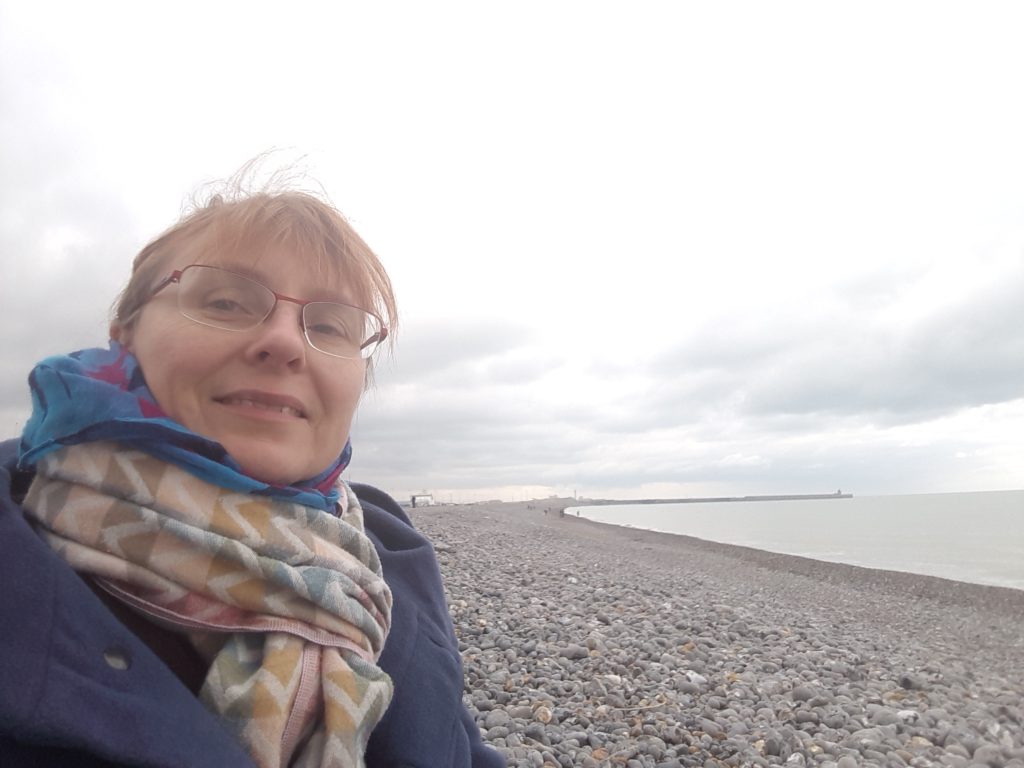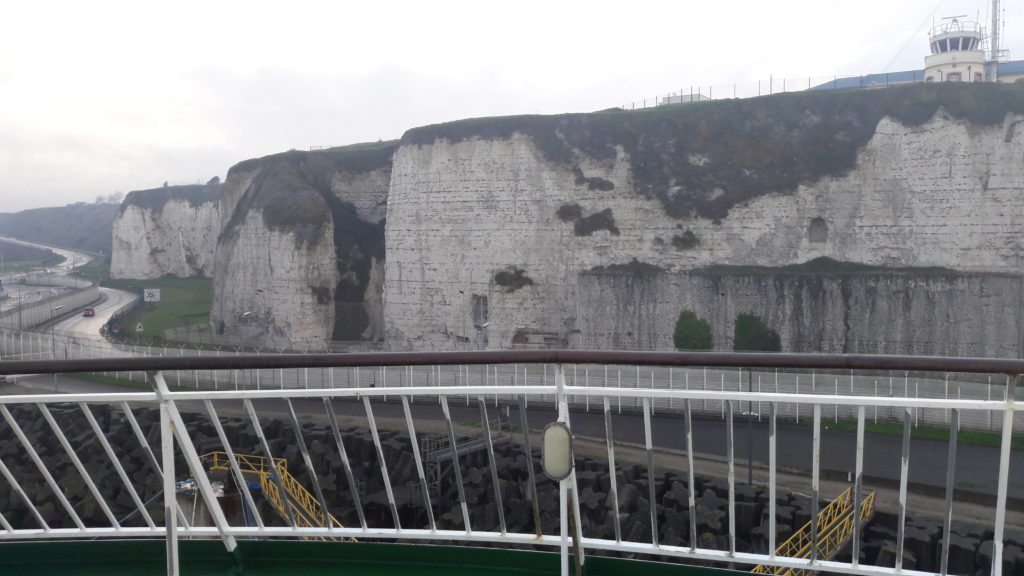 At the Dieppe ferry terminal, DFDS has a monopoly on the crossing to New Heaven. The ticket costs only 30 Euros and unlike in Dover it is possible to board the boat without a vehicle. We are some 30 travellers, elderly British couples returning home from their holidays in France before the Franco-British conflict over the pseudo « English variant » of the corona. There are also some young French people who are emigrating for good. The mask is strictly compulsory throughout the passenger and cargo port area. The port is moreover framed by imposing barbed wire under the cliff. I tell myself that the regime was allowed to install this barbed wire against the migrants who were going to England. But in the end, the security measures turned against us, French citizens. If we have to flee our dictatorship, we will no longer be able to get into a boat and cross the sea like the fishermen from the Island Sein who joined de Gaulle in the summer of 1940. We are prisoners of our own country and its regime.
The DFDS ticket office agrees to sell me a ticket but requires me to provide a sworn statement « I, the undersigned, declare that I have no symptoms of covid ». This is illegal of course, no private company has the right to inspect a citizen's medical file. The personal data of travellers must be declared to the CNIL (National Council of Dataprotection) if DFDS collects them from now on. I ask the young employee under which law the company stores this personal data and whether it has declared it to the CNIL. The young person doesn't even know what I'm talking about, she has never heard of the CNIL and obeys the orders given without a murmur. I don't want to put my crossing in danger by protesting too much but I ask her for a photocopy of the sheet signed and stamped by the company attesting that I have indeed filed this declaration. « You understand, if I give you this attestation, how can I prove what is on it if I don't have it anymore, in case of a problem? I have to cover myself as well ». The young employee doesn't understand anything but her superior does: she provides me with the stamped photocopy.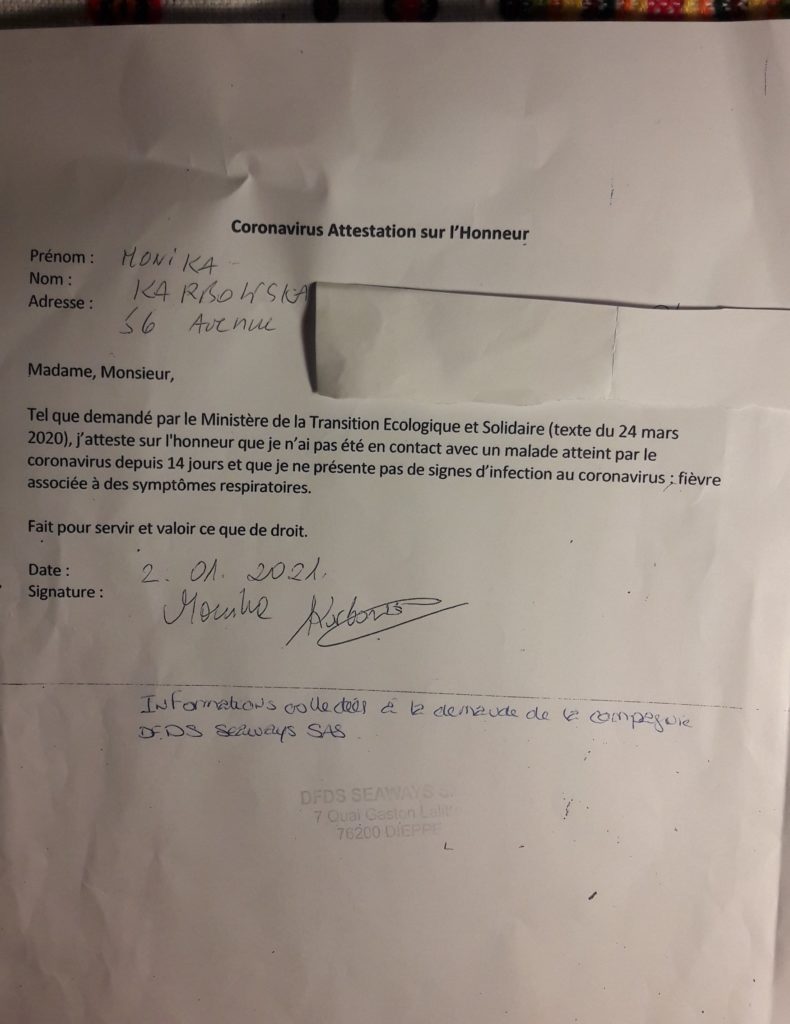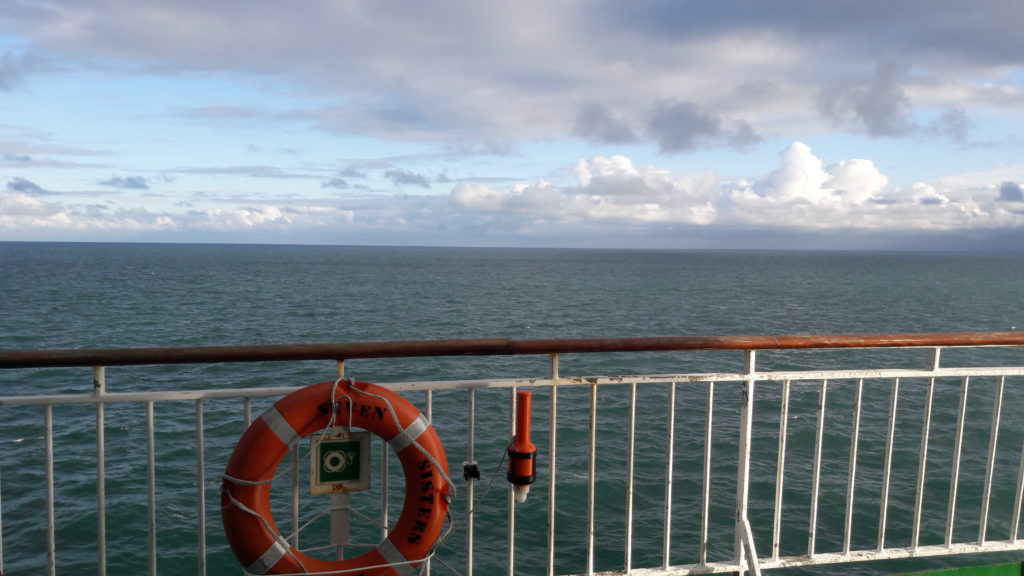 The entrance to the boat is gloomy, but afterwards I enjoy my crossing. The green-blue sea on which a few rays of sunshine rise after the rain. It is cold on the highest deck. But I am alone and I BREATH a beautiful iodised air. What a joy to breathe, it is a primary freedom. Besides, we are privileged because we have the right to go to the ferry's restaurant, eat and contemplate the landscape without a mask. What a joy to be oneself, to find a normal life again. Disembarkation takes place around 2 pm. New Heaven is a small industrial port nestled between the cliffs of the rather urbanised coast of Sussex. The ferry terminal is very small, we go down to the garage and the English employees of DFDS pick us up as we leave the boat, escort us on foot to a small hangar where we pass the British border control and pick up our luggage. I'm a bit nervous because the employee is so overzealous. She asks for my 'Passanger Locator Card' and asks if I am going to London. Yes, to meet my 'friend'. Partner, boyfriend, friend… English allows you to stay in a diplomatic limbo. She doesn't insist and lets me pass. As soon as I leave the building I tear off my mask. What a joy to be free. The port employees don't wear it at all when they work outside.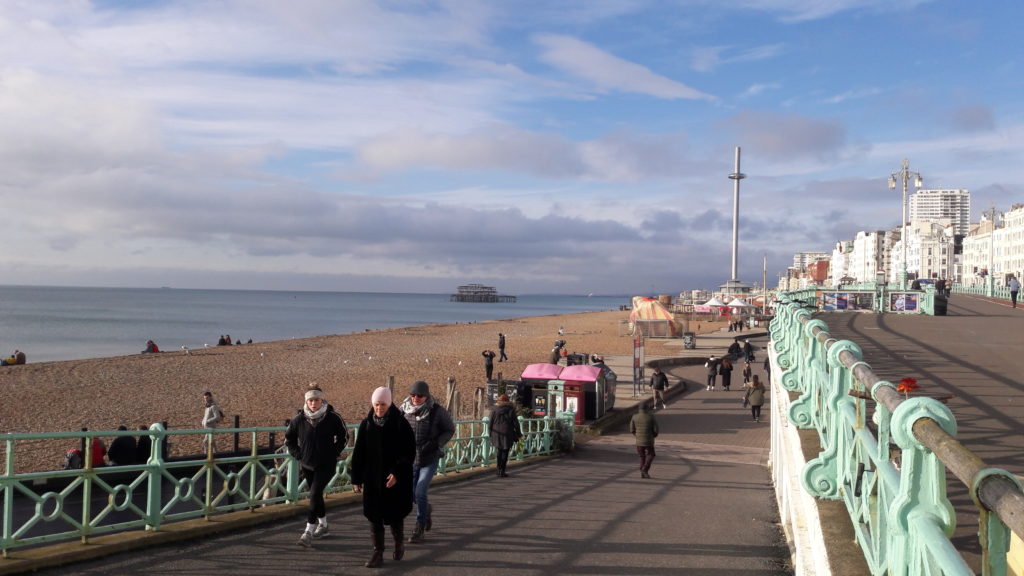 This is the case for the whole region. Apart from public transport, which is more severe, the mask is not worn on the southern coast. It is not imposed outside and everyone breathes freely on the beaches, on the coastal promenade, in the streets. Restaurants are closed and only do take-away sales, but many people work and in many places employees do not even wear masks indoors. Moreover, the region is a strong wind against the covid dictatorship and it is making this known through this practical and stubborn resistance. I talk to hoteliers and restaurateurs who explain to me their refusal to die from the government's madness. I know that the English government is not united on the issue and that it is more the NHA that imposes these absurd bans that are contrary to fundamental rights. The coast from Eastbourne to Portsmouth is urbanised and touristy, dotted with housing estates, but also with pretty Victorian town centres and pretty little houses renovated by the middle classes. Owners of three-star hotels look like they are enjoying the closing of their businesses, but this is not the case for small room renters or owners of cheap hotels and pubs. They open to survive in this incomprehensible madness. This Sunday, January 3, the inhabitants and tourists are strolling with their families on the beach and on the coastal promenade, having coffee and meals on the benches, running and cycling. Of course, there are no packhorses.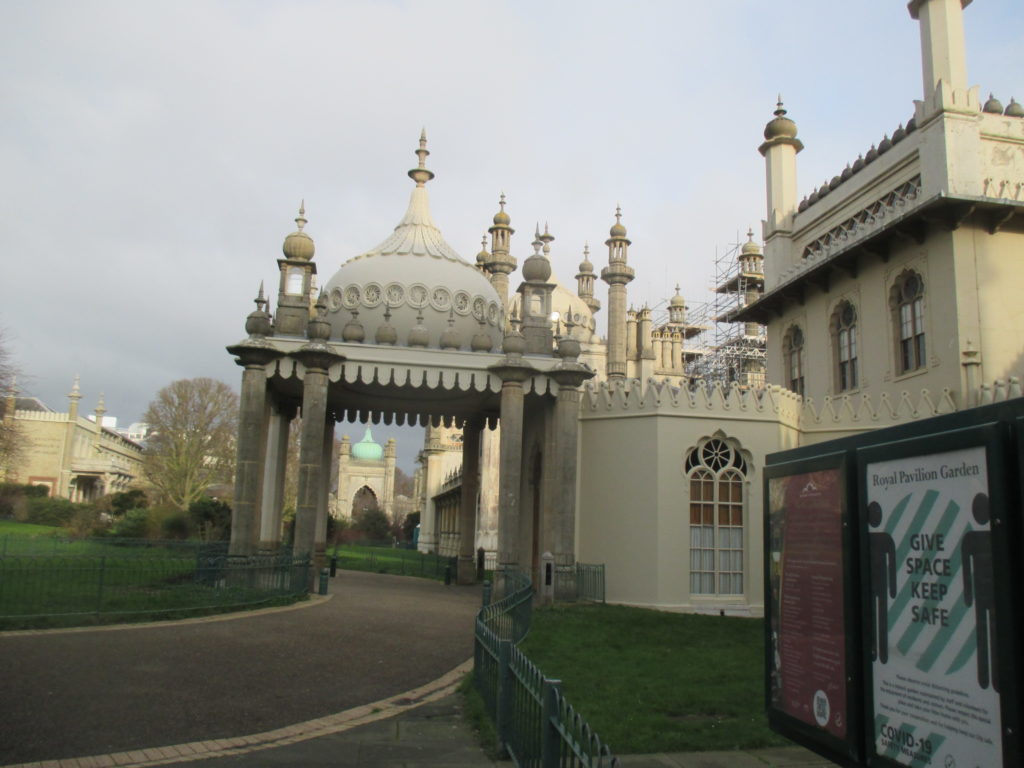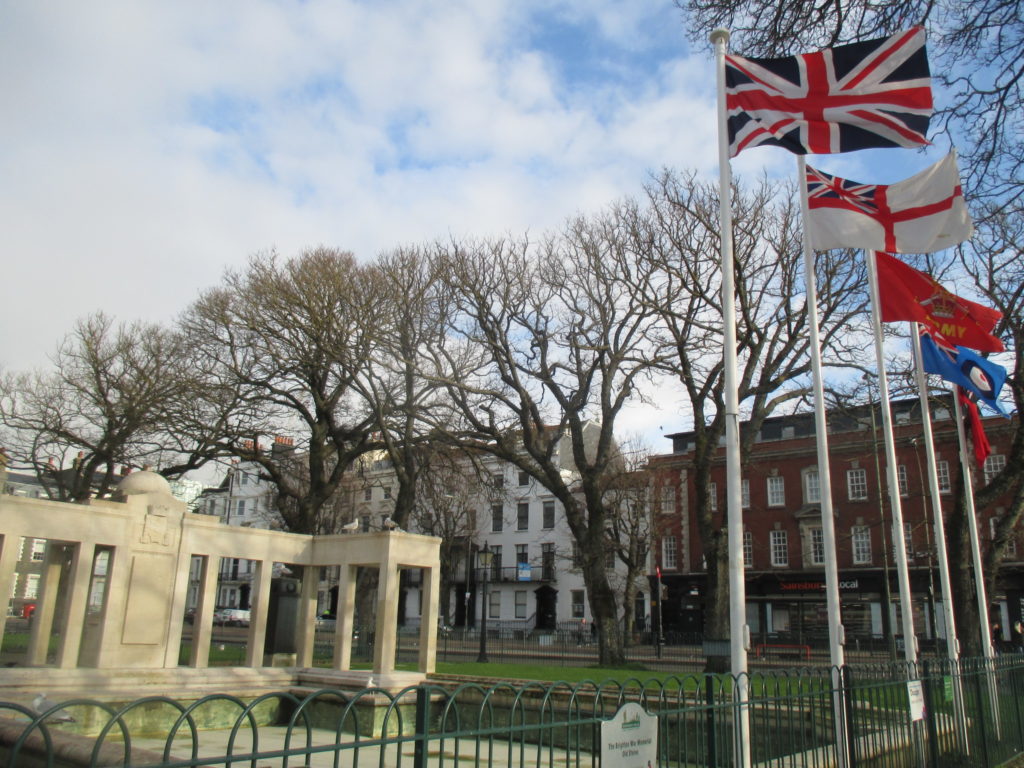 Brighton City Council has put up posters advising the elderly not to wear masks. The poster says: 'Understand me, I cant wear the mask' next to a picture of an old lady. « Understand me, I cant wear the mask ». The slogan remains within the framework of Covidian ideology: one must wear the mask to protect others. But the mayor of Brighton is asking for mercy for the elderly, let them breathe! He is right. I think of those poor shadows in my suburbs or in Dieppe who can barely manage to drag their mouths and noses blocked by Chinese plastic, merchants with their heads down like damned souls. Great Britain breathes and the fresh air strengthens its determination to live life to the full. This air is contagious and I too experience some moments of pure happiness.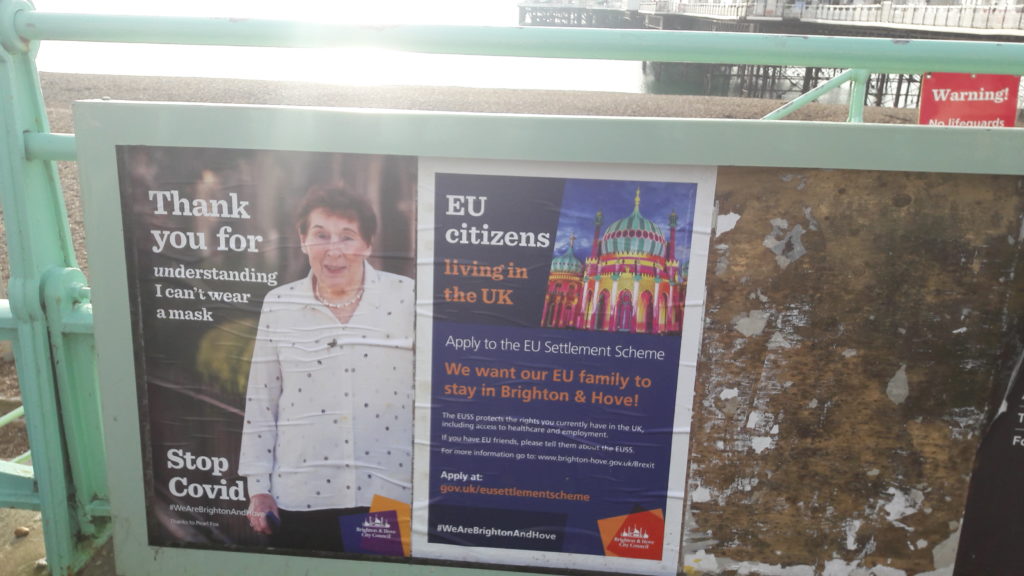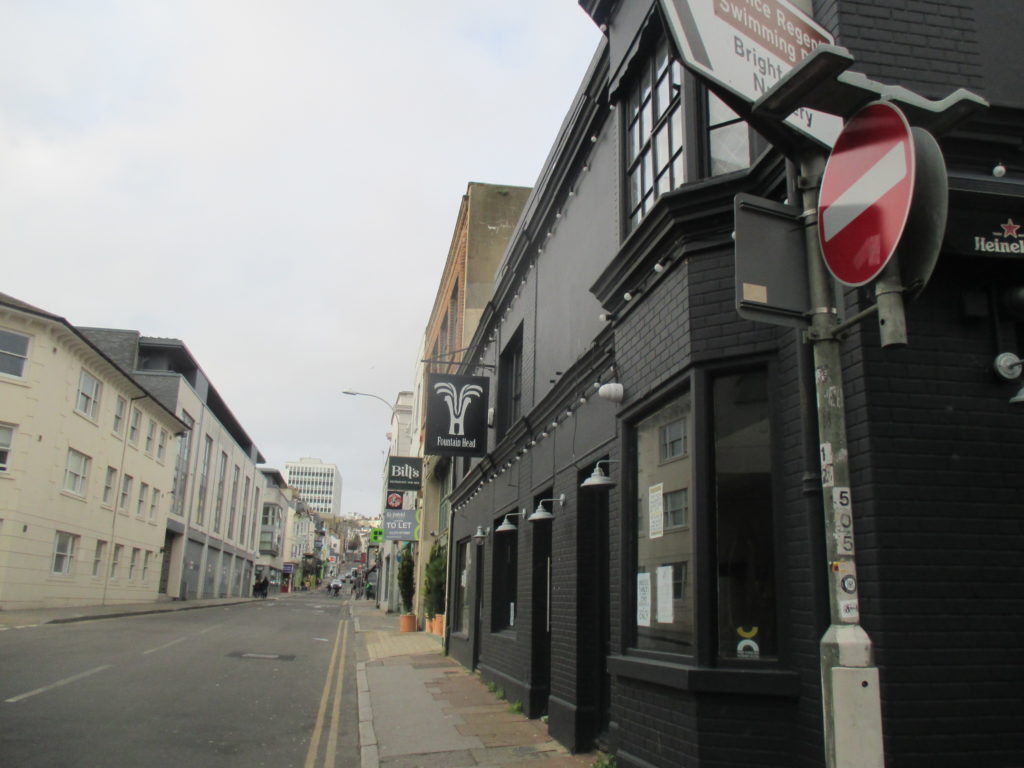 Greece for Assange
On the evening of 2 January I am pleased to speak at the debate of the Greece for Assange[1] collective invited by a Greek activist friend Anastasia Politi via the Jitsi Meet application. Of course, having experienced the Social Forums where 100 000 European activists met in Paris in 2003, London in 2004, Athens in 2006, Malmö in 2008 and Istanbul in 2010, having organised this kind of big event, I always find virtual « debates » very disappointing and moreover energetically exhausting whereas a real public meeting is a meeting that feeds me. But today I am grateful to my Greek friends for coming to take part in the struggle for the liberation of Julian Assange. I am happy to see even in video the great militants of the Greek left, Sissi Vovou and Afroditi Stambouli. Above all, I am very grateful for the support given to our actions for the liberation of Julian Assange by my friend, the former MEP Konstantina Kuneva, whom I have known since 2008, during our joint trade union struggles for the rights of Eastern European migrant workers in Greece. I am all the more pleased that these well-known activists in Greece are also historical pillars of the feminist movement. Julian Assange was held captive by the British political-judicial system on the basis of manipulations using a feminist veneer; it is only fair that it should be European feminists who achieve his release. I am very happy to be back in the familiar atmosphere of Greek left activism that I experienced from 2005 to 2017 when I was part of the anti-globalisation movement and the struggles against the odious debt imposed on Greece.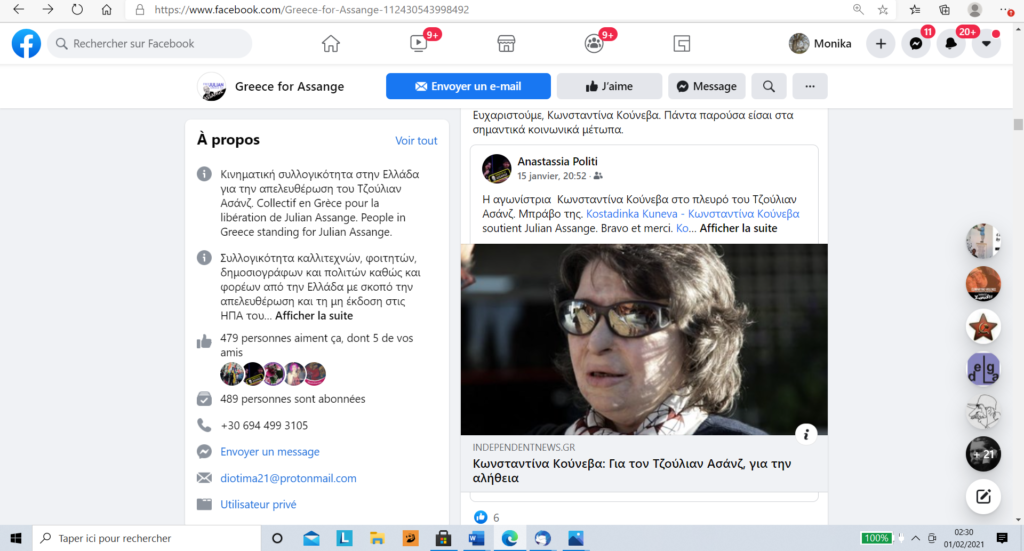 I hear from the activist Niki Konstantinidi (whose face I don't see, another of the peculiarities of « democracy on the internet, that you can hear a debate without being seen) the assurance that Julian Assange would be cold « in Belmarsh », that he would « lack warm clothes » and that it would be « impossible to get to the Old Bailey on 4 January ». This person seems to know Assange and the lawyers' entourage very well, but his assertions annoy me nonetheless: if Assange is in Belmarsh, his alleged relatives can simply use the money from the kitty to buy him what he needs at the prison shop. Belmarsh is not Tazmamart or Cayenne, I refuse to play this game of dramatization. Or Assange is not in Belmarsh, but in a special place, dependent only on the royal system and not on the British Ministry of Justice and then the truth comes out. People are tired of infantile storytelling and want to hear the truth about everything: the covid, the Grand Reset, the geopolitical situation, the election fraud in North America and also who and where Julian Assange is.
---
[1] https://www.facebook.com/groups/515096986022028
https://www.facebook.com/groups/515096986022028/permalink/761277734737284
https://meet.jit.si/securefreespeechsecureourfreedom?fbclid=IwAR0rHxo9smrEhSkN7Dw8V1ZBtW06Voo6swHM7vLYFycPEaq12FPRciQAd50
The City the day before Julian Assange's trial
I arrive in the City of London Corporation, known as the City of London, on the evening of January 3, 2021. It is Sunday and I am not surprised that the area is deserted. I will be more surprised the next day Monday in front of the empty offices, the shops closed for « covid rules » as if a bomb had decimated the living, keeping only the buildings: the multinationals have finally imposed telework to everyone and can make money by abandoning the offices that are no longer needed. It is the employee who now pays with HIS own rent the company office expenses! What a boon to make such savings! Long live the Covid, must say the top managers of American Bank, Goldman Sachs, Barclays, London Stock Exchange, City Stock Exchange, who surround the Old Bailey Court.
This is not the case for the owners of the small businesses that sold services to employees: clothing shops, kiosks, bookshops, cafés, pubs, restaurants are already bankrupt and for sale. I managed to book a hotel 500 metres from the Old Bailey. It is a typical manager's hotel with ultra modern comfort but minimalist decor and furniture. Normally I would never have been able to pay for a room there, but the price is modest given the location. With the Covid dictatorship, panic and telecommuting, we are only 3 guests in the whole hotel. The rules at the reception desk are much stricter than on the rebellious coast: my passport is scanned and I am asked to sign a declaration that I only travel for the reasons the government has deemed valid. On the sheet of paper that the receptionist gives me, there is « the funeral of a loved one and accompanying a loved one to a funeral », « illness » and « support for a sick relative »: gloomy atmosphere. There is, however, a small line « imperative stay for a work meeting that cannot be conducted remotely ».
I act as if nothing had happened and there was no covid. On the third day, the employees will finally drop their masks, the naturalness of life fortunately returns.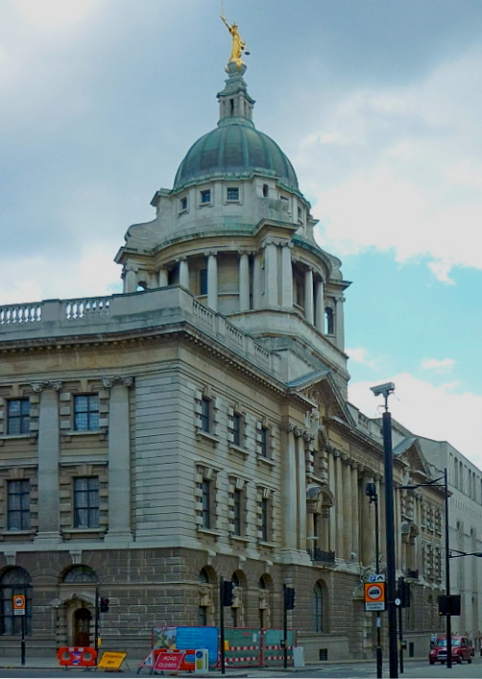 As soon as I arrived I had to start looking for something to eat, I realised that with the « covid rules » the few restaurants have no customers and therefore no reason to stay open in the evening. I walk towards the Old Bailey via Luton Street, walk along the historic St Sepulchre Church and find myself in front of the imposing 19th century building and its extension, the 1960s bunker where I spent hours waiting in September. Around them the empty office buildings with their huge doors opening onto deep delivery basements are sinister. Only the security guards are on duty in the halls and I know that at the slightest suspicious sign they will immediately call the City of London Corporation Police, which was not at all convenient in September. So I can't take any photographs.
However, what I see of the Old Bailey is very interesting: the « ceremony » of the « trial » is already in preparation because the whole ground floor of the old building, a large room on the first floor on the left side and two windows on the top floor are illuminated. In the 1960s bunker where the September meetings were held and where I could see Assange physically present, two large bay windows are illuminated on the ground floor as well as a large courtroom on the first and second floors, perhaps room 10 where it took place in September. On the top floor two small windows stand out with their bluish lights: the public galleries are up there, but I don't remember any blue light. What is interesting is that even the large carriage entrance that opens onto a small courtyard through which the court employees enter is illuminated. Does this mean that even the employees are mobilised for the preparation of the « ceremony »? I am very much afraid that what will happen tomorrow will be an « execution ».
I bypass the Old Bailey complex via Warwick Lane, the street that separates the court from the Sankt Paul Cathedral complex surrounded by new and ugly bank buildings. The only open shop in the area is near the Sankt Paul underground station. I can finally buy dinner.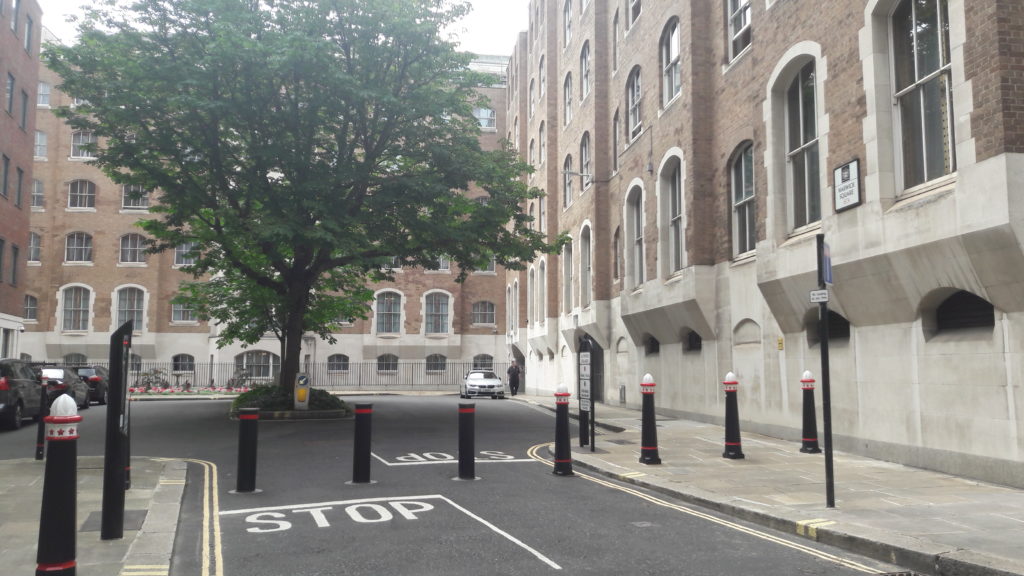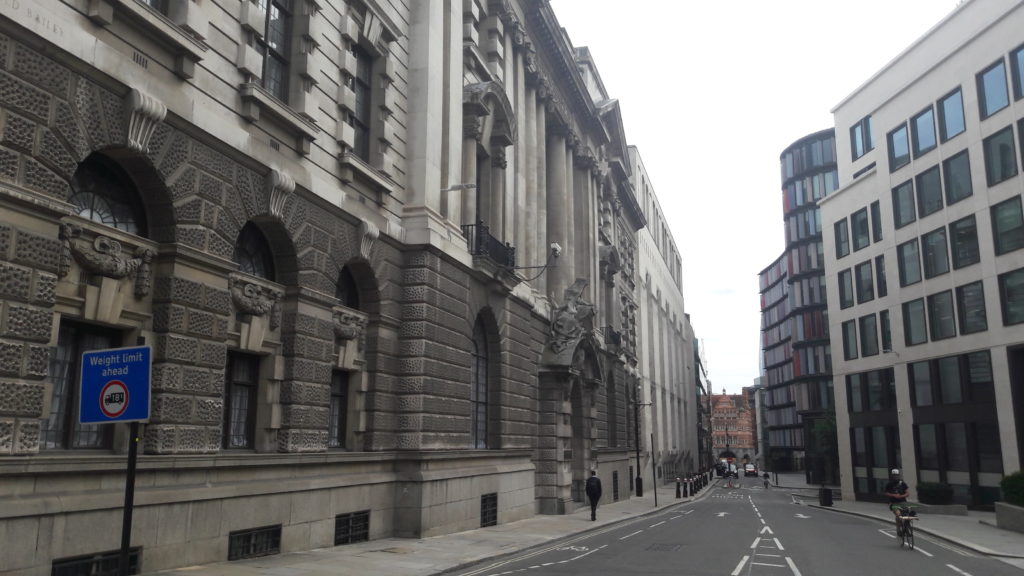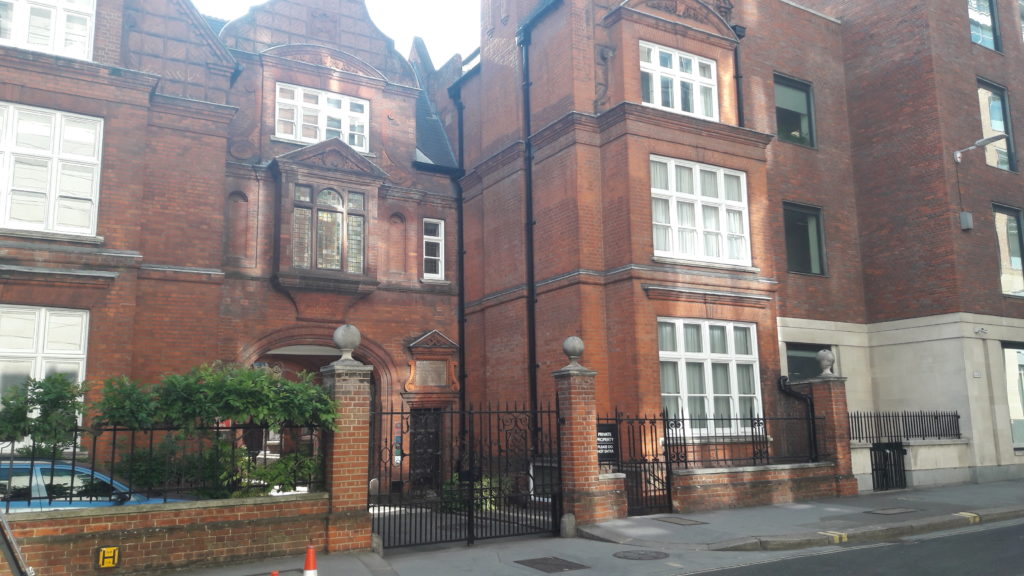 Night waiting for the verdict at the Old Bailey
I would have liked to go back at night near the Old Bailey to keep an eye on those who bring Assange to the Old Bailey. The experience of September showed that he was by no means brought there every morning, but most likely he was already living in the Old Bailey before the trial and stayed there all September because this huge bunker has all the necessary infrastructure. After all, before 1902, the place was the sinister, thousand-year-old New Gate prison, well equipped with dungeons that only need to be modernised[1]. If I hadn't seen it with my own eyes in the flesh in room 10 on September 9, 2020, I might even have doubted its real presence in this place. But I did see him. Who, then, and in what way brings the illustrious hostage to these gloomy rooms where his fate will be revealed to us? To answer this question would be to have a clue where Julian Assange really is, once it is understood that he cannot be in the ordinary Thameside prison known as « Belmarsh ». The prisoners of Belmarsh are common law convicts by the British Ministry of Justice and all benefit from the same regime, letters, e-mail, the possibility of visits and the sending of money.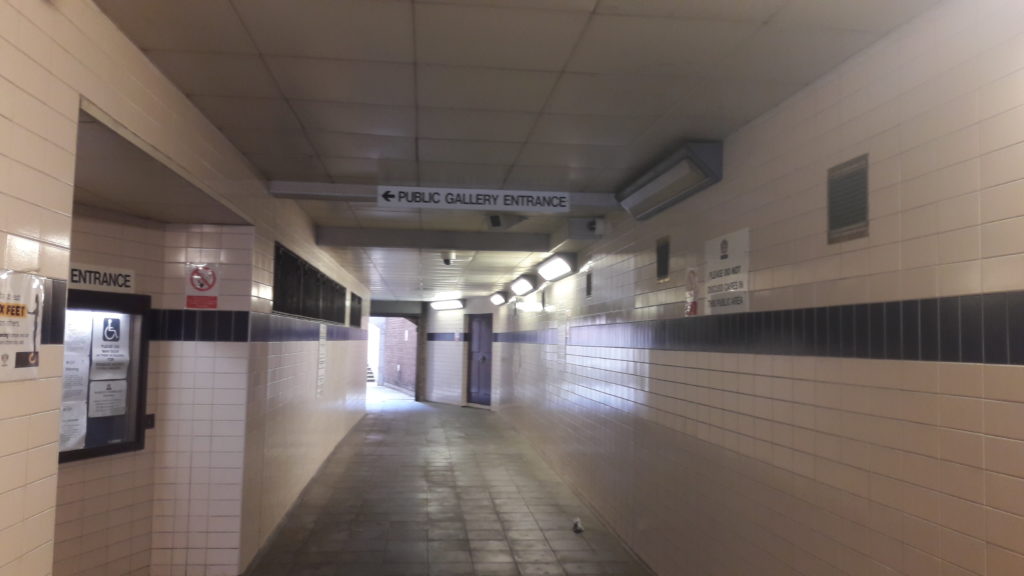 As for the Covid in Belmarsh, it is hardly the storytellers of the Assange case who ring the bell, the real prisoners and their lawyers are not at all panic-stricken, as I was able to see from discussions with my Polish contacts (a Polish consul takes care of the many Poles serving sentences in Belmarsh).
But I can't bring myself to siege the Old Bailey at night, I'm too tired and I'm alone. Nevertheless, the night is still deep when I get up and go out at 5.30 am to go to Court. I am well equipped to keep out the cold and I have taken my breakfast with me.
I arrive quickly at 5.45 am in front of the dark and deserted building. I inspect the premises, no one, no activists set up for the night in the Warwick Passage, the narrow gut on the south side of the Court where we spent hours in September waiting in front of the entrance to the public galleries.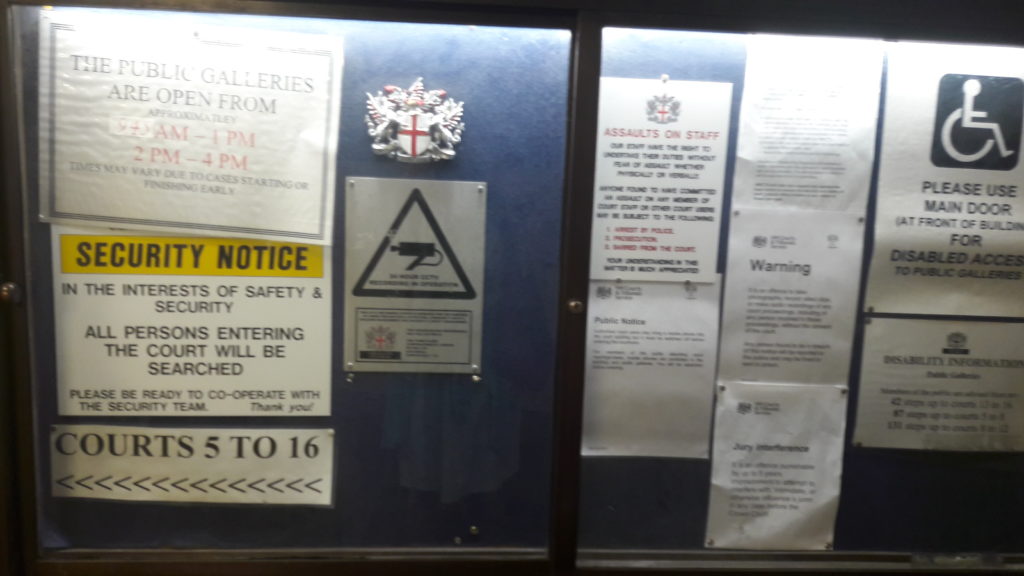 I walk towards the North part of the building at New Gate Street but I hesitate to waste precious time because someone may take my first place in front of the public gallery…How do I know which entrance will be used this time? I can't know, alone in front of the multiple entrances to the Old Bailey it is impossible for me to organize myself better.
There is not a cat in front of the whole block, I come back to the Warwick passage. Before standing in front of the heavy wooden door of the Warwick Passage, I first go to see the bank security guard across the street who is staring at me in the entrance of his building. I already know how prompt the City's security guards are in calling the City of London Corporation police at the slightest « anomaly ». For them, a woman alone at night waiting outside a court door that opens at 9 o'clock is an anomaly. The man is young, he is wearing a mask and I don't think he is smiling at me, but I am smiling. I introduce myself and explain that I represent a human rights association and that I come as an « observer » for the trial of Julian Assange. I warn him so that he understands what I'm doing here so early. He nods. Then I inspect the two large billboards under glass next to the main entrance of the bunker: there will be 25 criminal hearings in the courtyard today. The names of the people involved are posted, the case number and, importantly, the names of the judges.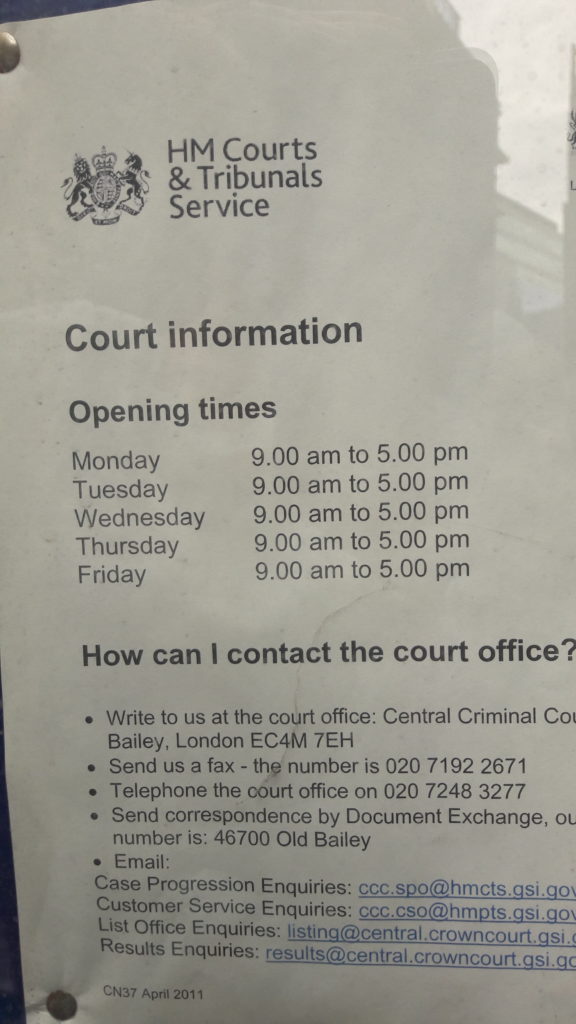 No Julian Assange on the Old Bailey list, no Judge Baraitser, Vanessa or other. Assange's trial is therefore not being conducted by the Central Criminal Court but by another « entity » in a room rented or lent for the occasion. Further proof that this trial is not a real trial.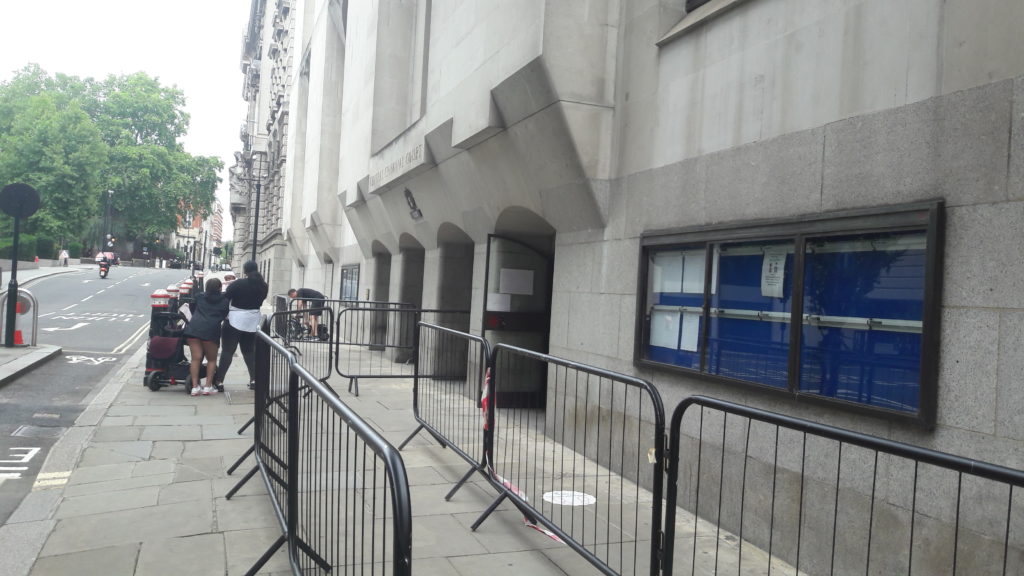 ---
[1] https://fr.wikipedia.org/wiki/Prison_de_Newgate
https://www.alamyimages.fr/photos-images/newgate-prison-london.html
www.victorianweb.org/art/architecture/london/63.html
Memories of the hearing of 11 December 2020
Standing in the freezing cold that sweeps the Warwick Passage, I have plenty of time to reflect on my adventures of December 11th, the last hearing in what was a pleasant trip to an England far freer than France under curfew and police incarceration at home on health grounds.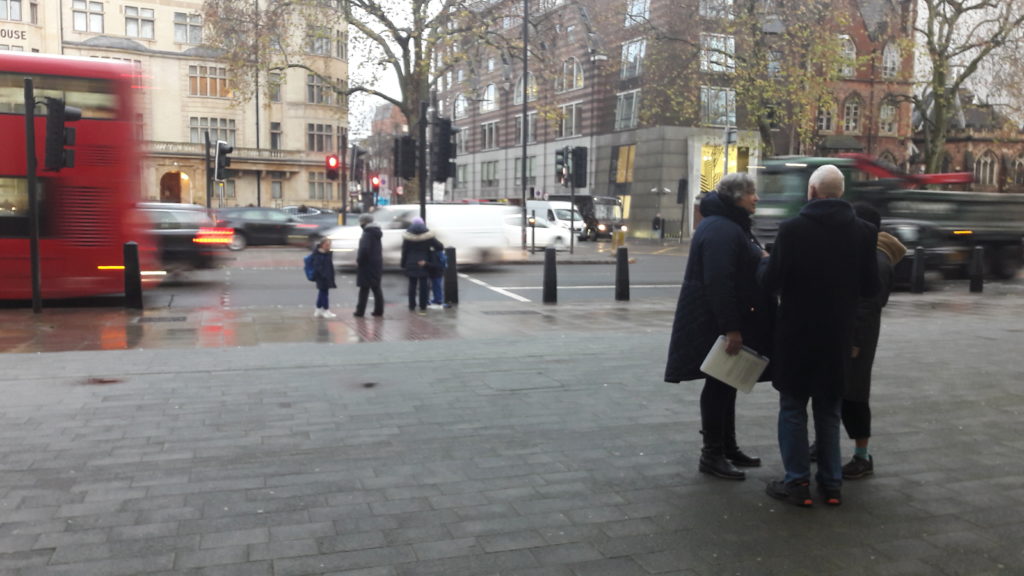 I had arrived early at the Westminster Magistrate Court I was also the first one there and it was another hour before the Greekemmys supporters arrived. The second person to turn up was Sabine von Törne for whom I have sympathy. We discussed the situation in Assange and in our respective countries at length while we were waiting. There were about 7 people behind me and Greekemmy always handed out the numbers, but respectfully noted me as « first ».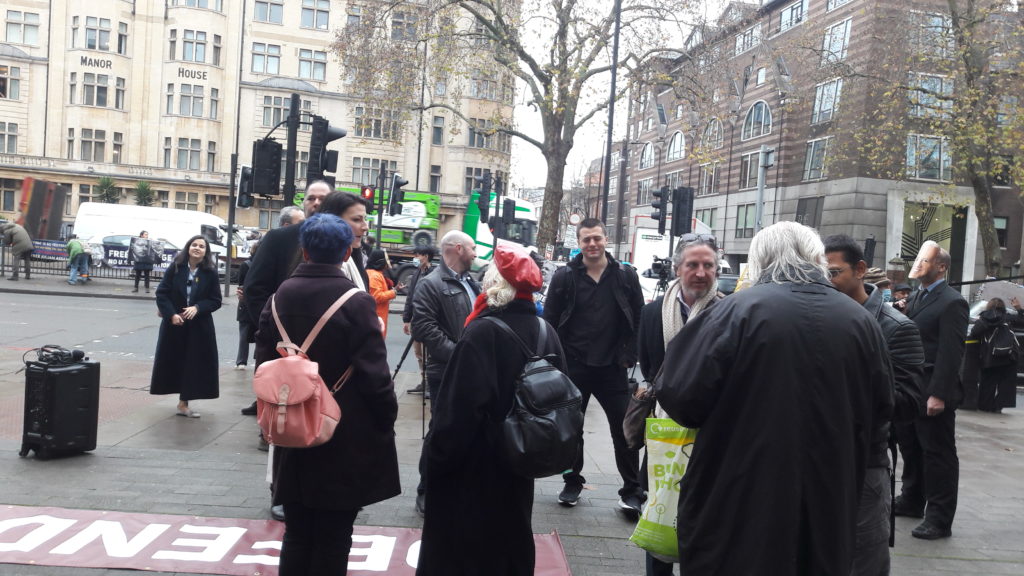 The day then dawns around 8.30am and soon everything is in place: the new security agents are at the security gates, our French speaking friend from Mauritius is also there. We greet each other and I quickly go through the gates, I run to the board in the hall, no list. I rush upstairs without looking behind me and I ask the secretariat. The young secretary leaves to find out more: Assange, it will be room 3 or room 10. I arrive in front of room 3, a secretary posts the list shortly afterwards. It will be fine here: Julian Paul Assange, 10 o'clock. But no judge's no, as always. The list has 16 names, 10 in the morning and 10 in the evening plus Assange. Three are Polish, one Hungarian, 4 Romanians, 1 Estonian, 1 Irish… But I quickly notice that the bulk of the Eastern European extradited persons are sent to room 10 on the second floor. From here you can see the crowd amassing on the second floor: lawyers and families. So they decided to separate Assange from the other litigants. There are only 8 of us queuing in front of room 3: behind me Sabine, Deepa, Greekemmy, soon Rebecca Vincent still in her black mask and red coat, and then two journalists including Mohamed El Maazi from Sputnik UK and Joseph who this time is queuing with them with a press card.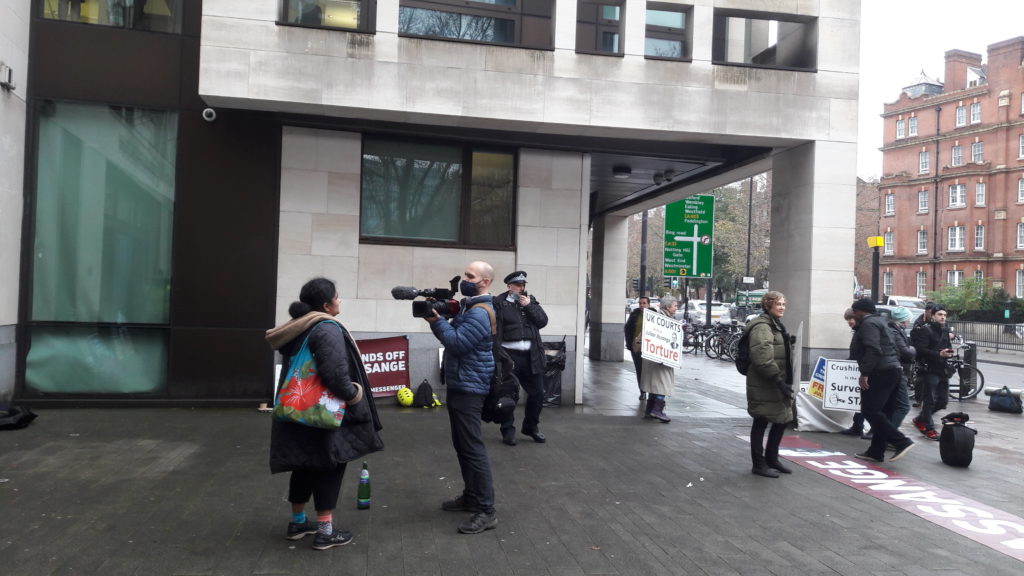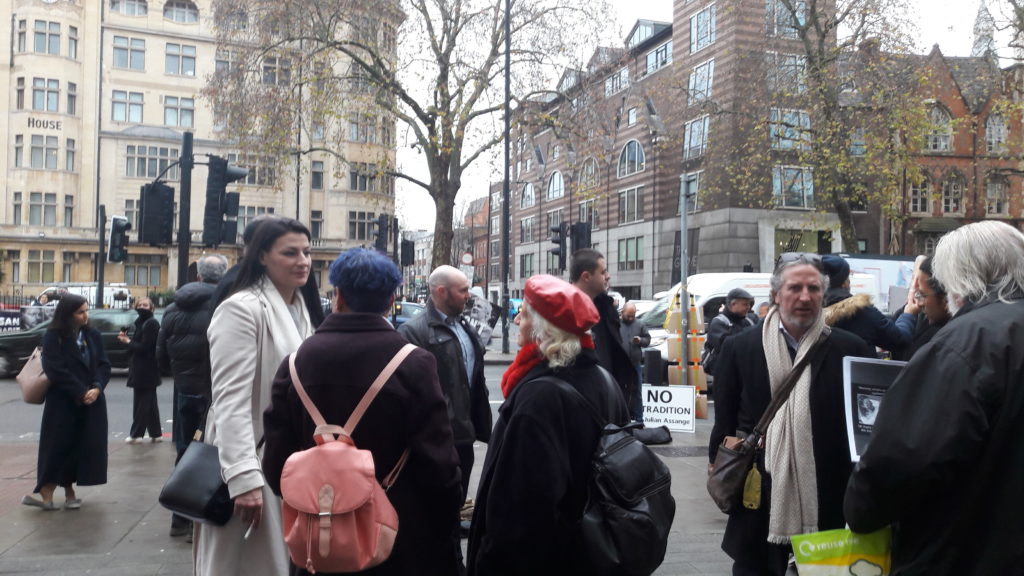 At 9.50 am everything goes wrong. A big clerk, different from those we are used to, leaves the room and asks who is coming for Julian Assange's audience. I am confident, I introduce myself. But the man doesn't calculate me, talks over my head to the others, as if I didn't exist. Deepa River presents itself as a « legal observer » on behalf of an organisation. I'm upset because I don't really understand what people are saying with the mask. I need to see lips and facial expressions to understand a foreign language. Also, as the man does not understand me either, I have to take my mask off to be understood. But the man says that because of the « Covid » there will only be two seats for the public, including journalists, especially since the observers from the High Commission are expected. What about the High Commission? Envoys from the Australian High Governorate? Is Australia moving and recognising Assange as its citizen?
We are stunned. I protest, saying that I have been here since 6 a.m. Deepa protests, so does Rebecca. The journalists at least ask to speak to the judge because it is « inconceivable » that the press should be excluded from justice! In the meantime, I have documented the various scandalous trials from the time of Queen Victoria, including that of Oscar Wilde, which marked the struggle for freedom of expression and creative freedom[1]. In fact, the public and journalists were present in large crowds during the trials of the 19th century and did not hesitate to come! Democracy was much more alive at that time than in our oligarchic-technological century where you have to fight to get ONE WITNESS to the court!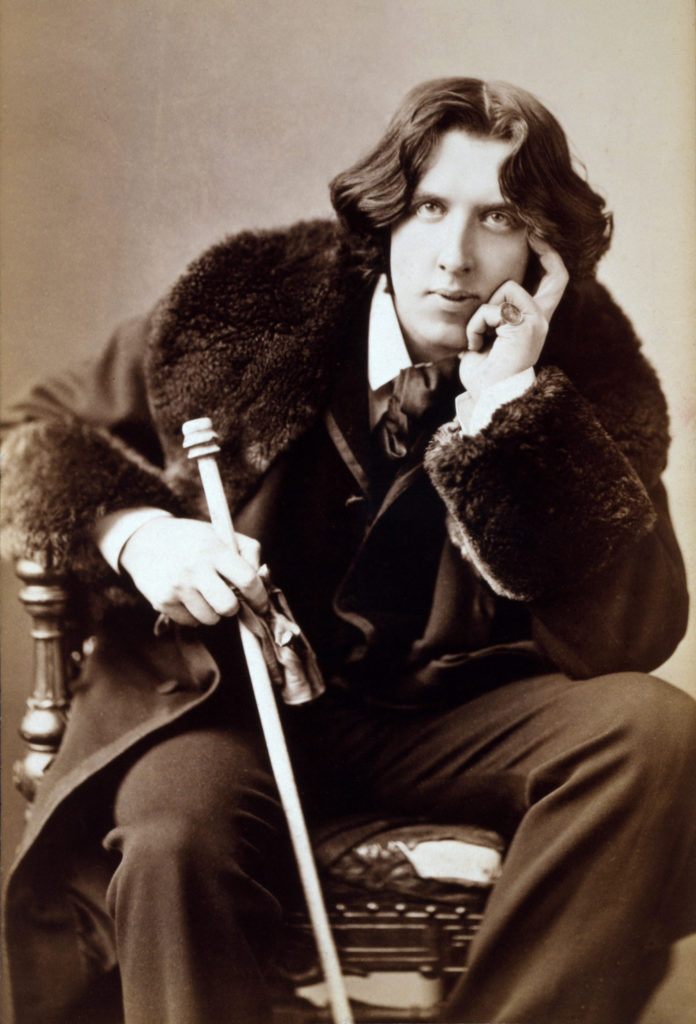 The unpleasant clerk declares that he will « ask the manager » if more places can be granted (the corona is a perfect tool of dictatorship!). He shuttles back and forth several times between room 3 and the secretariat. Then Edward Hamilton Fitzgerald arrives and greets us with an air that I find condescending. The clerk brings in two tall redheads, who introduce themselves as being from the « High Commission », i.e. diplomatic representatives from one member country of the Commonwealth to another. Australians? Possibly, but how do we know, these men are not even looking at us[2].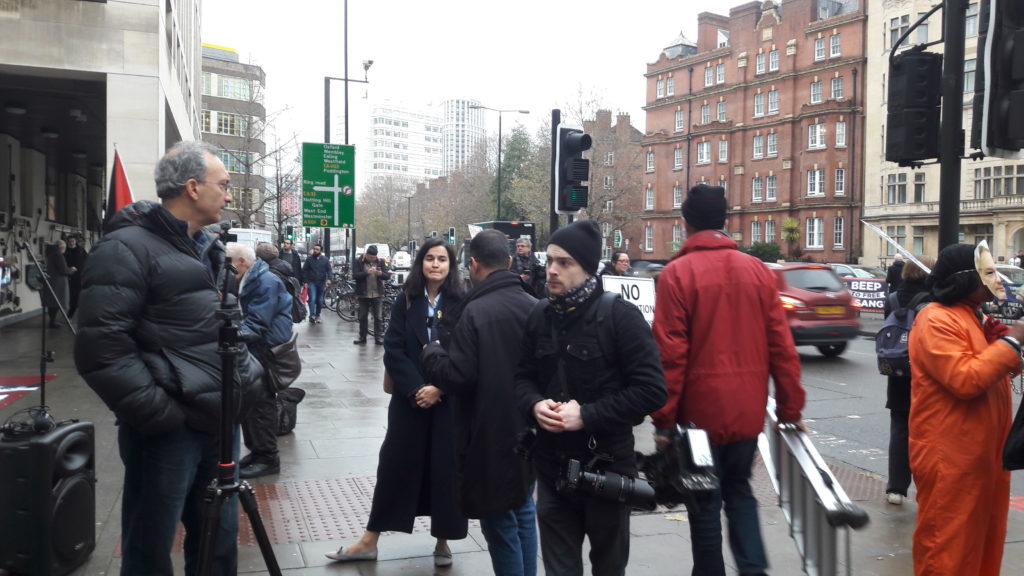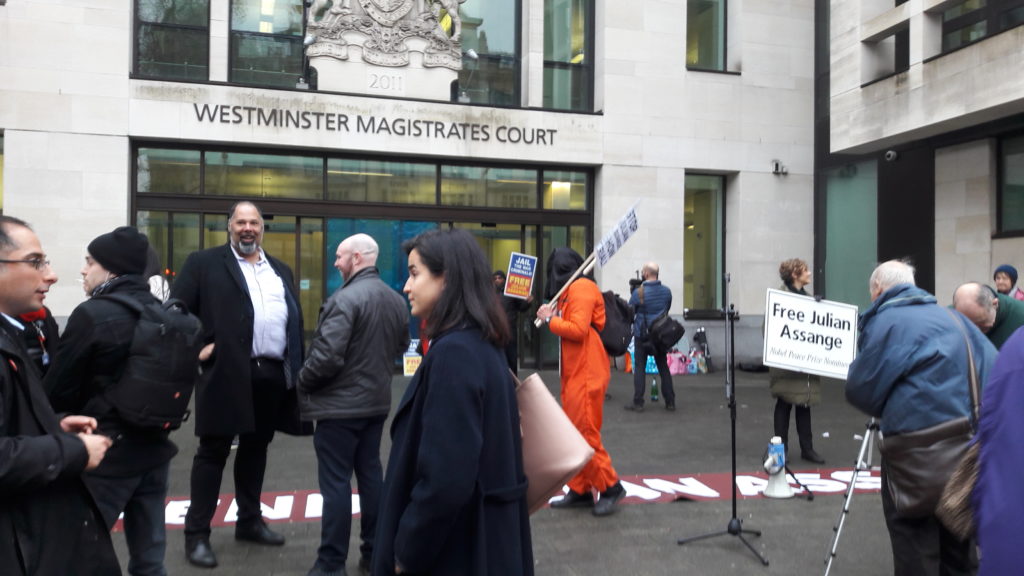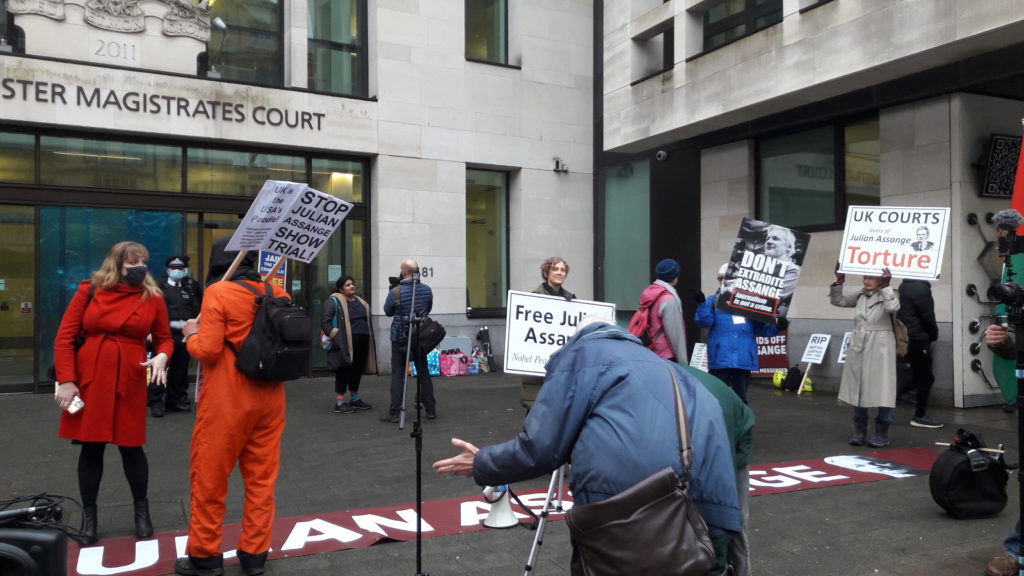 The clerk then turns to us and asks who we are. I am standing in my 'first place' and Deepa River and Rebecca Vincent are behind my back. I give my name and my organisation and I offer Wikijustice documents as evidence. The man does not want them. Deepa and Rebecca are also each trying to 'sell' their organisation. I'm afraid that he is about to say « it's not going to be possible ». But suddenly he turns to Sabine who is standing back. Who are you people? She answers « personal friend of Julian Assange ». The clerk takes Sabine to Fitzgerald a few metres further on. He comes back… and opens the door to Sabine who happens to be the only one who can go in to see Assange.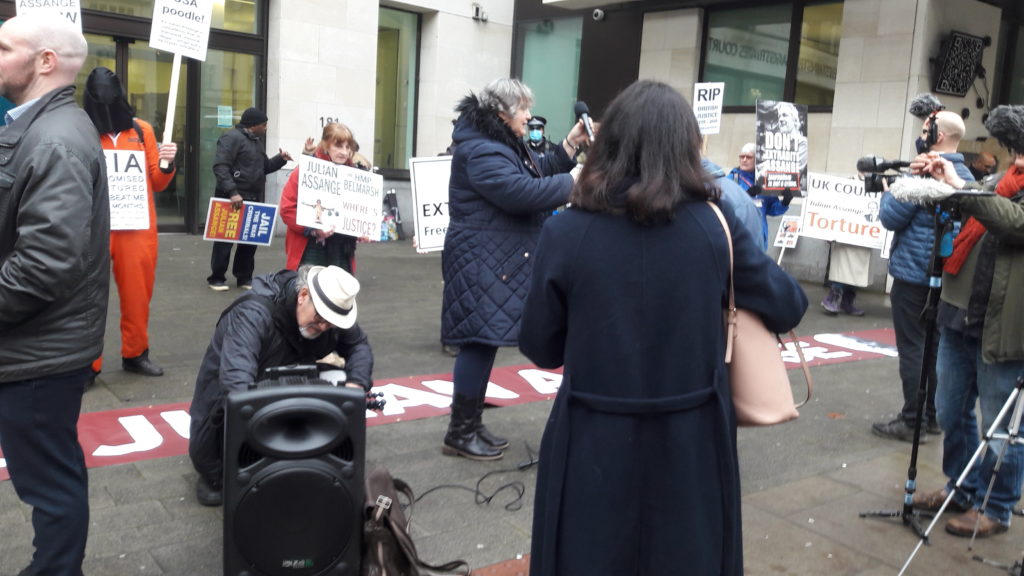 Deepa is stunned. « How? Just say you're Assange's girlfriend and they open all the doors for you » ? I smile. I would have liked to remind her that she is now a victim of the system that she helped set up so well: people who don't know each other arrive, claiming to be « Assange's family » and without having to show any proof, no ID, no marriage or cohabitation certificate, or whatever, suddenly have all the privileges. Stella Morris has been doing exactly that since last July and it had never bothered Deepa. El Maazi is invited to enter and as I find myself behind him, I follow him. So much the worse if I'm fired. But the clerk doesn't say anything more, Deepa and Rebecca follow me and there are 3 of us in the public box! Sabine is sitting in the back, 11 out of 13 seats are condemned, Deepa ends up sitting in the courtroom and nobody says anything to her as if the management of the show had given up and decided not to keep any of the rules that are supposedly so restrictive and indispensable. The video is already turned on, we can see a room but different from the red chairs that we were presented with for 1 year as being those of Belmarsh and resembling a medical centre waiting room.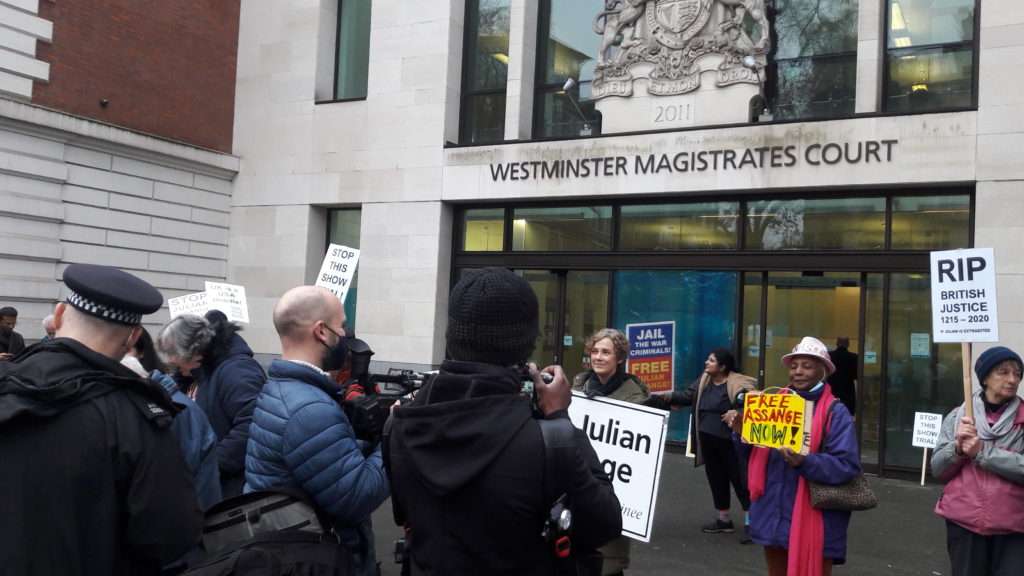 Julian Assange is not there. However, the judge is already here and he is a young man with red hair. The alleged court hearing is reduced to an expeditious organizational meeting. Fitzgerald is standing and talking with the prosecutor, also a young redhead. He does not even sit down when the judge says « Judge Baraitser has granted » that Mr. Assange will not be obliged to appear because he is represented. Has granted? What does that mean? How can she guarantee that he is not obliged to appear and that we can talk behind his back? Did she promise HIM? Is he the one who doesn't want to appear? Otherwise WHO has decided in his place that we will not see him and therefore it will be impossible to see what his health and general condition is? Is he still alive? After all, we haven't seen him alive since September…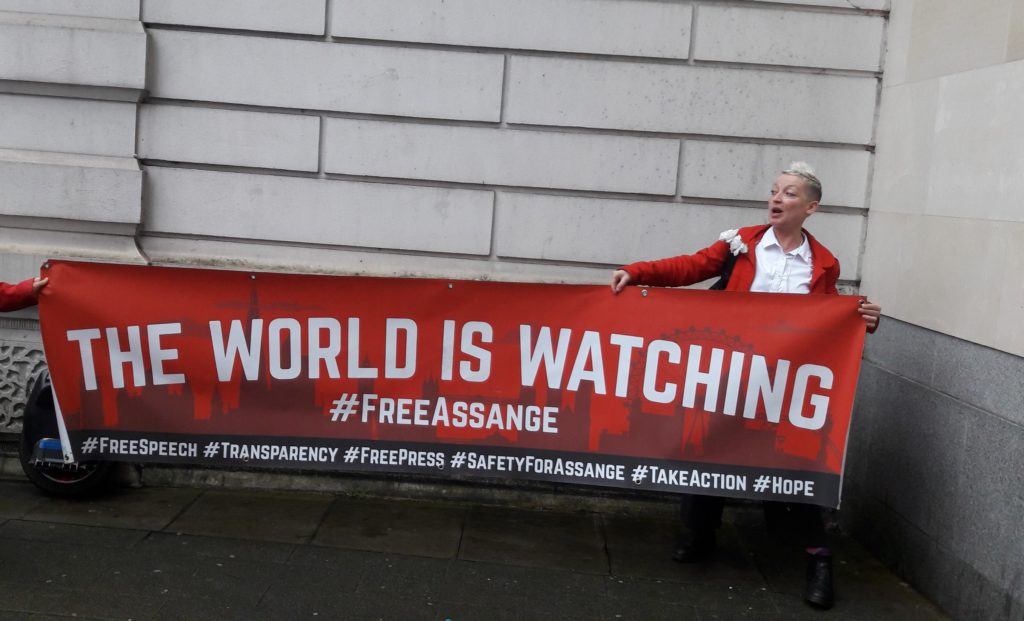 Hamilton Fitzgerald says something I don't understand but it doesn't sound solemn. And here the judge says it's « postponed until January 4th in the Criminal Court ». Everybody gets up and leaves without waiting for the judge. I am more and more annoyed by this « fake justice ». I get out of the box and walk towards the judge. The judge asks me to step aside. I do so, but I tell him that I haven't heard or understood what's going on. I introduce myself and Wikijustice and I ask him if I can know his name. He introduces himself (well, it is not a luxury in a democracy to know the names of the judges who decide on the lives of citizens!): Paul Goldspring. Thank you. We leave the court together, Sabine and Rebecca Vincent in red coat and me in my purple suit. Outside the demonstration continues. I am disappointed but not so surprised. They don't want to show it to us, we don't know why. I don't think it's them who refused to show it, but rather that they can't afford to stage the 'Belmarsh staging' as before and that's why the Westminster-style ceremony is reduced to the bare essentials. In 3 weeks time it will be the ceremony at the Old Bailey. I don't know where Assange will spend Christmas, but what is certain is that he will be at the Old Bailey before Monday 4th January.
That same evening I am leaving to Islington to inspect Lisa Baraitser's Pure Theater. I am having a great time in the open pubs and restaurants, full of life and joy.
Judge Paul Golspring is my age. He is quoted as having had to judge an apprentice terrorist who asked to have a telephone in his cell[3] . But he was especially known in 2017 for having decided to extradite two Poles, the Herba brothers, whom Italy accused of kidnapping a young female model. The Herba brothers had not committed any crime and sought to explain themselves to the Italian justice system by video. They claimed that they themselves had taken the young Chloe Ayling to the British embassy[4]. Their lawyer claimed that the case was an invention organised by the model's agent in order to obtain notoriety, which is not without recalling certain Swedish accusations against Assange… Judge Goldspring found himself in the difficult situation of judging the real lives of two real men on the sole basis of « storytelling » provided by the media… This also recalls the role of storyteller in Julian Assange's life. Where is the truth? Where is the fable? How can the truth be proven when a judge magistrate is only a simple citizen mediator who is invested with so much power without having the means to carry out his mission with justice and honesty?
How can we believe that Judge Baraitser really decided Julian Assange's life when she is not a professional judge and when it is obviously the political powers that have decided and are deciding Assange's fate (Crown, Ministry of Justice, Ministry of Defence, Home Office, Foreign Office, various foundations including those that pay media storytellers… analysed the International Wikijustice Complaint)[5].
A court is not a theatre for which the media write the script. Historically no, but maybe in the 21st century we are moving towards such a life, such a society? Too many things have changed in our lives in the last year. We have lost total control of our lives, our power as citizens is already well eroded. We must resist and fight if you want to recover this citizen power and refuse the condition of cattle locked up at night and only coming out during the day to be exploited for labour. Yes, we must REFUSE this servile condition with all our might.
---
[1] https://fr.wikipedia.org/wiki/Oscar_Wilde
[2] https://en.wikipedia.org/wiki/High_commissioner
[3] https://www.euroweeklynews.com/2019/12/03/english-news-second-terrorist-back-behind-bars-as-police-review-license-conditions/
[4] https://www.bbc.com/news/uk-41445444
https://www.newsshopper.co.uk/news/15556500.alleged-kidnapping-of-coulsdon-model-could-be-a-sham-claims-a-lawyer/
[5] https://drive.google.com/file/d/1rCPKk9vdY29H_kaHjqeClvJtQ62_cw7W/view
Julian Assange on 4 January at the Old Bailey, life saved but captive and in danger of psychiatrisation
An hour goes by while I wait in the icy windy Warwick Passage. From 6.15 a.m. a multitude of cameras are installed in front of the central door of the bunker of the Criminal Court, an expensive and heavy piece of equipment. TV presenters pose under umbrellas held by their assistants. A whole world of storytelling is rushing in, which has never bothered to report on the torture that Assange was undergoing in his dungeon, exactly one year ago when we were the only ones in Wikijustice to sound the alarm in October 2019.
At 7 o'clock there are already 30 journalists and photographers and then a few activists arrive: Jamie, who had made the siege of the passage in September but never comes to Westminster Court, then Alison the Australian. I greet them and risk leaving my post to see what's going on in the street. There are 5 activists next to the journalists when an imposing bus of cops arrives: they are the policemen of the City of London Corporation recognizable by their red and white checkers on their kepi and wearing black uniforms. Their truck stops in front of Warwick Passage and obstructs my view. I retreat into the recess near the door. The policemen drive through the passage without noticing me. This is the time when the lady who lives behind the Old Bailey is walking her black dog. She comes out of the Amen Court, the historic 17th century houses that remain in the area after the severe Nazi bombing of the war. This is also the time when the employees of the Criminal Court, masked secretaries and security guards arrive. Rosie Sylvester, the clerk of the Assange trial in September, does not pass by. She has obviously finished her shift on her case, I haven't seen her at Westminster either.
Half an hour of police presence later, shouts rang out in the street: the City of London Corporation police surrounded and silenced the activists who had come to support Assange without disturbing the armada of cameramen and other storytelling reporters who were now 50 in front of the main entrance. The sight of this pack coming to feast on the fate of a man in prison whom they didn't care about when he could be saved, in summer, autumn and winter 2019, is very unpleasant for me. Not only were all these people absent when they could be of use, but they also echo without ever checking all the most abject storytelling, Assange rapes, Assange is going to commit suicide, Assange slumming in the embassy happily until he makes two children for his « lawyer »… It revolts me but I understand by watching them do today how Assange's « concept » was artificially constructed: in 2010 there were, as there are today, more cameras to put on the show than real activists and real friends. Assange has always been a hostage of the political-media system and has never had the slightest freedom in the construction of his image and his life.
The police spare the storytellers from lying but threaten to arrest the activists: Alison is her friend and she is surrounded by the police so they shout that they don't have the right to arrest them because the « covid laws » do not abolish human rights and they have the right to be in the street. The arm wrestling lasts 45 minutes: the policemen leave around 8 o'clock, the activists take refuge in the journalists' camp or the police do not come to get them.
In the Warwick gut, I begin to wonder why I am alone. What if this is not the right entrance? But I'm afraid that if I move I'll lose my hard-earned place. Security guards are starting to bring lawyers and Criminal Court staff into the main entrance. Around 8.20 I go to see one of them and ask him if this is the place for Julian Assange's hearing. He answers: « Yes, don't move. This is indeed the entrance of the public ». But there will be very few places because of the Covid. Only the family will be allowed ». I am obliged to trust the man because I have no choice.
I can't stand the cold and fatigue. So who will be Julian Assange's 'family'? Is Stella Morris going to be the 'family' here or the 'lawyer' in the courtroom? At about 8.45 a.m. an elderly activist I saw at the Westminster comes to greet me and offers to bring me a coffee. I am so cold that I accept willingly without question where are the others, Greekemmy, Deepa, Rebecca Vincent. Two unknown women stand behind me and ask me if this is the place to wait for Assange's hearing. I can only repeat to them the information received by the security guard. The obliging old lady comes back with two coffees. I drink mine, but I nevertheless ask her if she can ask at the entrance if the rules have not changed and that the entrance door to the trial is not to the north rather than to the south of the building. It is indeed impossible to be alone for so long, with 25 people on trial there would surely have been families or witnesses who would have had to wait with me as it was in September. At 9 o'clock the doors of the court open, there is movement in the street.
Then the heavy wooden door in front of me opens and a security guard appears. The Assange trial? But Madame, it's door 2, north of the court, not here. I was cheated, including and especially by these « activists » who saw me waiting in the wrong place since 6 o'clock in the morning and didn't say anything to me. I'm taken aback, but that's the risk of being an activist in a hostile environment. Around the Assange case I met very few honest people and many liars, manipulators and even violent people. I know that I could not have expected anything better. But the cup of coffee offered to put my mistrust to sleep and make me lose time is the height of duplicity, especially since the woman slipped away once her mission was accomplished and I never saw her again. No time to waste, I leave and cross the hustle and bustle of the cameras in the street towards the 1907 building of the Old Bailey. The one that was so brightly lit the day before. I should have thought about it, been consistent in my logic. But I must not forget that I have behind me the difficult journey into the country of the covid reign while these people are there in their own country.
Indeed, it is Newgate Street, around another entrance that everyone is waiting for! Obviously, arriving at 9.15 am I am not the only one! Greekemmy, Rebecca Vincent, Fidel Narvaez and Deepa River can look at me with a mocking look, this time they had me fooled ! But in the Assange trial nothing was given on a bed of roses and at the same time there were always last-minute turnarounds. So I am not discouraged and I am stuck with the others between the work in the street and the grey stone wall of the Old Bailey.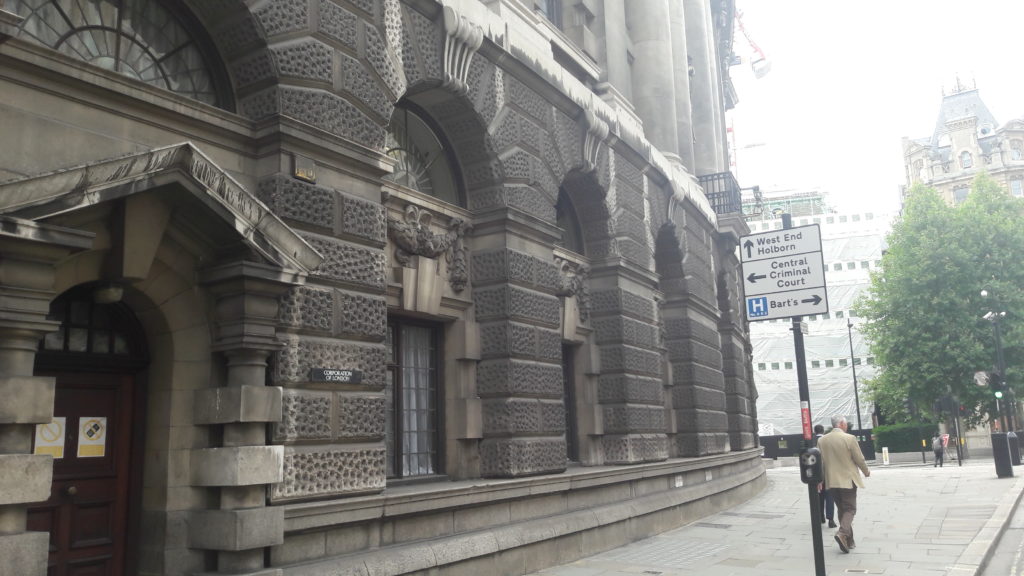 In front of me there are about ten people in a hurry, but there are many who are heating up the queue for « more important », I know from experience that they won't try to get in. They are not really having political discussions about Assange's trial. They exchange smiles and news as if they were at the show or in an extra's job. Moreover, some of them openly assume that they are professional actors. A sad and tired looking young woman distributes free hand painted « free Assange » T-shirts as if they had to be sold during the day. I take one. A female security guard in white and blue masked in black stands in the doorway of the open door. She asks for the family, but there is no one there, more exactly there is no John Shipton – he didn't come. But 5 minutes later everyone pushes themselves to let Craig Murray pass, who acts as « Julian Assange's family ». I am still upset that this man is Assange's « family » because no relationship has been proven between them so far. Nor has it been proven that Assange wants this man to be the sole « relative » because at the Woolwich Court in 4 days of proceedings Julian Assange has not once greeted or nodded his head to Craig Murray. To see Craig Murray writing fictitious reports every day of the hearings when he doesn't even have a pen and doesn't even take notes makes me tremendously angry, this reality that I have seen with my own eyes. Since it is not possible to remember so many details of a trial every day in his memory and write every day for a month without having any notes, it is obvious that the script for these articles is written in advance, either by himself or by other storytellers. Who decides and why he has the primacy to come here as a FAMILY without ever standing in line? I ask the question again for the nth time in a year and a half!
This time too Craig Murray has no bag, no notebook, no pen, no coat as if he were coming straight out of a flat but he enters the Old Bailey first, followed by Deepa, Narvaez, Rebecca Vincent and a young man I don't know. Greekemmy stays outside and takes souvenir photos with his friends. As everyone gathers around her, there are no more obstacles between me and the security guard at the door. I'm a member of a human rights association, I'm here as an observer, I've always come to the trial, I've been waiting here since 6 o'clock in the morning in the cold, the agents at the main gate made a mistake and assured me that I had to wait for Passage Warwick and I waited there for 4 hours… Why only one place for the family and 4 places for the public when we know that the public galleries have 40 places, I saw it in September? The woman doesn't seem to be smiling, you can't see anything with the mask on and diplomacy is very difficult when you can't see the face of the person you're talking to. I wear the mask on my chin to show my respect for the rules, but I also show her my face so that she can see my tiredness but also the absence of hostility. She says yes, it's because of the covid that there are so few places, but she doesn't tell me to leave. When I ask her why human rights associations cannot be accredited in court and who decides on this refusal, she tells me to « go to the judge ».
I objected, « But the judge who judges Julian Assange is not a judge of the Central Criminal Court. The Old Bailey does not respond to our letters, which is logical since it is not the Central Criminal Court that judges Assange. You as an institution have nothing to do with this trial, I know that. But Judge Assange never responds to any requests because she has no mail as a judge. The Westminster Court where she is supposed to sit tells us that they are not the ones organising the trial here. So, who decides what happens in your institution ?
The woman seems embarrassed but does not answer. Then I see Elliot and Esther Shipton, the wife of John Shipton's brother and the son of this couple arriving at the door. They had been the privileged ones who could observe Assange in person in Room 10 in September. This time, without John Shipton, they were ruthlessly turned away by the officer. Obviously they are no longer family. Little satisfaction for me to see the others unable to enter. An unknown journalist shows up in front of me in front of the camera. I am so overwhelmed that I pour my bitterness into his camera, perhaps carelessly. I say that this trial is a fake, that Julian Assange is not being tried by the Criminal Court, that we don't know who is renting the historic Old Bailey for the show, but that it is a shame to use the institutions of a sovereign state to have such fun. Who is the judge? Vanessa Baraitser has no social existence, does not appear on any official document nor here at the Criminal Court not even the Westminster Court where she is supposed to be Magistrate, it is a shame that human rights associations cannot see the trial and especially see the state of Assange when so many threats weigh on her health. We are going back to the Middle Ages and the covid has a good back in the installation of the dictatorship, unless we never left the Middle Ages here…In short, I say part of what we analysed in our International Wikijustice Complaint and our 14th request for release which has just left [1].
I feel the young woman guarding the entrance more and more embarrassed, but my tirade is not addressed to her, she remains impassive. It is about 10.30 am when a young brown woman approaches me and asks if this is indeed the trial of Julian Assange. The others are eating their picnic, so we are alone in front of the door. Her name is Ellie, she is a sociologist and she is a Greek living here. I'm glad to see someone coming through the Greek activist networks we've moved thanks to Anastasia Politi and her friends from Greeks for Assange. We talk in Greek and we have plenty of time to socialise. I tell him about my experience of the hearings from 20 September 2019 through 21 October 2019, 13 January, the last week of February at the Woolwich Court and 9 September – all the times I have been able to see Julian Assange in the flesh. We are discussing the precedent that this extradition sets for them refusing US bases in our countries. We also have plenty of time to discuss what a mafia state and a corrupt and perverted police and legal system is: I tell him about my militancy in Greece since 2005 and the Social Forums, my trade union activities in Santorini and the repression I suffered with the trial-cabal from 2009 to 2013. And I recall the attack on Konstantina Kuneva, vitriolised in December 2008 by the exploitative mafia close to the authorities following our actions for the rights of workers from Eastern Europe.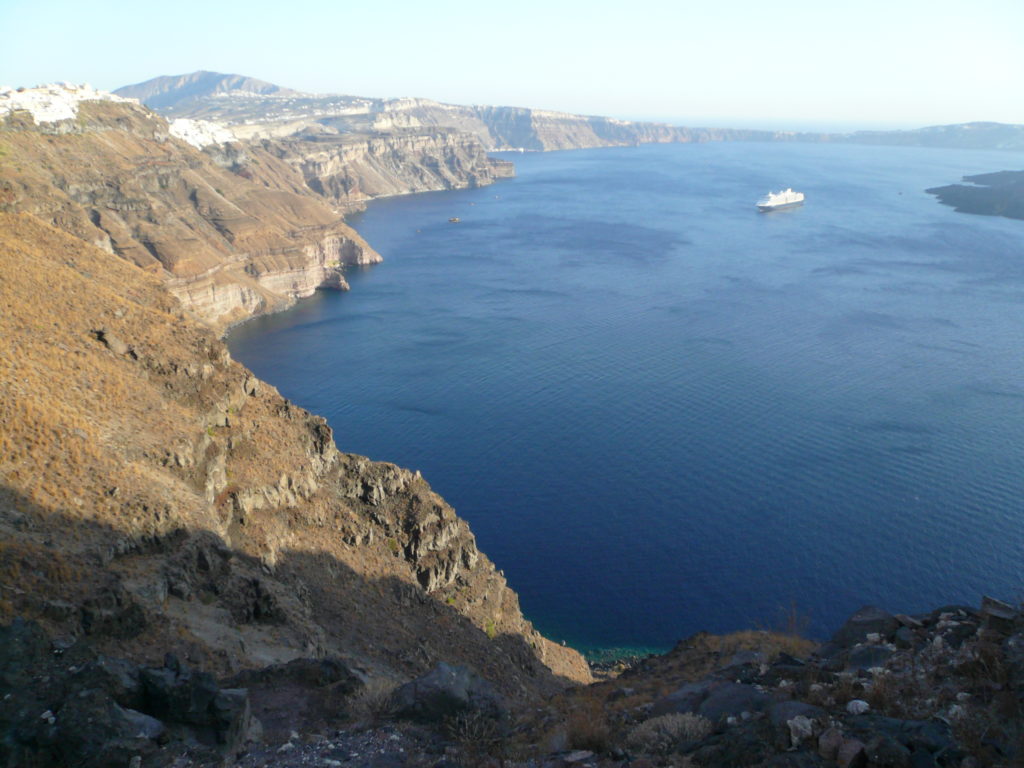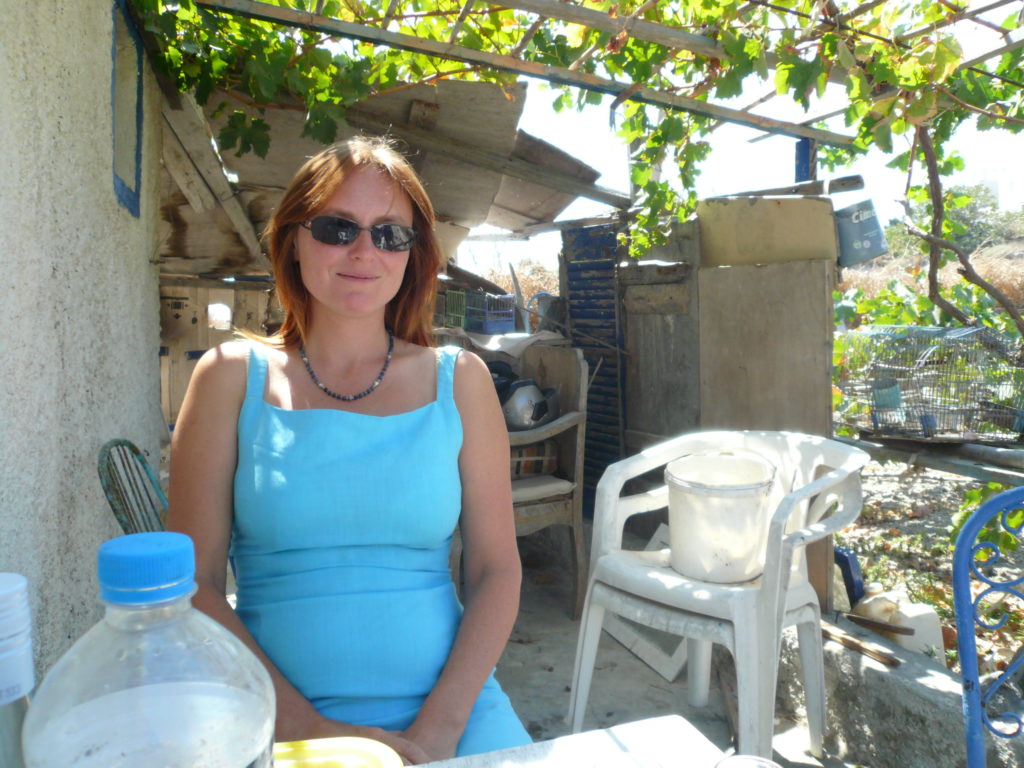 I feel stronger no longer being alone and I have regained hope. After all, if someone comes out, maybe I can come in… It's about 11 o'clock (I don't have a watch or a phone as they are not allowed in the Old Bailey) when Craig Murray comes out, immediately surrounded by the activists. He is the one who announces the news of the non-extradition. But it's not very clear in his mouth and with the mask it's even harder for me. I rather have the impression that he is saying that Baraitser has not accepted the political arguments about freedom of expression, the stress remains, I'm ready for anything. Murray was forced to go down and tell the activists the news because he doesn't have a mobile phone (and still no pen…). He goes back inside and we stay with Ellie and wonder about the meaning of it. She has a mobile phone and is looking for a way to hide it somewhere or give it to someone. Unfortunately from where we are, far from the demonstration in front of the central door, I can't see if my friends have come. So we continue our discussions in Greek and it gives me pleasure to immerse myself in the language of this country that I have loved and that has meant so much to me politically and personally. The memories of the blue Greek Sea and the projects keep me here in the cold of the North. I think about how to regain our freedom knowing that in Greece too the regime has imposed curfew for the first time since 1976 and the colonels. Only Crete would not respect these « covid measures » and as always revolts first.
At 12.25 pm, Fidel Narvaez and Rebecca Vincent go out. My patience is rewarded: I can enter. I rush into the dark staircase which looks like the one of the Warwick passage. A few steps up, you have to lock your bag in a metal detector, throw food and bottles in a bin, open your coats… The security guard who inspects my things is the tall white-haired man who used to work at the Warwick Passage and who was on duty during the day when I surreptitiously saw Assange in room 10… He knows me, I greet him, I remember him.
It's quicker than in September, I'm released and I can run up the austere staircase to the 4th floor, a sort of large vestibule with windows that seem high here but in reality are the smallest of those overlooking the street (and which were illuminated the day before). This space is reminiscent of 19th century schools as Paris is populated by them: high walls, large windows, distant ceilings, solid dark wood furniture, a hushed atmosphere and austere corridors. I continue in the corridor running along the doors of rooms 2 and 4. In which of these rooms is Julian Assange?
Two security guards are working in front of room 4. The first one, a nice old man, tells me it's break time and invites me to wait in the hall. He will come and pick us up. I sit on a bench in front of a table in the waiting room when Ellie arrives. We resume our discussions, while Deepa and Craig Murray talk on their side. Unfortunately I don't understand much of what Craig Murray is saying when he is the only eyewitness in Room 2. At this time it is confirmed that Julian Assange will not be extradited, but not because he is a political prisoner, but because of his « psychiatric condition » following the « medical reports produced by experts in September ».
That is all we fear: that the pseudo expert opinions of psychiatrists whose independence from both the royal and the American system is not certain will lead Assange straight to confinement in a psychiatric hospital, where we will never see him again. This is all the more disgusting to me because when Wikijustice alerted in October, November, December 2019 and January 2020 about the traces of torture that Julian Assange had visibly suffered in captivity, and we wrote 3 medical reports and demanded an independent medical report, neither the lawyers nor the activists reacted favourably[2].
They were all held up to the fable of the « wicked Belmarsh prison » and convinced that « nothing can be done » while Gareth Peirce complained that « he can't visit his client ». Meanwhile, the system that keeps Assange in captivity was bringing in American psychiatrists to examine him, who knows if it wasn't against his will … The great revolt that Juliana Assange showed on February 26th and 27th at the Woolwich Court reminds us that it is not proven that he agrees with this strategy of psychiatricisation of his person imposed by the lawyers (and the lawyers' founder, the Courage Corp and the Wau Holland Stiftung…).
We still wait another quarter of an hour when Georgia arrives, present at all the hearings and she always comes by. She asks us if Rebecca Vincent is there and checks why we are so cold: there is no heating in the august court. I remember the obnoxious air conditioning that used to spit stale air at us on the other side, rooms 9 and 10. At last that's the signal at about 12.50. The security guard comes to pick us up and opens the door to room 2 for Craig Murray. So Assange is there, I reach for his neck but I can't see anything. I have to make do with room 4 and that's not so bad. We find ourselves 4 scattered on the balcony with green leather armchairs on brown benches like in a 19th century theatre. Ellie sits just one row above me and together we pass on vital information. Below, the room is large and has 4 high judge's chairs on a platform. They are empty and a computer junk scatters the tables on the stage. At the bottom of the stage, the room's furniture is made up of 4 rows of tables arranged in a school-style row. It is very different from the decor of a european Court of Justice. The box for the accused is a small empty platform on the right. There are 50 seats, but only 10 people, supposedly journalists, are seated scattered in front of the tables at a rate of 3 or 4 per row. I note their location. They are mostly young women with long blond hair whom I have never seen in the halls of either the Westminster or the Woolwich or even here in September. There are no famous faces, no politicians like the German MP Heike Hänsel and if there are German diplomats they are not the same ones as in September.
They look like students or trainees. They look at the screen where the political tragedy of the century is played out impassively, without any emotion. As if they were attending the presentation of a study « case » for their school. Two grey haired men with more casual looks look more like journalists and sit in the left row facing the girls staring at the screen above them. I can look at the screen above the judges' platform in front of me. It's quite big but divided into two parts: on the right side appears Mark Summers' head, talking about a desk full of files. Summers is therefore not physically present at the Old Bailey. On the left side of the room there is a room similar to this one: it is the retransmission of room 2. But we don't see Assange there. The camera is filming from a strange angle: it shows tables in the middle and two rows of high armchairs in staggered rows. On the right row I can see people, maybe Baraitser, on the left row it's full too but I can only make out those I already know: Clair Dobbin thanks to his long blond hair. I think I recognise Fitzgerald next to Dobbin but the picture is quite distant. Besides I recognise Baraitser's voice more than I recognise his silhouette.
Fitzgerald stands up, then it is Dobbin's turn, Baraitser talks about the Extradition Act of 2003, then the lawyer quotes « section 1-3-4 ». The atmosphere is relaxed, familiar, like after a job where one would have done a « good job ». Summers is talking to the screen but he has the odd stuttering voice of Fitzgerald. I don't know if I should concentrate on the debates or watch for the moment or maybe the camera will show Assange. Is he only there? No photo of him has been published for a year, on 13 January 2020 in the famous van de Serco outside the Westminster where he had met the president of Wikijustice Véronique Pidancet-Barrière, who had entered as a journalist, for an hour[3] … His face is still engraved in my memory, but I can't print this image and I'm not good enough at drawing to recompose what I have in my head. It's a great pity because I can only give you such an imperfect testimony…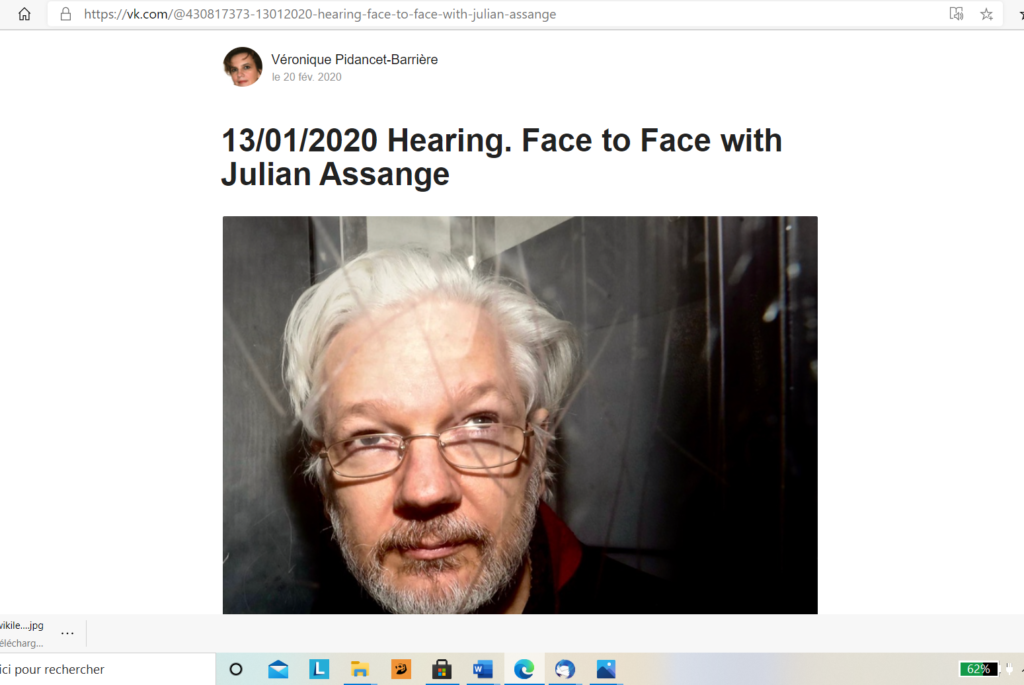 The atmosphere is so relaxed in the hushed room that Mark Summers can be seen drinking his coffee at home while Clair Dobbin and Baraitser discuss the « costs of the trial ». I'm surprised: we're not going to make Assange pay for the costs of his repression! It was the British Crown that agreed to prosecute him on the basis of the European Arrest Warrant as if the basis of the Extradition Treaty, let them manage to pay for their rental rooms at the Old Bailey! Suddenly I hear Baraitser talking to Assange, she talks about « remand in custody » until 6 January, and that « application for bail » will be considered. Finally someone has applied for release! But why on bail?! Julian Assange is NO LONGER being prosecuted, he should be out FREE THROUGH THE BIG DOOR!
Why is he still locked up? It's not legal! If an extradition request is rejected, there is NO REASON for keeping a man in detention: it is arbitrary detention, hostage taking in fact. Remand in custody » only applies to those awaiting trial, but here there are NO MORE trials! The extradition procedure which is not a trial IS FINISHED! And even if the opposing party appeals, it cannot appeal because it is not provided for in the extradition treaty! The only thing the opposing party can do is to make another extradition request and go through diplomatic channels as it should be!
ASSANGE IS A MAN FREE OF RIGHTS. HE SHOULD BE FREE TO DO SO.
He should come out of the bunker at last, get out of the bloody box and go out into Old Bailey Street… He should be able to talk to the media himself instead of self-proclaimed wives or friends speaking for him. We should be able to talk to him and offer him our help for a stay with our friends in England, France or elsewhere. Moreover, after the verdict the court should give him back his passport and all his documents so that he can regain his dignity as a citizen. But I wonder if Julian Assange ever possessed the attributes of a citizen such as an identity card, a passport. No one would ever think of demanding that the system give them back to him, as if it were already normal for him to be a prisoner of war in a medieval regime. He is not guilty, but he remains captive. As one quickly gets used to the intolerable violation of liberties, for the last 2 years we have had the terrifying spectacle of it.
Julian Assange remains captive and that doesn't surprise him either… Because suddenly, while a hubbub is perceptible on the screen signalling that the meeting is over, the camera zooms in on the left side of room 2 and shows…. Assange! It even shows him up close and at some length. I'm sitting 10 metres from the screen but I can see it clearly. Ellie points at the screen with great emotion and comments on what she sees. It's never too much here to cross our impressions. The camera shows Julian Assange from the side: he is sitting behind a wooden fence but I don't see a glass box. He is wearing a grey suit and a big dark blue or black scarf mask around his neck, the kind of big scarf you need when you are cold. And it's cold in these walls and he's cold, I've seen him with jumpers in the middle of summer. He has medium long hair like he did in 2009 and I feel like his face is hairless and he doesn't wear glasses. As I can't distinguish the features of his face, I concentrate on his gestures. First he sits down and leans forward to talk to someone. I see Baltazar Garzon! Garzon is indeed a chief decision-maker in this ceremony, but how can he sit in a British court when he is neither a lawyer nor a judge in Britain and when the Brexit is pronounced, any European regulations no longer automatically apply?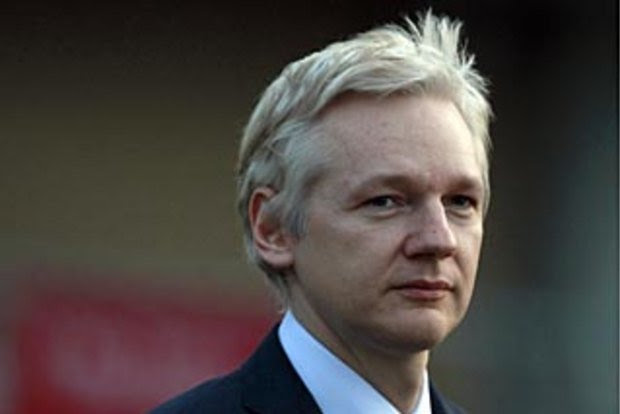 In any case, Garzon is the most important person who decides what happens next because Assange speaks to him at length after the verdict. But he doesn't shake his hand as in the dramatic moments at the Woolwich Court in February 2020, there is no outpouring of emotion. Obviously the verdict was already known, moreover the judgement was published on the internet and it is obvious that Judge Baraitser did not write the 110 pages overnight but that it was known and ready well in advance[4].
Julian Assange's attitude, his graceful gesture is the same as the man I saw 8 times in real life and 13 times on video. I saw him for 45 minutes on October 21 and January 13, for hours in February 2020 and then very fleetingly on December 20, 2019 and September 9, 2020. I notice that he looks comfortable, rather solid, not too thin. He doesn't look like an autistic psychotic who wouldn't understand what's going on. This psychiatricisation is really abusive. Moreover, while I'm wondering how to do it, once I've seen him for HIM to SEE ME, Julian Assange gets up and turns around in front of the camera. I see him tall, but a little stooped, like on October 21, 2019 and September 9. He turns gracefully towards us like a dancer towards his audience. Like when he greeted us when he came out of the show on the 27th of February, the last day of the Woolwich Court. I have the impression that he knows that we are there, faithful against all odds… I lowered my mask so that in case there is still a possibility of seeing the public gallery now or later he can recognise me in my purple costume.
It's over, the security guard is coming to pick us up. I send Ellie to talk to him while I stay to scrutinize Assange: I am not leaving until he is there or until I am fired. The camera continues to show him as the spectators below leave. Finally, with regret, I decide to get up… We talk to the security guard. The man seems to be as upset about this trial as we are. I ask him if the hearing on the 6th will be here or at the Westminster Court. He replies vehemently, « Madam, it will certainly be in the Westminster Magistrate Court! We have nothing to do with this trial! We are dealing with terrorists here! It is not our role to decide on extraditions! « He is wounded in his dignity as an honest working man who is asked to act as a guard to imprison journalists. I'm starting the conversation. I tell him that we know that the Old Bailey and its judges judge real criminals and not citizens guilty of nothing but publishing information and who should not be imprisoned at any time. But who is in charge, who is really organising the trial of Julian Assange? Who is imposing this spectacle within the august walls of the Criminal Court? The man won't tell me, but he forcefully repeats that his institution has nothing to do with Julian Assange's situation. It is not her who imprisons him. I tell him again that according to the Assange Law, he should go free from here the minute extradition is refused….
He agrees and this makes his refusal to take part in the masquerade all the more authentic. We explain to him, I the Polish, Ellie the Greek, how much we fear for ourselves and for our friends fighting in our countries if this dangerous precedent of extradition for political opinion were to be imposed. He listens to us and we kindly take leave of him and his colleague, a real armed policeman (we are dealing with terrorists here, Madam, real ones…- he repeated to us again at the end…). I come out exhausted walking through the long, austere corridors. Outside it's still cold but it's jubilant. 400 photographers and reporters surround us, we don't really see who, Stella Morris or Hrafnsson. We look for the activist who kept Ellie's mobile phone and we meet our French and English friends in the demonstration full of joy for once. But Julian Assange remains locked up. The hope of seeing him out on bail the day after tomorrow is tarnished by this obvious denial of justice that an innocent man, who is no longer being prosecuted by anyone, is still being held captive completely illegally. Under the storytelling pretext of an appeal that does not exist in the legal texts.*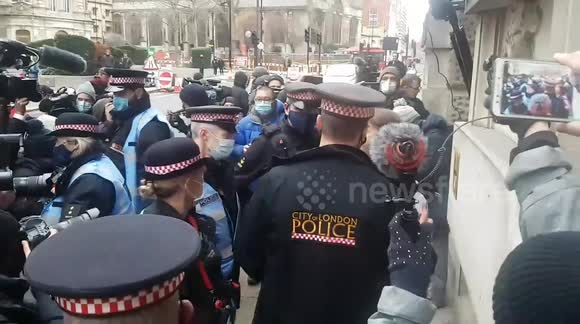 We have a large hot coffee in a single open Starbucks from where the employees are ruthlessly chasing us away: the famous Covid Rules! Stronger than Law and Human Rights! The new social and political standard for multinationals! I'm exhausted, I have to make my report. I take leave of my old and new friends and go back to the hotel. We have to prepare to go to Westminster Court for a final battle. But I saw Julian Assange. He is alive and well. This is so essential.
---
[1] https://drive.google.com/file/d/1rCPKk9vdY29H_kaHjqeClvJtQ62_cw7W/view?usp=drive_web
[2] https://www.judiciary.uk/wp-content/uploads/2021/01/USA-v-Assange-judgment-040121.pdf
Page 100 à 110
[3] https://www.linkedin.com/pulse/audience-du-13012020-face-à-avec-julian-assange-véronique/
https://vk.com/@430817373-13012020-hearing-face-to-face-with-julian-assange
[4] https://www.judiciary.uk/wp-content/uploads/2021/01/USA-v-Assange-judgment-040121.pdf